Holi 2018: Festival of Love & Amity
According to our Scriptures, Holi is one of the most important festival for Hindus. It is mainly observed in the Hindi month Phalguna. According to the Gregorian calendar, it will be celebrated on 2nd March 2018. It is celebrated in almost every part of India. Every region has their own customs and rituals to celebrate it. Read this article to know the importance and legend behind Holi...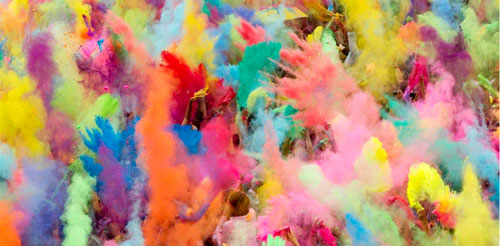 Holi Festival
Holi is one of the biggest festivals of India, which is celebrated all over the world. Holi is a festival which comes in spring season, the season of joy and happiness. This festival marks the beginning of summers in India. According to the Hindu calendar, Holi comes in the month of Phalgun, on full moon's day.
Holi is a two days festival, comprising of the festivals namely, Holika Dahan or Chhoti Holi and Dhulandi.
Holi : Holika Dahan (Chhoti Holi)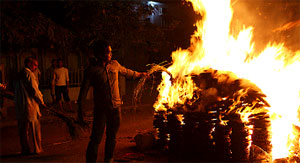 Holika Dahan is on March 12, 2018. Holika Dahan is a very important occasion during Holi festival. According to the Hindu mythology, Holika Dahan should be performed at night having full moon. It is said that Holika Dahan should be performed at the particular Muhurat.
Holika Dahan is done by burning some wood logs and cow dung cakes. People collect these things and at night burn this collection and then a Parikrma (revolve) is done around the fire. They even burn the Bali (wheat crop) and eat it afterward.
Holi : Dhulandi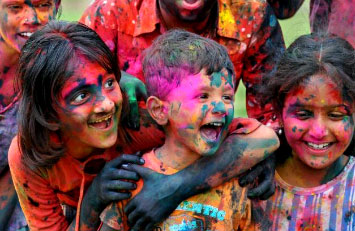 Dhulandi in 2018 is on March 13. This is the main day of Holi festival. On this occasion, people throw beautiful colors on each other. The colors can be in the form of Gulal (dry colors) or colored water. It is the most joyful festival of India. Children enjoy this festival more than adults. It is said that on the occasion of Holi anyone can color you and it shouldn't be felt bad. Everyone yells this line on Holi festival, "Bura Na Maano Holi Hai" (don't mind, its Holi).
As now you know a lot about Holi, you must be thinking why we celebrate this festival. Let's throw some light over the legend associated with it.
The Legend Of Holi Festival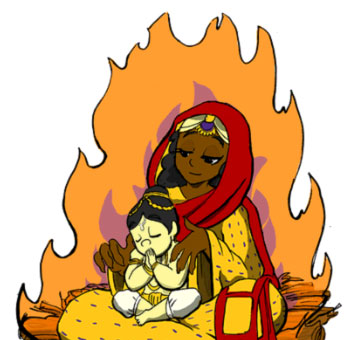 The legend of Holi festival talks about Bhakt Prahlad, who was the son of King Hiranyakashipu. Hiranyakashipu was the King of demons and little Prahlad was a great devotee of Lord Vishnu. Hiranyakashipu thought himself to be God. He was unable to change his son's devotion towards Lord Vishnu. That's why he became Prahlad's enemy. Hiranyakashipu tried to kill his own son many times, but never got sucess. Once he asked his demoness sister Holika to kill Prahlad. She suggested to burn him along with her. Hearing that, Hiranyakashipu was very happy, but was tensed for his sister. Then, Holika told him about the magical blanket she had. She told him that she would wear her magical blanket, taking Prahlad in her lap. On a full moon's night, Holika sat with Prahlad into fire and died. The devotion of Bhakt Prahlad toward Lord Vishnu saved his life. It was the victory of good over bad.
Since then, the Holi festival came into existence and in the month of Phalgun, the full moon's night is known as Holika Dahan. The next day people celebrate this victory of good over bad by throwing colors on each other.
Holi : Celebration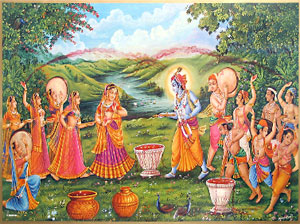 Holi, the festival of love and brotherhood, is here again in 2018. Holi is a festival of colorful faces and Pichkari (water gun) in the hands of little kids. The celebrations of this festival is not restricted only to India. Wherever Hindus or the followers of Lord Krishna reside, colorful faces can be seen. The Holi festival celebrations of Mathura & Vrindavan are famous all over the world. Here, the celebration of Holi festival continues for a week. People from all corners of the world and India visit these places to become a part of this joyful festival. It is said that Lord Krishna used to play Holi with Radha and the Gopis to tease them. This in itself is a beautiful story recited for the celebration of Holi festival. The story says that Lord Krishna was jealous of Radha's beautiful complexion, as he was dark in complexion. He told his story to his mother, Yashoda. She teasingly suggested Lord Krishna to color Radha's face and Lord Krishna did that seriously. Since then, coloring the faces became a tradition on the occasion of Holi.
So, plan out a visit to Mathura & Vrindavan for the celebration of Holi and become a part of the joyful Holi of Radha & Krishna.
Holi : Delicious Delicacies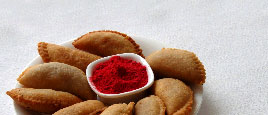 We know that you are going to celebrate Holi very joyfully, but you should know about the special treats of Holi celebrations too. Let's get to know more about the delicious foods that are cooked on the occasion of Holi and double the joy of celebrations.
Every festival in India has its own special delicacy, which is Gujia in the case of Holi. Gujia is a kind of dumpling which is filled with a mixture of dry fruits, sugar, coconut, & Khoya (dried whole milk).
Although, Gujia has its special significance on the occasion of Holi, but there are many other eatables that are made specially for Holi. Mathari, that is made of wheat flour, salt and baking powder are also being served at the occasion of Holi. When people visit each other on Holi, these delicacies are offered as a celebration of brotherhood and love.
Now, you are ready with the tasty food too, then what are you waiting for.Celebrate Holi, the festival of love and amity with beautiful colors & delicious delicacies.
So, get ready to celebrate this beautiful festival of colors.
MyKundali wishes you a Happy Holi !