Leo Horoscope 2021 Predictions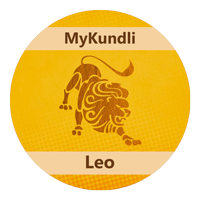 As per the Leo horoscope 2021, this year is going to be favorable regarding money, relationship, and family. The lord of Leo sign, the Sun is placed in the fifth house. This year Saturn will remain in Capricorn Sign in the Sixth House of enemies and rivals, Mars is going to be in the ninth house that will strengthen your luck and make your relationship stronger. This year is favorable for journeys. You may go on trips frequently. You would be spending a lot of money during these journeys. Rahu is placed in the Tenth house of career, due to which you will get sudden progress. Your enemies and competitors will get defeated. You will get success in every aspect of your career. You will achieve new heights in the domain of your work by your hard work.
Venus and Ketu in the fourth house of home and happiness will bless you with happiness but you have to put in the effort, and hard work. This year, you are going to spend on luxury items. This year will be favorable for you financially. Your financial status will remain very strong throughout the year. Due to sudden progress in the field of your career, an increase in income will be seen. Jupiter will transit in the Seventh House from April to September. Leo natives who are in love may also get the chance of getting married to their soulmates during this year.
Due to the impact of Jupiter in the seventh house, your professional relations will become stronger and you will get proposals from several noble persons for partnership. If you are carrying out your business in partnership there are signs of good profits. After September, job change or transfers are possible. The beginning of this year would be favorable from a health perspective. However; Healthwise, this year will be a bit challenging for you as per Leo 2021 Horoscope. You should remain extremely careful this year as they may suffer from diseases associated with the joints, stomach, and kidneys.
Leo Horoscope 2021 for Career
As per horoscope predictions 2021, this year would be highly auspicious from a career point of view. You will attain sudden progress in your career due to Rahu in the tenth house. Although Rahu in karma/ Tenth house will bring lots of challenges for you this year, also there are chances of you earning from more than one source. If there is any difficulty bothering you, know that they are temporary. Chances of promotion are also high this year, and you may also get an opportunity to go abroad for your business or job.
Mars is posited in the ninth house at the beginning of this year which means that luck is going to be in your favor and will help you shine in your career and improve your relations at the workplace. You may face challenges in the month of April and May due to the transit of Mars in the eleventh house. Saturn in the sixth house would be working fine for your professional desires. However, Jupiter in the sixth house would protect you and maintain the status quo in your career field. Your enemies and competitors will get defeated. Despite strong storms around Leo natives, they will achieve new heights through hard work, and proper guidance from your seniors will help you shine in your career.
Leo Horoscope 2021 for Financial Life
As per the Leo Financial horoscope 2021, this year for natives will give mixed results. The placements of planets are making such a position that Mercury, sitting in Jupiter's house with the Sun, shows that this year is going to be beneficial for you, where you can find new opportunities for making money. You will also get opportunities for business development and expansion. The beginning of the year will be favorable for you, but the month of April is said to be the most favorable for you as chances of a rise in your income through multiple sources are high.
The placement of Sun and Mercury in the fifth house is creating Budhaditya Yoga, this year would be very beneficial for those associated with paper, cloth, and food, etc. From May onwards, your expenses will start to rise, it is advised to adopt a simple lifestyle as much as possible. You may have to spend on Medicine, children's education and family by the end of this year. Long-term investments will also give good returns. As the year ends, you would be on solid grounds if you had taken care of your finances sensibly earlier.
Leo Horoscope 2021 for Education
As per Education Horoscope 2021, this year Leo natives will get mixed results regarding Education. The ruler of the fifth house is sitting in the sixth house, so you will get success, but only after putting in a lot of effort and hard work. For students giving any kind of Competitive exams or to get higher education months from April to September may prove to be somewhat challenging. Hence, you are advised to remain extremely careful and focus on your hard work as this year's education cannot be left to luck or destiny. The month of April will prove to be quite favorable for students. Afterward, the time period of the months of May, June, July, and August will prove to be challenging for you. The time period between September 2021 and 20 November 2021 will prove to be quite lucky for you.
Leo Horoscope 2021 for Family Life
As per Horoscope 2021 Predictions, the Leo natives will enjoy good family life this year, and won't have to face any major problems. The placement of Venus in the fourth house and Sun in the fifth house means the family atmosphere is going to be very good. You will be able to perform all your responsibilities towards your family very efficiently in spite of being very much involved in your professional life. You will get full cooperation from your spouse.
Your brother will also make progress. You will contribute your help towards social activities enthusiastically. Even your enemies will extend their respects to you. The lord of the Fourth house may give you an opportunity to buy land. And if the construction work of your house is going on, delay for some days is on cards. From September to December, you can see major and important decisions related to the house being taken. Take special care of your mother this year.
Leo Horoscope 2021 for Married Life and Children
As per the marriage predictions 2021 for Leos, the planet Saturn, your ruling lord of married life, sits in conjunction with Jupiter in the sixth house which shows that you may face ups and down in personal life. After april 06. When Jupiter will move into your seventh house, you will get the full support of your partner and fulfill your duties towards your spouse. Try to explore new aspects of your love life or marriage. Routine life might hamper your romantic moods. Potential marriage is likely for the more committed Leo natives this year; they would be able to meet one who is on terms with them both mentally and physically.
The months of April to September are favorable through the year, Leo natives would be facing good time in marriage, and it would be solely due to proper understanding of each other and avoid any lack of communication or misunderstanding, whose impact will be directly seen on your kids. Be positive, you can win over your love by your warmth. The beginning of this year would be moderately favorable for children as this year, there might be some worries surrounding them. However, chances of growth in career and wealth for your first child are on cards. This period will be auspicious for your second child, as he/she will attain success in every aspect of life, but there might be some troubles arising related to the body.
Leo Horoscope 2021 for Love Life
As per Leo horoscope 2021, Leo natives in love will be able to succeed in love matters only after putting in the desired effort. Your lord of fifth house, Jupiter is in the sixth house, and with the placement of the Sun in the fifth house, there may be problems due to the interference of an elder. This year, Leo natives would be longing for a change in their love life or marriage. You will feel less committed to your partner and may wander for a better scope elsewhere. You may come across some new areas and developments in your relationship. This phase will be good for enhancing communication and understanding with your loved ones. The transition of Jupiter will impact your actions; it will be governed by your strong instincts and emotions in the months from April to September as per 2021 Leo Horoscope will have a positive impact on both of you. During this time, you will get an opportunity to get married to the love of your life.
Leo Horoscope 2021 for Health
As per Leo Health Horoscope 2021, the health of Leo natives will be favorable this year. You will feel energetic, and your vitality would increase as the year progresses. Follow a balanced diet, do not overexert yourself physically, and stay clear of smoking and drinking. The natural benefactor of health Sun is forming a Budhaditya Yoga in the fifth house, therefore health will be good for Leo natives. The months of January, February, and March may bring minor troubles like sore throats or fever, but the rest of the year will be good for your health.
Leo Life Predictions 2021 say that the placement of Saturn and Jupiter in the sixth house will prove worrisome for those who are already suffering from allergies, blood pressure, or joint pains. There would be fluctuating periods of high and low energy levels. At one point in time, you will be hyper-active and during the other, you might end up feeling exhausted even after performing the slightest physical activity. For a good balance, maintain a healthy diet of fruits and vegetables and also practice Meditation for better results.
Leo Horoscope 2021 Remedies
This year, it is advised to engage in religious ceremonies with your spouse and perform prayers in the evening every day.
Offer water to the Sun every day with a copper vessel by putting rice, Roli, or Jaggery and red flowers in it.
Recite Vishnu Sahastra Path and install the idol of Laddu Gopal in your house and wear Ruby or Manik Gemstone in a copper ring on any Sunday.
Keeping fasts on Thursdays and offering water to the Peepal tree without touching it will be beneficial for you.
Thankyou for visiting MyKundali. Stay tuned for more updates.