Basant Panchami in 2020: Saraswati Puja Muhurat, Saraswati Mantras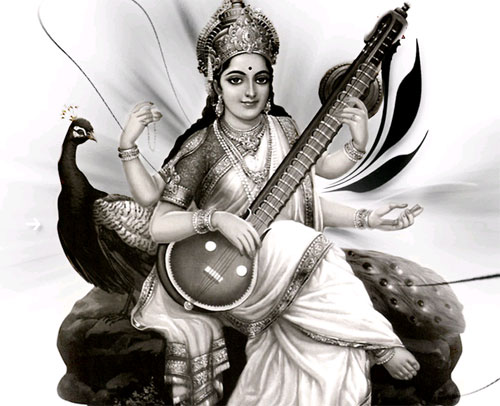 Basant Panchami is a festival celebrated with huge euphoria in India, especially in the northern regions. It is a festival that heralds the beginning of Vasant Ritu (Spring Season). Vasant Panchami is celebrated on the fifth day of Shukla Paksha of the Magh month of the Hindu Calendar. Basant Panchami in 2020 falls on 29 January, Wednesday, and will be celebrated with great devotion. The festival is also celebrated as Shree Panchami or Saraswati Puja in West Bengal and few parts of Orissa. Perform the Saraswati Puja on this auspicious occasion of Vasant Panchami and find out about Saraswati mantras to be chanted.
Read: Education Horoscope 2020
BASANT PANCHAMI 2020 MUHURAT
Basant Panchmi Puja Muhurat For New Delhi, India
Date
Time
Duration
29 January, 2020
10:47:38 to 12:34:27
1 Hour 46 Minutes
The most recommended Muhurat for the Saraswati Puja on Basant Panchami is between 10:47:38 to 12:34:27. The duration of the Pooja lasts for almost 1 Hour 46 Minutes. So, this time is considered to be very auspicious for marriage in particular and the Saraswati Pooja is considered to be good for Griha Pravesh.
VASANT PANCHAMI CELEBRATIONS
The day of Vasant Panchami is staunched to Maa Saraswati, the Goddess of knowledge, arts, music, science and technology. On this very day, Vishnu, Radha Krishna and Saraswati are worshipped with yellow, pink and white flowers. Apart from these, water offerings, lamp, incense, Naivedyam (rice prepared with jaggery) and also yellow colored halwa is presented to the almighty.
Vasant Panchami is also known as the festival of Harvest, as it signifies the blooming flowers of mustard and hence yellow color upholds utmost significance in the celebration of Vasant Panchami. The devotees of Goddess Saraswati adorn the idol of Goddess with yellow sari and also the devotees wear yellow attires on this day. Also, it is considered as a propitious occasion for the students to start their studies, marking a new beginning of their learning period. This Basant Panchami 2020 too, the schools and colleges organise special prayers to worship the goddess of wisdom. Usually the students place their books at the feet of Goddess and seek her blessing for better learning & understanding. Perform Saraswati Puja on Vasant Panchami as per puja muhurat and attain auspicious results.
SARASWATI PUJA ON BASANT PANCHAMI IN 2020
As far as the Vidhi of Pooja is concerned, according to the time of muhurat following postulates must be kept in mind-
Wake up early in the morning. Take a proper bath and wear yellow coloured clothes after that.
The Pooja place should be cleaned and you need to face the North or North-East direction while praying.
A white cloth should be placed at the Pooja place and rice & pulse should be spread on it.
Then Astadala Padma (eight petal lotus) is made with rice and the idol/photo of Saraswati Maa should be placed there.
Then flowers are to be offered followed by vermillion and then incense sticks should be burned.
After doing take Pooja Gandha, Akshata and Pushpa in the left hand leaving them over and with books in the right hand you should chant the following Saraswati mantra-
ॐ श्री सरस्वत्यै नमः । अनेन पूजनेन श्रीसरस्वती देवी प्रीयताम् नमो नम: ।

oṃ śrī sarasvatyai namaḥ । anena pūjanena śrīsarasvatī devī prīyatām namo nama: ।
People who look forward to the spiritual enhancement can wake up early at 4 AM because the time from 4-6 is considered to be a Brahma Muhurat which is an auspicious time for gaining spiritual superiority.
Click Here To Know About Indian Holidays And Festivals: Indian Calendar 2020
SARASWATI VANDANA
Saraswati Stuti is recited on the auspicious occasion of Basant Panchami. Below is the famous "Saraswati Ya Kundendu" stuti from the Saraswati Stotram to be chanted with its meaning:
या कुन्देन्दुतुषारहारधवला या शुभ्रवस्त्रावृता।
या वीणावरदण्डमण्डितकरा या श्वेतपद्मासना॥
या ब्रह्माच्युत शंकरप्रभृतिभिर्देवैः सदा वन्दिता।
सा मां पातु सरस्वती भगवती निःशेषजाड्यापहा॥१॥

yā kundendutuṣārahāradhavalā yā śubhravastrāvṛtā।
yā vīṇāvaradaṇḍamaṇḍitakarā yā śvetapadmāsanā॥
yā brahmācyuta śaṃkaraprabhṛtibhirdevaiḥ sadā vanditā।
sā māṃ pātu sarasvatī bhagavatī niḥśeṣajāḍyāpahā॥1॥
Meaning: The Goddess of Knowledge, Bhagwati Saraswati, who has a fair complexion like a Kunda flower, Moon, snow and pearl necklace, wears white clothes, who holds a beautiful Veena in her hand, who is seated on a beautiful White Lotus and worshipped by Brahma, Vishnu and Shankar, and who is the eliminator of persistence and ignorance, protect us ॥1॥.
शुक्लां ब्रह्मविचार सार परमामाद्यां जगद्व्यापिनीं।
वीणा-पुस्तक-धारिणीमभयदां जाड्यान्धकारापहाम्‌॥
हस्ते स्फटिकमालिकां विदधतीं पद्मासने संस्थिताम्‌।
वन्दे तां परमेश्वरीं भगवतीं बुद्धिप्रदां शारदाम्‌॥२॥

śuklāṃ brahmavicāra sāra paramāmādyāṃ jagadvyāpinīṃ।
vīṇā-pustaka-dhāriṇīmabhayadāṃ jāḍyāndhakārāpahām‌॥
haste sphaṭikamālikāṃ vidadhatīṃ padmāsane saṃsthitām‌।
vande tāṃ parameśvarīṃ bhagavatīṃ buddhipradāṃ śāradām‌॥2॥
Meaning: The one who is fair, who pervades the entire gravitation world, who is hailed as the Adi Shakti, who binds the essence of philosophies and knowledge by the Parabrahma, the one who eliminates all kinds of fear and eradicates the darkness of ignorance, the one who adorns the Veena in her hands, the book and Sphatik Mala, the one who imparts wisdom while seated in Padmasana and ornamented with supreme bliss, I pray to Bhagwati Sharda (Saraswati Devi) ॥ 2॥.
BENEFITS OF SARASWATI PUJA
It is considered as a propitious occasion for the students to start their studies, marking a new beginning of their learning period. The Saraswati Pooja is highly beneficial for writers, creative thinkers and vocal performers, especially for the singers. Saraswati is the Goddess of learning who endows humanity with the greatest wealth i.e. knowledge. On the occasion of Basant Panchami 2020, children are taught to write for the first time by their mother, guru or a learned person using a chalk (khadiya) so that the child excels and gains the best education and knowledge in the life ahead. Then after the worship of Goddess Saraswati, the students keep their educational books underneath the idol of Goddess Saraswati. Apart from this, Brahmins are fed and are given pulses (daal).
Horoscope Matching for Marriage
SPIRITUAL THRUST
The image of Goddess Saraswati sitting on White Swan symbolizes the Supreme Power. The white swan of Goddess Saraswati denotes Sattwa Guna (purity and discrimination), the lotus of Lakshmi the Rajas Guna and the tiger of Durga the Tamas Guna. Goddess Saraswati is depicted possessing four hands and plays "Veena", an Indian string musical instrument. Goddess Saraswati, the goddess of knowledge and arts, represents the unconfined flow of wisdom and consciousness. She is the mother of the Vedas, and chants to her, called the 'Saraswati Vandana' often begin and end Vedic lessons. The erudite and the culture attaches greater significance to the worship of goddess Saraswati.
According to many Hindu astrologers, the day of Vasant Panchami is considered as the Abujha day which is contemplated as an auspicious day to start a good work. People also dress up in yellow clothes and offer yellow flowers to deities in the temples. The four hands of the Saraswati denotes the different sides of human personality in learning. Goddess Saraswati seated on a white lotus and is dressed in a pure white sari. When she is seated on a peacock, she signifies that wisdom vanquishes ego. According to purana, Lord Brahma after creating the universe was very disappointed to see the silence present everywhere. Then goddess Saraswati gave sound to his creation through her Veena.
Basant Panchami in 2020 is celebrated with great bliss among the people of India (northern parts of India), as it is famous as a kite flying festival as well, especially in Punjab and Haryana. Also in many parts of the country, people arrange a grand canopy to welcome the Goddess and worship her. In West Bengal, the devotees carry out various processions in which idols and sculptures of Maa Saraswati are carried to get it immersed in the holy river Ganga. Know the Basant Panchami date for 2020 and Saraswati Puja muhurat and attain favourable outcomes.