Lohri 2019: Lighting Bonfire and Worshipping Lord Sun
The festival of Lohri will be celebrated on 14th of January in the year 2019. This is a festival which is celebrated in India with zeal and gaiety. The word Lohri is made up of three parts - "L" stands for Lakdi (wood), "oh" stands for Goha (cow-dung cakes) and "ri" represents Rewari (a sweet dish made with sesame seeds as the main ingredient. The festival falls in January every year as it is celebrated in accordance with the Solar Calendar, unlike other major festivals that follow the Lunar Calendar.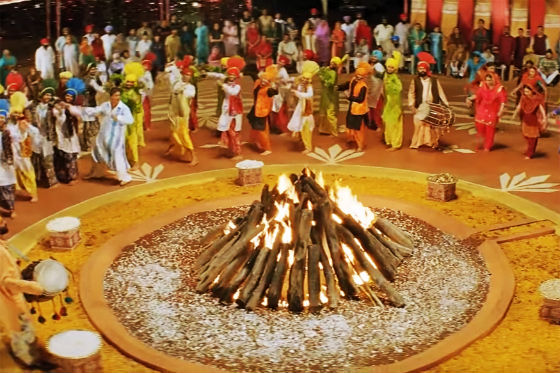 Lohri is a popular festival in Punjab and Haryana. It is always celebrated a day prior to Makar Sankranti. The preparations for this festival start around a month before the occasion falls. It is made sure that homes are spick and span on this day. People dress up themselves for the occasion. Children enjoy to their fullest and women make cow-dung cakes while singing folk songs. A great bonfire is lit in the evening. Til (sesame seeds), Gur (jaggery), Rewari (sweet), and peanuts are offered as the Bhog and are later distributed as Prasad. Musical instruments such as drums and people performing regional dances like Bhangra and Gidda further level up the celebration.
Know Indian festivals for 2019: Indian Calendar 2019
Reason behind Lighting Bonfire on Lohri
It is a common practice to light bonfire and worship the fire on the day of Lohri. There is a underlying reason behind this practice. It is believed that this fire is lit in the memory of Goddess Sati, the daughter of Prajapati Daksha. Once he organised a grand Yagna in which he did not invite Lord Shiva and his daughter Sati because he disliked Lord Shiva. Angry with his move, Goddess Sati went to him to ask for a legit reason for his act. Instead of answering her politely, he insulted her and her husband as well. Goddess Sati could not bear such an insult for her husband and sacrificed herself by immolating herself in the fire of the Yagna. Upon hearing the news of demise of his wife Sati, Lord Shiva got infuriated and created Virbhadra, who destroyed the Yajna. This is why fire is lit on the eve of Lohri and worshipped. Some people believe that the fire is created to safeguard them against the cold and chills of last night of the month of Paush and first day of Magha month.
Importance of Lohri
Every festival is celebrated due to a reason and Lohri is no exception. Scholars believe that the main purpose for celebrating this festival is to inculcate cultural and religious values in children and make them realise their importance. Celebrating the festival with elders lets the children know the rituals and customs, which are eventually passed from generation to generation. Thr festival welcomes the new harvest festival for the farmers and the peasants. People observe a day off and dance on the beats of drums or perform Bhangra and Gidda. This helps the body to stretch and channelise energy. Recreation also helps to achieve a good health. Lohri marks an end to the cold month of Paush. The bonfire lit in this day provides warmth to the bodies of the people and bring them together. The foods consumed on this day are also beneficial for the health.
Legend related to Lohri
The legend about Lohri revolves around the hero - Dulla Bhatti, who is perceived as the Robinhood of Punjab, who stole from the rich and offered it to the poor and the needy. Dulla Bhatti existed during the reign of the Mughal Emperor Akbar. He is mentioned in the folk songs as the saviour of girls whom he freed from slavery and a philanthropic heroic personality.
Read Horoscope 2019 predictions
Rituals and Customs Associated with Lohri
Although Lohri is a festival of Punjab and Haryana, it is celebrated with joy and enthusiasm in all over the country. Farmers celebrate it as a new year for harvest and pay their respect and gratitude to the almighty with a hope to get a good harvest in the following year.
During the festival, children pay visits from door to door, singing the folk songs of Lohri. They are always offered sweets, popcorn, or sometimes money.
They are never returned empty-handed as it brings home unfavourable circumstances. The offerings made to children are often referred to as Lohri or Lohri Loot.
At night, bonfire is set up. People circumambulate around the bonfire and enjoy it by singing folk songs and dancing around the fire.
The delicacy prepared on Lohri is Sarson Ka Saag (cooked mustard herbs) and Makki ki Roti (bread prepared with millet flour). Some people also include Kheer as a desert.
In some parts of Punjab, people fly kites to celebrate this occasion.
We hope that you liked this article. May the festival of Lohri brings rays of hope and happiness in your life.