Tarot Horoscope 2016
Tarot predictions for 2016 are here with details about every dimension of your life. Want to know how strong or weak, luck is for your sign? Read this horoscope and unfold it now. Assure success in 2016...
Know how your year 2016 will be from here: Horoscope 2016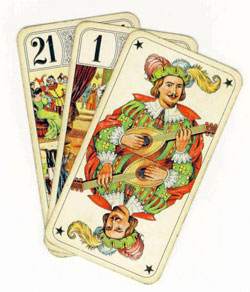 Aries
2016 will let you enjoy favors of luck. You will get opportunities to step toward your ambitions and targets. Luck will favor Arians throughout 2016. Opportunities will take you closer to your goals and targets. Unfortunately, you might face problems in personal and domestic life. However, rather than acting in hurry and complicating the things, it would be good to let things settle on their own. Start observing things and start calculating your needs from life. Try to know what you have and what is that thing you miss. To shine in your career, taking risks is a must this year. It is totally upto you whether to do it or not. One thing you need to know is that all decisions made in 2016 will affect your finances for sure. To achieve success, you will tackle the help of your manipulation skills. Try extending your contact list with some really powerful people.
Taurus
Taureans, this year is the call for parties, socializing, holidays and leisure activities. You will spend joyful moments with your near & dear ones. The mental peace and satisfaction you were lacking from quite long will come now. 2016 will turn time in your favor and luck will support you. Wind will flow in your direction, as a result of which things will end up in your favor. As you are going to spend time in social gatherings and similar things, it would be good to complete important tasks on time. This year looks hectic and also a year when you will take some really big decisions. Do everything with its future impact in mind and don't act careless. Back to back, you will pick up one task after the other. Make sure not to get yourself involved in any illegal thing. Try being a bit more emotional by breaking that rigid shell around yourself.
Gemini
2016 is the year to execute your long term plans and desires. You will have ample time and strategies to put your long term wishes in reality. Taking suggestions from elders and following their advice will help in getting improved results and tremendous success. Confidence is good, but over confidence leads to failures, keep this suggestion in mind. It's time to widen your thought process and see life from a different view. Be strong and think about taking risks for the welfare of your professional life. Instead of spending money with closed eyes, take out time to analyze where all this money is going. Will it return something valuable to you or not? You should be very careful regarding your love life. You are suggested to avoid anger and stubborn behavior. Keep things simple and transparent. Accept challenges and battle with them bravely.
Cancer
Cancerians, now the time has come to get serious and to focus on things that really are important for you. Throughout this year, don't forget that you can't achieve success with careless attitude and changing moods. Try to use the magic of your happy-go-lucky nature and charm everyone. Bring a change in your daily life and keep things in order. Find out ways that can take you close to achievements. Connect with those who are important for your professional growth. Don't kill your time and energy for those who are just useless addition to your contact list. You might go back in past memories; however, you should avoid this. Life will give you opportunities to move up and cherish prosperity in life. Building castles in air will do nothing, put your best foot forward for fulfilment of dreams.
Leo
Leo natives will feel attracted toward simple living this year. Luxurious life and show off will not appeal you anymore. Don't hesitate in raising voice for the right things. Work on your weak points and strengthen areas you excel in. Don't let ups & downs hamper your life. Ups & downs will come and go, don't let them disturb your future. Piece of advice for you is avoid trusting people, no matter how close they are to your heart. It would be good to pick things, ideas and everything wisely rather than rushing into everything that comes your way. A balance has to be made between personal and professional sphere. Your intuitions will prove right most of the times during this year. Avoid being dominant on others. Respect everyone's views and try to be a bit coordinating.
Virgo
2016 is filled with goodness for people born under this sign. This year, you will turn more mature, more understanding and more smart when it comes to taking decisions. Your social life will increase and so will your contacts. During this year, you will not only turn spiritual, but more responsible as well. Think about seeing life from a different point of view and analyze your weak points. Don't blindly follow suggestions given by others and weigh the pros & cons first. Mistakes done in previous relationships shouldn't be repeated. This year will give you opportunities of moving ahead in life, make sure to figure out these chances. Luck is ready to shower you with name, fame, and recognition. Don't let this year go useless.
Libra
Librans will transform their boring life into exciting & happening. Tremendous changes will enter your life. Good thing is that you will take accept these changes with smiling face. Challenges, tough times and risks will not break you this year. Happiness, bliss and harmony are on your cards of this year. Replace emotions with practical approach and make plans accordingly. Goodness will be felt in the second phase of this year. Instead of going solo, make sure to focus on working in team for the betterment of your professional life. It would be good to take responsibilities as per your capability. Don't make commitments of any kind, if you are doubtful about fulfilling them. Last but not the least, love life will blossom this year.
Scorpio
For Scorpions, this year is the year of promises, planning future endeavors and implementing them with all they can. You will come out of every problem and difficulty without any drop in your confidence. Changes are foreseen in your professional as well as love life. Keep aside tasks which are not that important. Middle of this year might bring troubles or hurdles for you. It would be good to gain control over the unfavorable things as quickly as possible. Try turning things under control as quickly as you can. Jealousy and feelings of envy do no good to anyone, free your inner-self from these negative thoughts. Be in touch with your loved ones, as they are the pillar of strength in tough times. Love will make its way in your life if you believe in loving without expecting anything in return. Wait for the right time, you will get everything you deserve.
Sagittarius
Sagittarians, now is the time to improve your personality. Try enhancing your confidence level, as it will help in excelling at workfront. During the first half this year, you will concentrate on improving your performance at workfront. Besides this, you will also make sure to discard things which no longer serve you with benefits. Ensuring success and stability for future will become your priority. Life might get tough, but you have to keep it away from affecting your relations. It seems that you might ignore some really important people of yours; hence, make sure not to let this happen. It seems that you will take important decisions in the last part of this year. It is suggested to avoid things which serve as hurdles in your overall growth. With better understanding of life and its challenges, you will make major decisions during the last phase of this year. Follow your heart and do things which you want to do willingly.
Capricorn
Positivity will be seen all around you this year. You will go close toward your goals. However, to fulfill your dreams, you need to bring mental stability and peace first. You can't get success if your mind is surrounded by thousand thoughts. It would be good to be very smart in your actions and ensure that they will not affect you later. Don't fall in the traps of others and do what you think you should. It seems that you might face some tiffs or misunderstanding with family members or special friends. If it happens, don't hesitate in solving things from your end. Don't waste time on those who always look for ways to find flaws in your work. You will enjoy beautiful times with loved ones. Vacations or family trips are on your cards. This year is good to marry your sweetheart and begin the new chapter of your life together.
Aquarius
You people will socialize a lot this year. This will bring good times and progress for you. Not only will be wonderful at workfront, but you will also share good tuning with your loved ones. You will sound diplomatic in most of the things and this will benefit you. It is suggested not to trust anyone blindly. Also, don't share your personal details and secrets with anyone. Stay away from arguments and tiffs. It would be good not to interfere in matters of others. If any relation makes you feel suffocated, cut off it as soon as you can. You might have to take really tough decisions, but don't feel low, as they will bring favors in the coming time. Avoid going on useless trips for the sake of your time and energy.
Pisces
This year will free you from restrictions which were holding you for a long time. Owing to this, you will get to do things you wanted to do from quite some time. Your decisions might hurt others, but doing so is important for your own good. We have to act selfish sometimes and you need to understand this. Some legal matters might create troubles in the second half of this year. You have to stay away from people who hold grudges against you or envy you. Be very careful in matters of friendship as well, as some friends might cheat you. With your hard work and sincerity, you will keep your workfront blooming. You will get attracted toward gadgets and latest trends. Huge expenses are possible on them.
This was all about Tarot horoscope for 2016. We wish you will ease your life and continue living happy with the help of these readings.