Yearly Aries Horoscope 2017
AstroSage brings to you the Aries Horoscope 2017 to acquaint you with what the coming year has in store for you. Brace yourselves according to our compiled Horoscope for the year 2017 and make the most of it.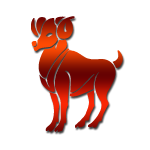 JANUARY
A promotion at work is foreseen for the Aries, as presaged by the Horoscope 2017. Business owners will likely enjoy a fabulous time this month. People involved in machinery, beauty, and art will have a gala time during this month. Your finance will remain stable. You'll have plenty of new opportunities coming your way; albeit you know how to utilize them to your needs. Your family life will be blissful; matters related to your child could stress you. Your parents support will be constant this month. Your relations with your spouse need patience; be empathetic towards their feelings. Respect your partner and be in harmony with them. This month you'll have to be content with talking to your lover on phone, as chances of you two meeting are very slim. People searching for love will find someone new. Take good care of your health during this month.
Remedy: Make it a habit to chant Hanuman Chalisa daily.
हिंदी में पढ़ने के लिए यहाँ क्लिक करें
FEBRUARY
As predicted by your stars, this month will be your best when it comes to business and finance. A promotion at job or a salary increment could be expected this month, according to the Aries Horoscope 2017. A long business trip is predicted for some. Students will have to work very hard to achieve results. Your life partner will amass something big at their workplace during this month, which will help you financially. Shopping for your comfort or luxuries this month is likely. Planning a trip with family might help you strengthen your relationship with them. Married life will be fabulous for you this month. Your partner will be supportive and love life will improve for better. Relations with spouse will be at their best. This year chances are high that some argument or skepticism might strain your marriage. Try to keep your emotions and speech in check; unnecessary doubts and arguments might hamper your love life. Health might suffer during this month; it's advised that you stay away from unhealthy foods and maintain a balanced diet.
Remedy: Wearing more of red clothes will certainly benefit you.
MARCH
This month, you could go on an extended business trip. A promotion at work is predicted in your Aries Horoscope for 2017 with glory and success. You might have to relocate due to business outsourcing. Financially, this month will prove to be lucrative for you. People into business might earn tremendous amount of profits this month. For students, this month is not that auspicious. You'll have to work hard in order to see results. Domestic life will be stable. A trip with family to a pious destination is on the horoscope for you. This month will be auspicious for your married life. You and your spouse will feel passion in your relationship. A long trip is awaiting you and your life partner. During this month, chances are that you might develop strange disliking towards flings. It's important that you stay cautious in your relationships. If you're a rash driver, then it's high time that you shape up this habit of yours. Eat healthy, and take proper rest.
Remedy: Consuming pure honey everyday would be good for you.
APRIL
Chances of getting a promotion at work are extremely high. You'll gain unforeseen benefits in business, as per the predictions of Aries Horoscope 2017. Financially, the time is very auspicious for you. You might speed up your money earning methods this month. Students will have a hard time studying and chances are that their health might suffer as well. Domestic life will be blissful. You might fancy redecorating your house this month; spending on luxuries is also possible. Your married life will be fabulous as relations with your partner will be harmonious. Love life requires you to be extra cautious, as chances are that you'll face a strenuous time ahead. Respect your lover and their feelings. For those thinking about proposing someone, it's highly probable that you won't be successful; it's better that you drop that idea this month. Health wise you'll have an amazing month. You'll be full of energy and will likely finish your work in no time.
Remedy: Hanging red curtains at your home will bring prosperity to you.
MAY
This month you'll get double results with much less efforts. Senior officials will be kind towards you, as stated in your Aries Horoscope 2017 for the month May. Chances are that unforeseen success at business might startle you. You'll have ample amount of money to spend this month. If you've taken any loan previously, then there's a good scope that you'll be able to repay it this month. Students will see good results this month. Amidst all this, you'll spend a lot of time with your family this month.Family related issue which were long due will get settled during this time. Your married life will be in much better shape this month. Your mutual understanding with your spouse will improve, due to which you'll spend more time with each other. New lovers might get hurt this month, as chances of separation are high; be cautious and save yourself from agony. Your health will be fabulous; you'll be full of energy and have a dynamic aura around you. You'll be more self confident and courageous this month.
Remedy: Distributing curry rice amongst the needy will be outstanding for you.
JUNE
The month looks promising for an extended business trip, as predicted in the Horoscope 2017 for Aries. Your success and triumph at work will keep your opponents at bay. For those into shares and lottery, time is auspicious. Your partner and friends will be very supportive. This month you'll be presented with many opportunities to earn more; keep an eye out for them. You'll have no financial burden this month. For students, this month can be a little problematic; you'll have plenty of obstructions to pass through. Concentrate on studies and focus on your strengths. Domestic life will be blissful. All your stuck works would get easily resolved. Chances are that you'll befriend someone of high importance. Your married life will be positive. Your life partner will be supportive and loyal to you. Chances are that your love life might turn dull all of a sudden; avoid any arguments that are likely to end in resentment. Your health will be stable this month. Avoid eating junk and fried food.
Remedy: Hammering brass nails to the four corners of your bed would prove beneficial for you.
JULY
As predicted in your Horoscope 2017, you'll exert yourself too much this month due to business related matters. Avoid investing in land related businesses; staying away from share market is also advisable. During this month people who are into jobs will get benefitted. Your financial stress will end with your increase in salary. Domestic life will function as usual. It's possible that you'll take part in charitable events; or donate for a charity event. Your married life, during this month will be fabulous. You might go on a trip with your partner this month. It's advised that you gift your partner something thoughtful and valuable to strengthen your bond with them. Chances of getting your heart broken are high this month. Stay cautious; your near ones might be plotting against you. Keep your health your main concern and focus all your energy on learning yoga and meditation. Natives following a certain diet won't have to think twice about their fitness.
Remedy: Smearing sindoor paste on Lord Hanuman will give you beneficiary results.
AUGUST
Working professionals will have a gala time this month. As presaged by the Aries Horoscope 2017, promotion is on the cards for you. Senior officers and subordinates will be on the same page as you. People working in any sort of partnership will be benefitted this month. The beginning of the month will bring in an increase in your income, but keep your expenditures in check. Chances of being unsatisfied with a financial situation is high. Your on-off tours will keep you extra busy this month, due to which you won't be able to spend quality time with family. Married life will be wonderful. You might visit a place numerous times with your partner, due to its emotional value. You're likely to experience different shades of love this month. During which, your lover will value your presence and understand your emotions. Don't fret over your health much. If you've been diagnosed with high blood pressure or diabetes, it's advised that you take care of yourself.
Remedy: Stay away from meat and liquor consumption. Forsake violence and criticism for a better life.
SEPTEMBER
Change of jobs is highly probable. According to the Horoscope 2017 for the zodiac, Aries, getting glory at your workplace is probable. An overseas work related trip can happen for some. Take decisions quickly and make good use of time to achieve heights in your career. Your creative prowess will reflect in your work. Earning money from foreign sources is possible. Familial relations might suffer during this month. Your relationship with family members might strain due to lack of communication. The time doesn't look much favourable for your married life. Your spouse's health might suffer. Your relationship will change for the better. Love life will be interesting; meeting new people is on the cards for you. Healthwise, due to too much exertion you're most likely to face some health issues. Keep good care of yourself and stay aloof from risky and dangerous activities.
Remedy: Don't criticize your siblings and cousins, try to be on the same page as them.
OCTOBER
To avoid getting laid off, work in sync with your seniors and colleagues this month. As per the Aries Horoscope 2017, huge monetary gains might come from your business. Financially, this would be your best time. Trade and commerce might make you go for a long trip. Investments in trading business will prove lucrative. Domestic life will be excellent. Expenditure on religious activities this month is possible. Chances are that you might think of getting new furniture at home. A new vehicle is also on the cards. The time is in favor of your happiness; married life will be full of bliss. The sorted out nature of your partner will help you with your mental peace and happiness. Your aura will attract new people into your life; natives of the opposite sex will be eager to be friends with you this month. Health will be stable; if you have diabetes, it's advised that you take special care of yourself.
Remedy: Prepare sweet rice and hand them out to the needy.
NOVEMBER
As per the Horoscope 2017 for the sign Aries, even your tiny efforts at work will reap large results. Work related long trips might benefit you. People involved in business with foreign countries will gain monetary benefits. Keep unnecessary spendings at bay. People involved in betting and lottery business should stay away from investing large amounts of money. Domestic life won't be that good for you this month. Avoid familial quarrels. Married life won't see a favourable time this month. You and your partner might struggle emotionally. Time is grim for love affairs; sweetness in your relation will lessen with time this month. For the single masses, if you've been planning to propose someone time isn't auspicious for you. Health will be sturdy. For maintaining a fit body, exercise daily.
Remedy: Before going to any important event apply red tilak on your forehead.
DECEMBER
This month of december, as per the Horoscope 2017 for Aries you might get the good news of an unforeseen promotion. You'll try to strengthen your current business; which, as predicted, will prove to be a successful venture. Domestic life will be dull this month. Finance wise, the month will produce good results. Students might suffer with studies. Arguments might arise in family; mother, child, and spouse's health might droop. Your married life will be good, and chances are that you'll visit some romantic place with your lover. Stay alert in your relationship, as someone close might try to harm you. Keep your voice sweet and tone calm; take your time before befriending anyone. Health will be satisfying; incorporate a health regime into your daily lifestyle. Eat according to the seasons.
Remedy: Feeding sweets to birds will benefit you.