Aquarius Horoscope 2019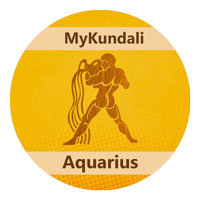 Aquarians are straight-forward people and love to be independent. You believe/prefer in going your own way rather than following the masses. You may feel the ambition to surge ahead ,both in social and your professional life in 2019, according to the forecast. You may become more goal–oriented and responsible too. You will be able to attain success for your efforts. Though not immediately, but steadily and surely you will taste success.You may gain popularity among your friends. The transit of Jupiter may give very beneficial results, according to your expectations, during the year. You may find appreciation and cooperation from your family and friends. Parents may support you well in your endeavours. You may also take interest in public welfare activities and engage yourself by utilizing your spare time in helping the underprivileged. You will be able to reach your goals and attain success in whatever you have been wishing for, at the end of the year. You may receive good impetus during the year which will send your spirits soaring high. A good year ahead!
WORK AND BUSINESS HOROSCOPE 2019 FOR AQUARIUS
2019 seems to be a favourable and a satisfying year, as far as predictions about career and business go. You may have your share of professional ups and downs, but overall a good year. The beginning of the year augurs well for both service people and the self-employed. Working conditions will be good. Newly launched businesses may start picking up slowly in the first quarter of the year. Overseas work-related travel will be on cards. Entrepreneurs may find the period very favourable for their ventures. In the following period, businessmen may embark on new projects and expand their existing businesses. Property dealers and construction businesses may find the going good. Travel for work related or business purposes may bring gains. A good time for estate agents, beauticians, IT industry, government servants, artists, entertainment media, educational institutions etc. It may a very time for speculators, big money may be expected from speculation. During the mid year, promotions,increments and recognition may be expected. Your work may be appreciated by seniors. But you may have to prove yourself by paying attention to every detail and working hard on your projects. Your leadership qualities will be at the fore and you will efficiently manage the deadlines with the help of your subordinates. August seems to be a favourable month for government servants, writers, accountants, media and advertising, those working in various technical and technological fields, businessmen and entrepreneurs alike. You may find the period very good for realizing your goals. You will be appreciated for your contribution and work. Rewards may accrue. During the last quarter of the year, travel is indicated which may prove good for your professional growth. An extremely beneficial and rewarding period for all Aquarians in general. You may reap the fruits for your efforts. Overall a satisfying year.
FINANCE HOROSCOPE 2019 FOR AQUARIUS
Financially 2019 may be a good year for improvement in your financial position and wealth, according to the predictions for Aquarius. Stars seem to be favourable this year. In the beginning of the year, you may expect an addition to your income through your profession. You may invest money for the future. In the first quarter of the year, you may gain by selling some ancestral properties. Be careful about investing money in February. You may spend money on travels. Some you may invest money in buying new properties or vehicles in the March-April period. Be cautious of investing your hard earned money and invest wisely after weighing the pros and cons.Investment in shares may yield good gains. Trading and speculation may bring in large profits. A good time for investments in new ventures.Trade and transport industry, coaching classes, artists, accountancy firms, those working from home, housewives running side businesses and working from home, cottage industries, catering and hospitality industry etc. are expected to do well during this period. The mid year may also very favourable for speculators, but risks are involved. Expenses towards health care are not ruled out. During the last quarter of the year, you may gain through increments at work and through inheritances, during October. You may get back your stuck money. A very good time for the fashion industry, cosmetics and industries manufacturing beauty products and feminine products. The year end may bring plentiful gains through partnerships, professional incentives, buying/selling/renting properties, lotteries and so on. Private consultants, coaching classes, small manufacturing units and firms, may expect good gains. This period is good for investments. You may invest in precious metals, luxury vehicles, education and learning new skills in the last quarter of the year. Overall, a good year for wise investments and profits.
EDUCATION HOROSCOPE 2019 FOR AQUARIUS
Mixed results may be expected for students, but lot of self-efforts and the willpower to succeed in your respective fields, may be required for success, according to predictions for 2019. The year may begin with good educational prospects for most students. The first quarter of the year seems very favourable for students appearing for various competitive exams. Students from technical fields, engineering and medical students are expected to do well in their respective fields. March will be a good month for students of fine arts, architecture, fashion technology, gemology, and commerce students. Students may get admissions in foreign universities of their choice. As the year progresses, some minor ups and downs in studies or a slow down in progress may be evident. Students pursuing higher education may get scholarships or stipends. Students studying mass communications, journalism, animation and fine arts may be benefitted. Some may find good job opportunities too. Many of may find success in your respective fields. During the mid year, those appearing for civil services and other competitive exams may expect good success in their endeavours. Cosmetic dentistry students, dance/drama students, students studying ayurveda, horticulture and botany, may do very well. Many of you may get a chance to showcase your talents. This period is good for students of all streams, and they may do well with their focus and efforts. Students may gain from government schemes and loans during August-September. Professors and teachers may be helpful and their guidance will help you to progress well. Students completing higher education are likely to find good jobs. During the last quarter of the year, students aspiring for banking jobs, CAs, law, MBA, engineering students are likely to gain from their courses and some may land up good jobs, in campus interviews or through exams. A lot of focus will be required in the last quarter of the year, for students preparing for their board exams in the following year and for students choosing their next plan of action. Most students may do well in December. Some of you find part time jobs. Do well, and hope for the best.
FAMILY HOROSCOPE 2019 FOR AQUARIUS
2019 is expected to a good year for peace, harmony and good relationships within the family, according to what the stars foretell for Aquarius. You may develop a greater emotional bonding with your family through the year. In the beginning of the year, some minor differences with siblings may crop up, but as the year progresses, things may get sorted out soon. Relationship with your spouse and children may be good . Avoid unnecessary arguments with your brothers. This may cause unpleasantness, during the first quarter of the year. Children may need your attention during April. You may have good support of your spouse and parents, in the following period. Children may make you proud with their performances. Family atmosphere will be cordial. You will be blessed by your parents. Addition to the family or a birth in the family may bring happiness and cheer. During mid year, some religious ceremony or ritual may be organized, for the well-being of family members. Health of parents and spouse may cause much worry and expenditure. A family get-together may be on cards in the later period. Your spouse may gain inheritance or a legacy from the family. Most differences will be ironed out and peace will prevail. Children may perform well in academics and extracurricular activities and win accolades for their performances. During the last quarter of the year, you may give charity or help the needy. Friends and family may pitch in to help you in your endeavours. Journey to a religious place of interest may be possible with family and friends. This may increase your positivity. December may be a very positive month filled with celebrations and merry making. You may celebrate an auspicious event in the family and attend weddings and ceremonies of relatives and friends.
LOVE HOROSCOPE 2019 FOR AQUARIUS
Aquarians may feel the need to socialize more and for stability in their emotional lives, according to the predictions for 2019. Relationships may be unstable unless you have found your right soulmate. In the beginning of the year, a feeling of friendship along with a need to be independent will be there in love. But you'll also feel the need to settle down in an emotional relationship. In the first quarter of the year, singles may opt for uncommitted relationships and love affairs, though pull for serious commitment may be strong. It may be a period of getting to know your partner better in March. In the later period, married people may also have issues to handle in their marriage. You may still be indecisive in the mid year, but you may meet former friends and acquaintances and rekindle romance and love. You may meet new people at your work place in your professional circles. Relationships may be more stable after this period. Many of you who are single may think of taking your relationship further and contemplate on marriage. You may even involve your family in taking a decision. August –September period seems favourable for committing in relationships. Some of you may tie the knot legally during October. Those who are in serious relationships or married is likely in the near future. Single parents are also likely to get married during the last quarter of the year. The year end may see many eligible Aquarians tying the knot with blessings from family and friends.
HEALTH HOROSCOPE 2019 FOR AQUARIUS
General health is expected to be good, according to predictions for Aquarius for 2019. However, food, water and weather related ailments should be taken care of by quick remedies and medication. Adopting a healthier lifestyle and discipline in regular exercise may work wonders. Be careful of bronchitis and other respiratory tract infections such as asthma, if you have a previous history of such ailments, during the first quarter of the year. Mental stress should be avoided with regular meditation. Elderly people should be extra careful about their chronic health issues. In the later period, the digestive system and complaints of arthritis and joints are likely to surface. Normal precautions and medication may suffice. Monsoons may aggravate certain health conditions in the mid year. Take care of your liver problems, if any. Health is expected to be sound during this period for Aquarians. Proper diet and regime should be maintained. Heat related problems, mouth ulcers, conjunctivitis are likely in the later period. Proper hygiene and precautions are necessary. The last quarter of the year promises good health and vigour and vitality.
REMEDIAL MEASURES
Offer oil + whole black urad pulse and sindoor to Hanumanji on Saturdays.
Give black coloured clothes in charity to poor orphan children on Saturdays.
Feed crows with boiled rice everyday.
Give mustard oil or sesame seed oil in charity to the poor on Saturdays.
The numbers 8, 17, 26… are lucky numbers. You may plan your important work on these dates.
Blue, green, purple, black and dark tones of grays may suit you.
Meditation, good sleep and sports may be beneficial for your well-being.
Spinach, Plantain, carrots and cilantro may be beneficial herbs for optimum good health.
Blue sapphires, deep shaded natural pearls may be the lucky jewels, but it may vary according to individual horoscopes.
Worship of mother goddess Durga will be beneficial.
Hope 2019 finds you in the pink of health and the best of spirits. Wish you an exciting year ahead!