Aries Horoscope 2019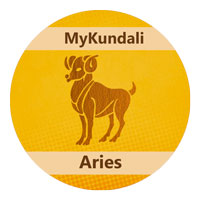 Aries Horoscope 2019 has a lot to surprise you throughout the year. The natives of Aries zodiac sign comprises of qualities like free thinking and mightiness,and hence they choose their own path. Being an Arian, People admire your leadership abilities. However, despite all these attributes, because of anger and aggression, you lose out on your patience, so you need to pay attention to it. According to the Aries horoscope 2019 you will progress in your career this year. But at the beginning of the year you may have to face challenges. The prospects of promotion in the job are strong. At the same economic front you will get success. Talk to students You will be more focused on your studies in 2019. However, in the beginning of the year, you have to focus your attention in studies. You may also have to face fluctuations from family perspective. On the other hand, the year 2019 is indicating positive for the people of Aries in terms of health. At the beginning of the year, there will be good coordination between the love couple who have a long relationship.
WORK AND BUSINESS HOROSCOPE 2019 FOR ARIES
As per Aries horoscope 2019, the beginning of the new year may bring new challenges at work,especially the first month of the new year. You may feel enthusiastic during the first quarter of the new year. You may also get opportunities to add to your skills and learn new things. You may travel overseas for seminars or meetings. Seniors may be supportive, you may even find a good mentor at workplace. You may gain the required expertise during this period. Some ups and downs may be expected in the later period, but it may be a passing phase. A promotion may be in the offing. The second half of the year may bring more responsibilities, be sure you don't give in to lethargy. Keep up your spirits and assert yourself. Don't fall for easy money. The third quarter of the year may bring in positive changes, though work pace may become hectic. You may be busy with your work, but it will give good results in the later period. Be careful and speak wisely. Short trips for work purposes may be likely. You may get accolades and appreciation for your work during the last quarter of the year. Those who have newly joined jobs may also get appreciation. Some may be eligible for increment and promotion. Incomes may rise and you may get your dues and rewards befitting you. Partnerships in business may be fruitful after the first quarter of the new year. New ideas and creativity may bear fruit, especially after the middle of the year. At the end of the year, natives of Aries zodiac sign may have to emerge as a leader if they wish to be offered a long-term position on an important project. If you are looking for employment or wish to change jobs, you may find the required zeal, confidence and appeal to attract the necessary attention. On the other hand, don't let impatience get better of you. You may run the risk of acting irrationally and may face obstacles and disagreement with others, and may spoil your chances. You may prove yourself and find your dream job too, if you are careful.
FINANCE HOROSCOPE 2019 FOR ARIES
Hard work coupled with good fate may bring improvement on the financial front at the end of January and in the further period, as per the finance Aries horoscope 2019. After the first quarter of the new year investments in share market may bring gains to some Arians. But be careful as it may give financial gain only directly proportional to your karma or whatever you genuinely deserve. Around the next quarter you may gain good money through your own efforts. You may earn more in money through partnerships whether in business or joint ventures. As the year progresses you may be tempted to make fast money, but be careful, as ways of making quick money may bring sorrow later. Avoid investing money in some ventures or elsewhere by borrowing money from family members or friends. There are chances of a loss. Financial position may improve in the coming months.,but be careful of investing your hard earned money during September, or even lending money may be risky. Investment in the name of spouse and children may be fruitful. You may have to make extra efforts to make money. As the year draws to a close, you may find yourself reaping the fruits of your hard work. Stay focused on your goals and you could be a winner. Money inflow will be good. But,whatever you do to earn money should be through legitimate means or else it may backfire. Some of you may benefit through inheritance during the end of the year.
EDUCATION HOROSCOPE 2019 FOR ARIES
The Aries Astrology forecast for 2019 predicts some distractions in studies in early period of the new year. But, it also foretells good results for your efforts. During the first quarter of the year, self study will work best for you. Stick to your studies with discipline. Do you know the proverb 'SLOW AND STEADY WINS THE RACE'. Well, it may work well for you during the whole year. Don't allow lapses in studying and you may well, be a sure winner. Those pursuing higher education may find good guidance from their guides, professors and seniors. Their guidance and blessings will bear good fruit. For those preparing for competitive exams the period between February- April may be a period of trials and tribulations. Be prepared well in advance and worship Ganesha for removal of obstacles. You may develop sincerity towards studies during the mid year and progress well.Students may do exceptionally well during this period and make their parents proud. Students may travel abroad for higher studies in foreign universities. You should not fall for distraction due to entertainment of any kind in September. You may enjoy in the holiday period. The onus should be on hard work,and the brilliant results will be visible during the end of the year. Excellent results may be expected for those appearing for competitive exams during this time of the year.
FAMILY HOROSCOPE 2019 FOR ARIES
Family life for Arians in the beginning of the year may be a little sticky, but improve by the end of January, according to Aries horoscope 2019. Spouse may be demanding and you may need to be more attentive towards them.. Don't let impatience get the best of you. Relationship with spouse may become sweet by the first quarter of the year. Children may need your attention. Arguments with family members over trivial issues must be avoided. You may do best to maintain harmony, but you may be apprehensive about spending on luxury items for the family. Relationships with siblings may be cordial after the end of the first quarter of the year. You may go on short trips with the family. You may have a feeling of oneness with your partner. You may also attend religious gatherings and functions with your spouse and family. Health of mother may be a cause of concern for you during the mid year. You may feel the pressure of responsibility on your shoulders. Health of spouse may concern you during September. You may find yourself totally busy with both family and work. Children may make you proud because of their accomplishments. You may gain valuable insights through family elders during the festive period. As the year draws to a close you may experience closeness with your spouse,father, and other elders in the family alike. A feeling of euphoria may set in. Good family time in December. Good times with friends too.
LOVE HOROSCOPE 2019 FOR ARIES
The predictions in matters of love for Arians in 2019 foretell a greater understanding between couples, especially those in long distance relationships. It would be more of a stronger relationship in terms of commitment,in the beginning of the new year. Relationships may be fruitful if care is taken go overboard with ego issues or due to assertive nature. Eligible Arians may find their proper match by the end of the first quarter of the year. Many may plan to tie the knot soon. April may be the best month to profess love and indulge your partner and woo them with gifts and commitments. If you are in a relationship you may make your feelings known spontaneously. The mid year may bring closeness, but it may also be a trying time. You may be more focused and more calculative about various issues. You may be more focused evolving socially with your partner and may involve your friends and family,in order to take decisions right for yourself. You may attend religious/auspicious family functions with your partner. The later period may be somewhat sour for your relationship, but issues may be sorted out soon. You may take advantage of this period by thinking over and getting things cleared and regaining your balance once again before taking the plunge. Marriage may be on cards for eligible Arians during the end of the year, with blessings of elders.
HEALTH HOROSCOPE 2019 FOR 2019
Health predictions for Arians for the year 2019, endorse benefits from relaxation and optimistic attitude. Keep your feet firmly on the ground and don't let hopes and ambitions soar too high so as to tire yourself out, in the beginning of the new year. Don't let anxiety and deadlines at work place over power you and don't get tensed over trivial issues. They may bog you down. Keep a steady pace at work and trying calming your nerves by aromatherapy. Avoid fast foods. Eat more of fresh salads and fruit. Health problems of the kind of certain skin problems, tensions at work place and relationships with coworkers may bog you down during April. Being consistent in eating habits, avoiding very rich foods may help calming your nerves. Handle stress properly, don't rush into things,keep a cool mind. During the mid year, some Arians may suffer problems in the form of poor digestion, pitta problems etc. Practice a sport, for the feel of freshness and letting off steam and to focus your energy on channelizing your time for better health and self-discipline. You may enjoy very good health in the later period due to good planetary combinations. But still,diet should be in moderation in the festive season, especially for those who have a sweet tooth. As per Aries horoscope 2019, deep breathing exercises may be beneficial for your overall health. Take to Pranayama seriously, you may not regret putting in the effort and time. It will give good results in course of time.
REMEDIAL MEASURES
Arians may wear a red coral of 5-7 rattis in the ring finger, if it suits them or if it is ok to wear it according to individual charts. The coral may be set in a panchadhatu ring or locket.
Offer red /orange coloured sindoor to Hanumanji on Tuesdays. Reciting the Hanuman kavach, chalisa will be beneficial.
Offer Arghya of water to the rising SUN everyday at sunrise.
Give some mustard seeds and radishes in charity to sweepers on Saturdays.
Respect your Gurus, teachers, elders, mentors and people who give you knowledge in any form, and honour them appropriately. Their blessings may prove lucky for you.
Don't get irritated over trivial matters during the whole year. It may affect your creativity adversely.
Anuloma-Viloma pranayama and Kapalbhati pranayama may benefit you immensely.
Students may chant the Surya Gayatri mantra for a minimum of 11 times daily for benediction.
Worship of Lord Ganesha will also prove beneficial. Offer red flowers for worship, worship with incense, ghee lamp and offer some sweets.
Endeavour to carry out important plans on 9th, 18th, 27th of the month for success. Auspicious numbers may be 9,18,27,36,45,54,63,72,108.
108 is the most auspicious number. You may do japa of your ishta mantra on a mala having 108 beads.
All shades of crimson, rose tones and shades of pink may prove lucky for you.
Be sure to visit a Hanumanji temple on Tuesday. Visiting the temple regularly may bring in a lot of positivity in your endeavours.
Give in charity, red lentils or masoor dal to any poor person, sweepers,servants or needy people. Be sure to give daan to needy people. You may also offer fruits like bananas, apples, oranges or even Anna daan to poor and orphan children during important days like birthdays and anniversaries.
Auspicious colours for you are red,orange, yellow. They may be used for heightening your happy mood and make you feel bright and happy.
Wish you a very happy year ahead. Brace up for challenges, do your best, take care of yourself and your loved ones.