Cancer Horoscope 2019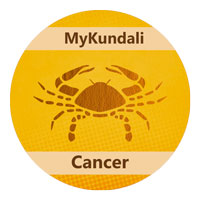 Natives of Cancer zodiac sign are emotional and sensitive. They know how to handle their responsibilities. They are much affectionate for their family. According to the Cancer horoscope 2019, this year will be good in all aspects. Being a native of Cancer sign, by the middle of the year, you may find it difficult to get the desired result. Although you will be working hard to get it. At the beginning of the year, you can invest money to decorate your future. In August, all the people in the house will be united for the purpose of work. The number of members in the family can also increase. With family members you can go on a trip. This year you will get the blessing of Jupiter planet and this will keep you healthy.
WORK AND BUSINESS HOROSCOPE 2019 FOR CANCER
According to work predictions 2019 for Cancer zodiac sign, in order to reach your goals, the best way in 2019 would be to discipline yourselves and chalk out a plan and stick to it. For most Cancerians, the beginning of the year may start with a resolution of making progress and earning better than the previous year. The beginning of the new year may bring both domestic and international travel for work purposes and for accomplishing your targets. Jupiter may be very favourable for Cancerians for all matters regarding luck and growth in career and the growth of the self. January may be a very busy month. Relations at workplace will be cordial. During the first quarter of the new year, pressure to complete deadlines at work place or in your profession, may increase. Saturn may be a taskmaster. Businessmen may be open to new ventures and new avenues for overseas business ties may open up. It is necessary to keep your limitations in mind before venturing into anything new, during the March-April period. The month of May may see you travelling abroad for business purposes and be successful in your endeavours. As the year progresses, you may be tempted to work harder in order to achieve your goals, you may take care not to over stress yourself. Lots of recognition and accolades are expected in the March-April period. But, issues will be required to be handled with flair. A lot of self efforts and hard work may be required in April, though the gains may be high. Travel may be on cards once again during May. You may be at your career best during this month. During the middle of the year, you may not get expected results at work even though you may have worked hard, but it may be a passing phase. August may be a very good month with a good measure of success, travel and appreciation from your seniors. You may impress your seniors considerably and increments and promotions may be on the way. Business and joint ventures, slower during the start of the year, may get a boost during this period. By September,obstacles in work projects will be cleared and a better understanding with partners and associates may be reached. The last quarter of the year may be a very busy one , but you will be one happy person at work, during the end of the year.
FINANCE HOROSCOPE 2019 FOR CANCER
As for the Finance horoscope 2019 the natives of Cancer zodiac sign, the stars foretell mixed results during the year. During the beginning of the year and the first quarter of the new year, money may be invested in securing your future, in business partnerships and on health. There may be a steady inflow of money/income continuously, but expenses may also escalate. Expenses on children may mount for their education and other purposes. Travelling may also cost you money. Savings may be good during March. You may invest in buying property during April, but be careful in monetary transactions, you may be cheated of your hard earned money. Expenditure on health care of family members may rise during the June-July period. Money may be spent on socializing with family and friends and for some religious functions also during July. Speculators may make money and secret gains during this period. August may be a good period for gains, increments, savings and even receiving gifts and legacies. You may gain from previous investments or you may get back your money which you had loaned earlier. Be careful and think before lending money to anyone during September. As per Cancer horoscope 2019, Coaching classes, hotel business, take away restaurants, caterers, doctors, beauticians, and event management companies may do well during the year. You may splurge on luxury items or home comforts during the festive season. During the last quarter of the year, you may invest money in insurances, shares/equity, children's education funds and schemes.
EDUCATION HOROSCOPE 2019 FOR CANCER
The Cancer horoscope 2019 for education, suggests that this year would be a beneficial year for students from all streams. They will find the right motivation and perhaps the right environment for studying . The beginning of the year may be more of merry making, but as the time passes, students may pick up their threads and busy themselves in studying seriously. Students may excel in sports and martial arts in the beginning of the year. It may be a good year for those studying for IPS/IAS /UPSC Civil services and the like. Students studying law, medicine, technical fields may also find the year favourable for higher education. During the first quarter of the year , many students may find their self-confidence soaring . Those who are aspiring to appear for competitive exams should go for extra help from friends,professors and coaching classes. March-April may be a trying time for students going in for higher education. By May, students may be well acquainted and do well in their chosen fields. Students aspiring to study abroad may find success in getting admissions. Students cannot afford to be lax in studies during the mid year because most you may have to work harder and may face some difficulties. But aspirations and spirits will be high and the hard work and struggle put in may give good results in the later period.August may be a good month to realize your goals. Some students may earn by doing part time jobs and those who have awaiting results may also find jobs through campus interviews. Many students may be successful and those going in for higher studies may find the right opportunities. Those appearing for competitive exams may find success in the coming months. Students pursuing fine arts, dramatics, acting, painting etc. may also excel in their respective fields. A heightened period of success may be expected as the last quarter of the year offers more benefits and opportunities and many students may find success in endeavours and objectives. Some may even find the right openings and jobs by the end of the year. Students may travel abroad during this period for higher education or student exchange programmes .
FAMILY HOROSCOPE 2019 FOR CANCER
For the natives of Cancer zodiac sign, they may expect a great start to the year 2019 states the Cancer horoscope 2019. On the family front, in the beginning of the year your expectations may be high from your family or vice versa. Some differences of opinions with parents may arise ,which may subside by the middle of January. Some tiffs with spouse are indicated. Maintain your cool and handle issues with tact. Children may bring cheer and happiness due to their achievements in various fields. You may have to devote extra time towards elders in the family. Avoid arguments with your siblings and other family members in order to maintain peace in the family, during the first quarter of the new year. As the year progresses, peace may return during mid April. You may enjoy the company of good friends and socialize with them. You may indulge and spend money for the happiness of your children. You may explore the spiritual aspect of your life and search for deeper meanings for relationships and the purpose of your life. Many Cancerians may have a challenging time with their parents regarding many issues including inheritance. You may not feel adequately compensated or acknowledged. Don't get unnecessarily provoked. Health problems of parents may disturb you during the middle of the year and expenses may be high. Trouble through workers/servants is also likely. Spouse may be more spiritually inclined. Children may need your guidance and attention more during this period. A family get together of sorts may be expected in August, but it may not be without tensions. Birth of children or addition in the family is also indicated. Travel with family elders to family propitiate the family deity along with family members, may be on cards. Family life may be pleasant and an auspicious event in the family may be celebrated with much fun and cheer. Harmony may prevail. During the last quarter of the year, it may be a sort of transformation within you, wherein you think over spirituality, deeper meaning of life and develop a philosophical outlook towards life. You may spend money on luxuries and comforts for the family in October. You may be busy with your family issues during the end of the year, their health, comforts and well being. All through the year, meditation and vipassana techniques may be helpful in maintaining harmony with your inner being.
LOVE HOROSCOPE 2019 FOR CANCER
About the 2019 love forecast for the natives of Cancer zodiac sign, it would be more of a cautious, ideal type of love governed by rules, which may lead to marriage, eventually. Your commitment to work may create an emotional distance between you and your partner. You may restore harmony in your relationship by spending more time together. Love life may progress smoothly and blossom during the first quarter of the new year. You may pamper your partner with expensive gifts and woo them by lavishing your care and attention ,during April. Expenses may mount in May due to entertaining ,wining and dining. You may develop more intimacy in your personal relationships and the middle of the year may provide the right environment for your personal pleasure to peak.The August- September may see many positive developments on the love front. As per Cancer horoscope 2019, there is romance as well as marriage opportunities. Family and friends may be supportive of your choice of partner. Many cancerians may get engaged in October. Travel with your partner may also be on cards. Eligible persons may get married in the November-December period. You may open up your mind to higher levels of understanding and awareness.
HEALTH HOROSCOPE 2019 FOR CANCER
The benefic aspect of Jupiter ensures good health according to health horoscope 2019 for Cancer. A transformation will be needed in order to adopt a balanced lifestyle, eating habits and to de–stress with relaxing activities and yoga. Keep your emotions under control and your mood consistent. Keep your blood pressure under control, more during the first quarter of the year. Cancerians of child bearing age will be more fertile. Health and energy look good for most part of the year. You may over indulge yourself during the mid year, but keep it in check. The main danger for you may be putting on extra weight. Cancerians need to practice yoga, eat healthy food, avoid fast foods and very spicy food. Some problems with the stomach and digestive system are not ruled out. Some of you may face irritable bowel syndrome. Be careful during the festive period too. Burn extra calories by working out. You will carry a positive energy all year round.
REMEDIAL MEASURES
Worship and honour your kuladevi/devata with appropriate offerings regularly.
Worhip of Lord Shiva will be beneficial. Offer abhishek of milk and water to the Shivalinga, offer bel patra, white flowers and fruit on Mondays.
Sponsoring the education any poor child or donating money for books and study material will give auspicious results.
Donation of rice or feeding orphans and poor children on specific days may also be beneficial.
The lucky stones and jewels for you may be pearls and moonstones. You may wear them most of the time for luck.
Auspicious numbers may be 2, 7, 11, 16, 20, 25. You may endeavour to carry out your ideas or important work on these days.
Feeding cows with home cooked food and offering green grass may bring in luck.
Practice deep breathing exercises, pranayama and candle gazing technique may benefit you.
Hope the year finds you in the best of health and happiness and you will make the best out of 2019 with the CANCER HOROSCOPEOF 2019.