Capricorn Horoscope 2019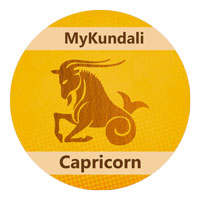 Capricorns are independent people. You are a hard worker and a good one at that. Capricorns are always ready to help the less fortunate people. You make a very loyal friend and you are a stable and a dependable person, who never expects much from anyone. 2019 may be a quite hectic year for you, but you may progress in your field and prove yourself, to rise in your profession. Saturn will be twelfth from your natal moon sign throughout the year. Jupiter may ensure good inflow of money, but saving money would be wise. You may become more confident and 2019 may be a balanced year for the Capricorns. You may even be able to learn a lot of new things and utilize them to progress to the next level. You should be paying more importance towards your well-being and health. Try not to take everything on face value, lest you may be misused by those trying to cheat you. You may reap rewards for your efforts at the end of the year.
WORK AND BUSINESS HOROSCOPE 2019 FOR CAPRICORN
You may be busy in the beginning of the year and have to push yourself to meet deadlines, according to predictions for 2019 for Capricorns. Work related travel is likely early during the year. The work environment is expected be pleasant during the first quarter of the year. Career prospects look bright with good projects coming in. Businessmen may face some ups and downs during this time period, but may find stability as the year progresses.You may have to work hard in the following period, travels may be frequent, but your efficiency and leadership qualities may be noticed by seniors, and you may reap good rewards later. You may impress your seniors and subordinates at your workplace. During the mid-year, you may get more opportunities to prove yourself and improve your career prospects. New business ventures and partnerships should be shelved until September, as this period seems not favourable and advantageous according to the stars. August may be best for planning your strategies, for loans, negotiations and keeping your plans ready. You may find the work environment congenial, which may give you a boost to achieve significant success. All the plans may be put to action in September-October period. Engineers, entrepreneurs, Marketing /advertising agencies, financial institutions, CA firms, teachers, professors, coaching classes and businessmen are expected to do well in their respective fields during the year. Both overseas and internal travel is indicated for business expansion during October. It is also a good period for career growth. Promotions and increments and appreciation for both individual and team work will bring a welcome change and cheer in your professional life. Housewives, small scale manufacturing units, cosmetics manufacturers, choreographers and artists may find the period favourable and satisfying. Many of you may attend international conferences during the year end. Government servants may get transferred. Army personnel, jailors, doctors and those who have contributed for the betterment of the society and the country may be felicitated and may receive accolades and recognition from the government, for their achievements. Overall, the year will be a constructive one for the Capricorns and most of you will reap the rewards for your efforts at the end of the year.
FINANCE HOROSCOPE 2019 FOR CAPRICORN
Good financial growth is expected for Capricorns if they exercise control over their expenditure and invest wisely, according to predictions for 2019. Inflow of money through earnings is expected to be good throughout the year, but expenses may also be high, on account of family liabilities and responsibilities. In the beginning of the year, expenses on account of travelling and siblings may be expected. More so if you're the older sibling. Investments should be made carefully after weighing the risks and returns throughout the year. In the beginning of the year, Capricorns may get gifts from parents or inherit some properties or legacies. There is a likelihood of receiving family heirlooms too, in the first quarter of the year. You may get increments or raise in salary or professional gains, which will add to your income. You may lend money to your friends. Speculators may expect good money. Be careful before investing your hard earned money in April. Don't fall for the lure of making big profits in a short period. Financial gains from previous investments and from professional accomplishments. You may invest money in partnerships after the first quarter of the year. You may invest for your children's future in May. There are chances of getting money from insurance claims or legacies in the mid-year. You may have to spend on some medical aids, or on medical treatments for your parents. August may be a month for expenditure in form of taxes, religious donations, children, parents and elders in the family. You may have to repay your debts and personal loans. Beware of getting cheated of your hard earned money, during this month, beware of wolf in sheep's clothing. Things will be better in the following period. Good professional gains will accrue. You may get back your stuck money. Friends may be supportive. Sudden gains through unexpected sources may accrue. Some of you may make quick money too. The year end is a period to be doubly careful, as it may give mixed results of both gains and losses. What seems to be a loss during this period, may give profits in the later period. Family expenses on travels, functions and ceremonies may be high. Cautious spending may help. You may entertain friends and family relatives, and spend lavishly. You may also lend money for medical treatment for some relative. Spending wisely and good investments is essential for the realization of your economic dreams in 2019.
EDUCATION HOROSCOPE 2019 FOR CAPRICORN
2019 will be a very favourable year for students and all round progress, as the stars foretell. The beginning of the year seems very favourable for students of surgery, engineering and various technologies and genetics. Students appearing for competitive exams may succeed well in their efforts. Students pursuing fine arts, commerce, MBA etc. may do well in the first half of the year. Students planning to study in foreign institutions may get opportunities in the mid year. College students are expected to do well during the whole year. Technical students may face some problems during this period. Catering and food technology students are expected to do well. Students pursuing higher education may find good success in the second half of the year. Some of them may find part time jobs too or work as juniors in firms. A good year for aspiring surgeons, law and CA students, students aspiring for bank/accountancy jobs and for performing arts. October provides ample opportunities for success in research fields, writers, lawyers and engineers as well as doctors. Those completing their education may find good placements. Many may crack competitive entrance exams. The year end may bring good success to politically oriented students, forensic science students, civil service aspirants and for defense service aspirants. A good year for realizing your dreams.
FAMILY HOROSCOPE 2019 FOR CAPRICORN
Family will of prime concern for Capricorns, according to the predictions for the year 2019. You may get mixed results on the family front this year. You may have a busy schedule, and be able to devote much time. The family atmosphere seems good. During the first quarter of the year, some differences with your father may crop up. Avoid confrontation with your spouse too. Relationships with siblings may be good and cordial. They make cooperate with you. Some religious ceremony or a short trip to a religious place of interest is likely, along with friends and family. This will uplift your spirits. Children will do quite well in their academics and extracurricular activities. They will make you proud. Some differences of opinion with your father may persist in the later period. You need to pay more attention to your spouse and children. The mid year may be a beneficial period in many ways. In the later period, harmony reigns, there may be a religious function organized in the family, siblings may be very co-operative. Health of elders in the family may cause concern. The onus is on you,during the last part of the year. You will be able to handle issues with maturity and emerge a winner.
LOVE HOROSCOPE 2019 FOR CAPRICORN
Though you may feel that love is monotonous, in the beginning of the year, passions will be rekindled from February onwards, according to love forecast for Capricorns for 2019. If you are single, you may enjoy your status till you find your right match for serious involvement. Married people may work on and correct the flaws in order to make their relationship better. Practical, sober love affairs may be evident, so will be spontaneous creative and spiritual ones. April may bring freshness and romance in love. Love may blossom. A short trip or picnic with friends and the one you admire,may be on cards. Love and romantic opportunities may come in different ways. Married people may start their family. Saturnian qualities of wisdom and strength will be evident in relationships. Some of you may find love in your workplace or from your own profession. Singles may contemplate on marriage in the mid year, but may still ponder over the pros and cons of their uncommitted love affairs. September may be a good month to take decisions . Love may be of the sweet-sour type. Good counsel of friends and confidants may help. Around October, you may recognize your soul mate or meet someone, with whom you are comfortable. Some of you may get married in the last of the year. But most of you may defer marriage to the next year, as love is plentiful and enjoyable and you may contemplate on a more serious involvement and attachment, before taking the plunge. December may bring much adventure, pleasure and commitment in relationships.
HEALTH HOROSCOPE 2019 FOR CAPRICORN
Capricorns may be prone to stress in family and work related matters, and their tendency to suppress their emotions may lead to health problems. Some problems like depression and anxiety, or some digestive disorders may surface, according to predictions for Capricorns for 2019. Pranayama and Kapalbhati may give beneficial results. Physical exercise is necessary to mitigate these problems. You spend more time in nature, fresh air and eat healthy. Health is expected to be good in the first quarter of the year, but immunity should be increased sufficiently to combat infections. Chronic illnesses should be taken care of. Some minor ailments like fevers and flus may surface during the mid year. Elderly persons should take extra care of their health. Eye problems and respiratory problems like asthma and bronchitis should attended to by proper medication. Avoid nervous strain. Health will be fine in the later period. Over exertion should be avoided. You should unwind and relax, along with good physical activity. Any health problem, though minor, should be treated immediately during the last quarter of the year. There are chances of relapse and ill health. Health is expected to be fine if normal precautions are taken, coupled with good diet and relaxation of the mind.
REMEDIAL MEASURES
Worship of Lord Shiva will be particularly beneficial, especially on Mondays. Offer Bel/Bilva patra and water to the Shivling and chant the mantra 'Om Namah Shivaya' on rudraksha mala.
Offer oil+whole black urad pulse and sindoor to Hanumanji on Saturdays.
Water the peepal tree and light a mustard oil lamp on Saturday evenings.
Reciting the Hanuman chalisa and kavach will give you benediction.
Lucky stones are amethyst, blue topaz, black pearls and diamonds.
Spinach, celery, carrots, fruits and herbs should be consumed for vitality.
Blue, electric shades of blue, black, green and shades of purple may be lucky for you.
Numbers like 8,17,26… may be lucky, but differ with each individual.
Give black sesame seeds, whole black urad pulse and mustard oil in charity to poor people on Saturdays.
Hope you have a great year, with enjoyable experiences full of happiness, and make the best of what the year has in store for you.