Libra Horoscope 2019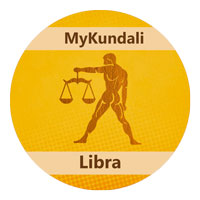 Libras love harmony and usually have a keen sense of beauty. You care too much for material things,though. The current transits of planets bodes well for you in almost all spheres of life. You enjoy entertaining, guests feel welcome and at home, in your company. This year you will experience personal growth. 2019 is expected to be a great year for you and also a fruitful one. Professionally also it would be an excellent year. You will be able to increase your wealth and status substantially during the year. A good year for journeys too. Some lean periods may be expected, but it will be a temporary phase and you will be able to recover soon. Healthwise also a good year for you. Relationships within the family, friends and acquaintances is expected to bring much happiness and peace to you. You will be able to find the right solutions to all issues that matter to you. Overall, a good year for Librans.
WORK AND BUSINESS HOROSCOPE 2019 FOR LIBRA
In the beginning of the year, you may feel everything beyond your control and nothing happening as expected, but things will fall into place and you will move closer to your goals and achieve professional fulfillment, according to predictions for career and business for 2019. You may have to work hard in the beginning of the year, but also find excellent opportunities in career. You will make progress in your profession with new ideas and dynamic approach. The first quarter of the year promises good opportunities for career growth. Travel for work purposes is also likely. You may gain accolades for your contribution in your field of work. April may be a very testing month, you may have to work hard but the results may be good. Some may earn profits through speculation. Businessmen may have to be astute in their dealings. Business deals may be forged during this period and overseas ventures may be successful. Job aspirants may find favourable jobs in the mid year. Good profits may be expected for freelancers in the fields of fashion designing, fine arts, media and other creative fields. You will be at your creative best in July. August may be a very beneficial month for businessmen, bankers, self-employed, lawyers, judges, government employees. Foreign travel may be on cards during September. The last quarter of the year may demand more finesse and skills in your work and also a lot of hard work and self efforts may be required to reach your goals, for climbing the career ladder and surviving the rat race. Travel, both internal and overseas, is indicated for work purposes. A good period for people working from home. Overall, a good year for hard workers and good career prospects for the truly deserving.
FINANCE HOROSCOPE 2019 FOR LIBRA
2019 is expected to be an excellent year for financial growth as far as the finance predictions for Libra go. Steady gains may be expected throughout the year. In the beginning of the year, around February, finances may rise for businessmen. Salaried people may get promotions and increments around the first quarter of the year, which may add substantially to their finances. Good gains may be expected through betting, lotteries and share market. But for most part of the year, gains will be achieved through legitimate means. Foreign investments may yield good dividends during the April-May period. You may gain through legacies too. During the mid year, you may gain through friends, promotions or from unexpected sources too. You may gain through government policies and invest money for the benefit of the family. Financial growth may be proportional to your professional growth. August seems to be a favourable month regarding professional gains, investments, business, inheritances and family wealth. Gains through self-efforts are likely. Be careful about unnecessary expenditure during September though. You may gain from insurances or even invest in them, invest in precious metals, vehicles or luxury items during the festive season. Gains may be plentiful. During the last quarter of the year, you may spend on education, religious ceremonies, travel, family etc. You may invest in long-term plans, property and land during December. Overall, a good year for financial growth.
EDUCATION HOROSCOPE 2019 FOR LIBRA
The stars foretell a great year for Libra students for 2019. A good year for achieving success in competitive exams, admissions to desired institutions, overall progress in education and career. Deserving and sincere students will benefit greatly during the year. Students from the field of interior designing, architecture, technical are expected to do particularly well especially during the first quarter of the year and during the entire year. Some of you may travel abroad for higher studies or gain admissions in foreign institutions. The period is favourable for commerce students and for students studying MBA marketing and finance. Students of philosophy, religion, history and economics will be benefited during the year. Students pursuing higher education may find the going better, from the second quarter, April onwards. The mid year may be very favourable for CA students and for those appearing for bank and government exams. They may have to work hard for success, though. Good results may be expected. For school and college students, it would be a steady progress. The following period bodes well for students from almost all streams. Students seeking jobs may find suitable jobs too. The last quarter of the year will be a period when success stories will be retold. Overall, a very good year for students, teachers and students appearing for various competitive exams.
FAMILY HOROSCOPE 2019 FOR LIBRA
The family scenario looks quite peaceful and contented for most part of the year, according to predictions for 2019 for Librans. The beginning of the year may be a period of learning and appreciation with the family as a unit. Relationships with siblings, friends and parents will be on the fore during the first quarter of the year. You may experience a sweet-sour relationship with your spouse. A short trip with your extended family may be on cards during March. You may try to spend more time with your children. Children may do well and excel in academics and other activities. A parent's health may need attention. The following period may be a very busy one and you may have to achieve a balance between work and family issues. The mid year may bring in more interactions with friends and relatives from foreign lands who may visit you. August–September may be a time for celebration with family, friends and relatives. You will develop good emotional bonding with your children. A family reunion may be on cards during the festive period. You may develop a good rapport with your siblings and family. The focus will be on health of elders in the family, family functions and travels to places of religious interest during the end of the year. You may attend marriages and religious family functions and steal away the spotlight. Family values, acceptance, perseverance, bonding, love, maturity in handling relationships and wisdom of elders may be in the fore. Be careful not to lose your cool and control your speech. Your intentions, though well–meaning may cause some tensions in the family atmosphere. The year may end on a happy note with celebrations.
LOVE HOROSCOPE 2019 FOR LIBRA
2019 is predicted to be the year of relationships for Librans. The beginning of the year may see a flurry of emotions, unstable moods and passions. If you are already in a relationship, don't let misunderstandings come your way, count on supporting each other and figure out ways to rekindle romance and love in the relationship. If single, you may get proposals for marriage, in the first quarter of the year. You may take time to know your partner well before moving on with any relationship. Better to be cautious beforehand and choose the right partner. As the year progresses, love may blossom and change your life for better. You may receive blessings from family elders for a fruitful future. Office romances may blossom and you may have a lot of romantic opportunities of less serious nature. However, some of you may get into serious relationships too. It all depends on what you desire most, romantic flings or serious committed love. You may meet someone during the first half of the year and it seems likely singles may even get married. Better to let love brew over a period of time in order to sustain a long lasting and loving relationship in the future. Those looking for a remarriage after a loss of partner or divorcees are also likely to find partners in the second half of the year. The mid year may see differences of opinion cropping up, partners may feel the pressure of unreasonable demands in the relationship. Some of you may face opposition from your family. Break ups may be evident for flirtatious Librans. The later period may bring freshness in love. Love is blooming now, for those who have supported their partners through thick and thin. Love is good, and many of you may think of marriage with blessings from family and support of friends. Many Librans may tie the knot during the last quarter of the year. Both short and long trips, as well as overseas travel with your partner may be possible around the year end.
HEALTH HOROSCOPE 2019 FOR LIBRA
Health is expected to be good for most part of the year and the stars will ensure that you will enjoy good health, according to predictions for Libra 2019. Some minor digestive problem troubles may be expected during the beginning of the year. Elderly people should guard against chronic digestive/liver complaints and acidity problems may aggravate. You must guard against stress at workplace and tensions at home or with your spouse. Pregnant ladies should be extra careful during the mid year. Diet should be controlled and cholesterol rich and very spicy foods should be avoided. Health may suffer during long journeys. Take the necessary precautions about food and water during journeys. Some problems related to heat like mouth ulcers, migraines etc. may surface in the mid year. Hypertension patients should take care of their health. The later period seems favourable on the health front. Take care of your diet during the festive season. Practising vegetarianism or a vegan diet coupled with yogic exercises may be useful for maintaining optimum good health. During the last quarter of the year, skin care, gut health, eating habits etc. should be taken care of well. Overall, you will enjoy good health throughout the year, if you are cautious and conscious about your health.
REMEDIAL MEASURES
Offer white fragrant flowers in a Devi temple on Fridays.
Feeding kanyas or young girls with milk items or milk sweets and offering gifts on Fridays will be beneficial.
Feed birds with sapta dhanya everyday.
Lucky colours for you would be all shades of rose or pink, greys and silver.
Auspicious numbers would be 6,15, 24, 33, 42, 51 and so on. You may plan to carry out your important plans on 6,15, 24th of any month.
Turquoise, diamonds may be best suited for you, though it may differ with each chart.
Giving alms to poor people or donations to poor helpless widows will be very beneficial.
Reciting the Mahalaxmi chalisa on Fridays after worshipping the goddess with incense, attar, ghee lamp, sweet smelling flowers and sweet bhoga may bring good fortune.
Worshipping Laxmi-Ganesha is also recommended.
Meditation and yoga asanas will help in maintaining good health and peace of mind.
Hope 2019 will prove to be a fruitful year in many respects to Librans. Wish you all the best.