Pisces Horoscope 2019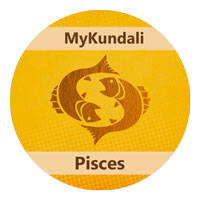 Pisceans are good natured people with a philosophical bent of mind. You are adaptable, and help people settle their arguments and misunderstandings. You may make good progress in 2019 in many spheres of life. Good karma and actions may transform into benediction for you during the year. Networking and new contacts ensure success for you if your discipline matches your ambitions. Profession-wise also the year looks promising. Appreciation and rewards may be expected. Financially also a good year. But, ample efforts have to be put in. The transits of planets may ensure good success during the year. You are known for your hard working nature, so put in your best efforts and gear up for 2019. Familial relationships are expected to be favourable during the year. The transit of Jupiter may prove auspicious for you in many ways. He will raise your spirits to the right degree. Don't spend your time just dreaming about good things in life, utilize your opportunities to achieve the success you deserve in 2019.
WORK AND BUSINESS HOROSCOPE 2019 FOR PISCES
Professional stability, job security and success are in store for Pisces, according to forecast regarding work and career for the year 2019. Workload may be heavy in the beginning of the year and you may require to work hard, but gains may accrue soon. You should be careful and must not be cowed down by pressure in the first quarter of the year. Business ventures may be successful. Overseas travel for work and business purposes is likely to happen. Transfers are also likely to happen. March may bring some relief after a hectic schedule. You may impress your seniors at your workplace with your leadership qualities. Businessmen should be careful during April, some risks are involved. Internal travel for business expansion is likely. In the following period, the going seems good for professors, teachers, government servants alike. You may benefit from government schemes. During the mid year, work pressure may mount and you may find your hands full . But work may be fun and you may find it satisfying. You may also need to handle your boss and co-workers. Power struggles and conflicting ideologies may cause some tension. Ego clashes may be expected. But you may handle everything due to your congenial nature. August may give mixed results. Deadlines have to be met, Your work may be under gaze, new business ventures may be in the offing, with some travel thrown in. September may be a good month for entrepreneurs , self-employed people , work from home professionals and consultants. The later period is favourable for promotions, increments and incentives. You may feel a surge of energy and a sense of fulfillment. The last quarter of the year may see major successes in businesses and career. Chances of climbing the corporate ladder are high. You will be more active and glow with success. The year end will bring success stories to the fore, achievements and celebrations. Job and career opportunities will be plenty during this time of the year. Overall, a satisfying year with ideal career growth.
FINANCE HOROSCOPE 2019 FOR PISCES
A good inflow of money and financial growth as well as big spending, is indicated by the stars for Pisces for the year 2019. In the beginning of the year, financial gains from your profession may accrue due to self-efforts and through the help your subordinates at work-place through teamwork. Businessmen or small factory owners may gain profits through the help of their employees. You may invest money for the future. In the first quarter of the year, you may spend on personal travelling. Expenditure may be high. Expenditure on health and education is also indicated. As the year progresses both gains and expenses may be high. You may buy insurances and spend on your family. Be careful of investing in properties during this period. Previous share investments will bring good money during May. Speculators may also make big money. But the risk of losing money also prevails. You may gain through wills or legacies bequeathed to you. During the mid year money may be spent on children and family members and for a religious ceremony at home. Some of you may take loans for buying property or other purposes, in the later period.You may make big investments for your spouse and family members. October may bring in good gains through increments, self efforts and inheritance. You may receive incentives, stuck money and money loaned earlier. Foreign investments may give good returns. Gains from unexpected sources, lotteries and friends are possible during the end of the year. Wealth generation may be high during the end of the year. A good year for financial increases, wealth generation and sound investments for the future.
EDUCATION HOROSCOPE 2019 FOR PISCES
Piscean students are expected to do well in the studies in 2019, according to the predictions regarding higher education. The transit of planets may help you to progress well with the help of your teachers and mentors. The new year may bring a lot of self confidence and grit with the resolution to work hard and excel in academics. But you may be prone to laziness and procrastination too. You should consciously guard against lethargy, or else you may lose out on precious time. During the first quarter of the year technical, engineering and technology students and those pursuing mass communications, architecture and fine arts are expected to do very well. Students pursuing higher studies, research, Phd, postgraduate studies in medicine and engineering are expected to do extremely during the year. You may find good job opportunities too. Students appearing for competitive exams may have to work hard, but succeed eventually. In the later period, law students, students studying for the civil services may find the period very favourable and conducive for success. Technical students, nursing and paramedical students, fashion technology students are likely to fare well. CA, commerce, MBA, accountancy students will also find good success. In the mid year, those of you studying foreign languages, journalism and mass communications may look forward to notable success in your respective fields. Those appearing for competitive exams may expect good success in the later period. October may bring in achievements and success stories. MBA students, fashion technology students and engineering students may find good openings and jobs through campus interviews. Almost students from all fields may experience a very productive spell during the last quarter of the year. Many of you who are completing your education may find good openings. The year is very good for teachers, professors of technology or for those trying to get into this profession and also for students of hotel management and food technology. Overall, a very favourable year for achieving goals and for overall success in education.
FAMILY HOROSCOPE 2019 FOR PISCES
Family atmosphere is expected to be happy and congenial and supportive according to predictions for 2019 for Pisces. Family ties are expected to be good. In the beginning of the year, and throughout the year, blessings from your father will enhance your good luck. Children may require your attention for good performance in academics. Relationship with spouse/ partner may be sweet. A short trip to a religious cum picnic spot with family and friends is likely in the first quarter of the year. Health of spouse and mother may cause some concern.Some disturbances in family life or clashes over minor issues, with family members is evident in the later period. Such issues should be handled with maturity Some auspicious ceremony or event may be celebrated in the family during mid year, though some differences of opinions may still persist. Some extra expenses may occur or loans may be taken during the August-September period. You or your spouse may inherit a family heirloom or some legacy during October. Some indications that your spouse may inherit property are seen during this period. A wedding may take place in the family. Children may make you proud with their achievements . Some of you may turn to spirituality and try to find a deeper meaning to life during the last quarter of the year. Your actions may be more philosophically inclined. Friends may also be supportive. You may feel overwhelmed by the love of family and friends around you. You may have a very good time during the year end with pleasant family atmosphere and harmony among family members. Overall, a good year with family and friends.
LOVE HOROSCOPE 2019 FOR PISCES
According to the predictions about love and relationships for Pisces for 2019, it seems to be a two-sided coin, in a sense that you may cut away from unhealthy relationships and you may form new meaningful relationships. In the beginning of the year socializing may bring new people, fun and friendships in your life. Your family may be strict on this issue. Singles may meet someone during travels and find a soulmate, and friendships are likely. It is also likely that such meeting may turn into a serious relationship later. Love may blossom in April. You may attract people with your charm and feel like a winner. Weekend getaways with your partner/friends is on cards. If you are still looking out for love, family members may introduce you to someone they know or to a potential match, during mid year. You may meet someone at your workplace or your professional circles, who may interest you. Communication will be the key to successful relationships. There is a likelihood of someone special walking into your life. A whirlwind romance may be in store for some single Pisceans. Married couples may have a lovely relationship. Some tensions in relationships may be evident in August, due to some family opposition or ego clashes, but the situation may change soon. Many of you may think of tying the knot, in the following period. You may experience many facets of human behavior and may settle down for responsible partners. The last quarter of the year may see many eligible single Pisceans settling into holy matrimony with blessings from family and friends.
HEALTH HOROSCOPE 2019 FOR PISCES
Minor health issues may be experienced during the year, but nutritious and a balanced diet coupled with right physical activity may work wonders for you. First quarter of the year augurs well for your health, but guard against mental exhaustion and physical exertion. Any respiratory ailment should be treated immediately. In the following period, increased immunity may help to fight infections, if regular diet and exercise regime is followed. In the mid year, some skin related problems, heat problems are likely to surface. Elders should be careful about their chronic health problems. Be extra careful about health in August. Relapses are likely to occur. Be careful of eye related problems, conjunctivitis and other inflammations in October. Health would remain good during the last quarter of the year. Elders may need care, as neglect may aggravate their health problems. Take care of your physical and emotional health. Go for vipassana or relaxation sessions or join power yoga classes for getting rid of stress. Practicing a sport may help to recharge your batteries. Overall a favourable year for good health and vitality, if you take time to look after yourself and stay away from junk, unhealthy food and take normal precautions.
REMEDIAL MEASURES
Worship of Lord Vishnu will be beneficial.
Offer 'Arghya' of water to the rising Sun daily at sunrise.
Care and worship cows and feed them yellow fruit on Thursdays.
Go for regular meditation to calm your nerves.
Water a Peepal tree and worship it everyday.
Give moong dal or pigeon peas in charity to any poor person on Thursdays.
Your lucky stones and jewels are yellow sapphire, yellow topaz and citrine.
You may use more of sunny colours, shades of yellow and shades of mustard and rust may be lucky for you.
Lucky numbers for you are 3, 12, 21, 30….You may plan your important events to fall on these dates.
Cherries, olives, grapes, saffron, turmeric and figs may be the principal for good health for you.
Hope you have a great year ahead, full of mirth and fun and make the best out of what the stars have in store for you in 2019.
Wishing a very Happy New Year 2019 for all the signs of the zodiac.