Sagittarius horoscope 2019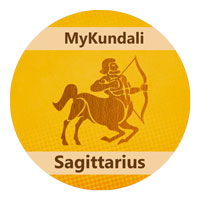 Sagittarians are mature and tolerant when assessing the world with all it's vagaries. You are quite independent and know how to deal with the challenges life throws at you. You will be in the Sade-sati phase during 2019. Some phases during the year may be quite trying at times, but you may be able to handle everything with patience. You may need to pay proper attention to minute things, which you may feel otherwise trivial. You make new friends during the year, some of them at your workplace too. A few ups and downs may be expected during the year, but you will be able to handle them all with grit and self-confidence. It is better if you plan your year well in advance, so that you may relax later. Use moderation, stay in control of your projects and be efficient, to be successful in your ventures and boost your desires and personal/professional choices.
WORK AND BUSINESS HOROSCOPE 2019 FOR SAGITTARIUS
2019 may bring mixed results as far as professional life goes, for Sagittarians, according to predictions. Be careful in decision making and investments and weigh the options carefully before sealing deals. In the beginning of the year, travel for work and business purposes is indicated. Workload may be heavy and you may have to work hard in the first quarter of the year. Some of you may get overseas projects to work from home. Transfers and work related travel both domestic and international will be on cards. Extensive travelling may be expected. It may be a good period for money-lenders, for those who lend money through mortgage. Businessmen may find a lean period in April, but those in service may find the month beneficial. You may get appreciation for your efforts from your seniors, and your hard work may bear good fruits both in form of promotion and increments. During the mid year, the pressure to meet deadlines at work may mount, and you may be able to deliver the goods with your dynamic approach, in the following period. You may feel a lack of energy, but nevertheless you will pick up your threads and prove yourself in the August-September period. Colleagues may be supportive. Businessmen will also find new avenues for profitable business. Housewives, small scale cottage industries and daily wage workers may also gain benefits during this period. Government servants may also find the period favourable. The later period may be very good for businessmen for gains from both local and overseas projects, but they have to be careful all year round. During the last quarter of the year some disappointments may occur in the early stage, but as the year draws to a close, you may find success and recognition for your work and efforts during the year. Overall, a great learning period through hard work, humility and patience.
FINANCE HOROSCOPE 2019 FOR SAGITTARIUS
Exercise caution in investments, and don't invest in risky ventures, is the message of the stars for Sagittarius for the year 2019. You may invest money in banks for yourself and your family during the year. Expenditure may be high during the beginning of the year, mostly on buying electronic and electrical items or even vehicles. You may invest money for your children's education or take loans for their higher education. You may get increment at work place, which may add to your income in the first quarter of the year. You may gain from friends, small term investments, lotteries and foreign investments also. Speculators may gain good money during the future period. Some of you may gain through legacies and insurances. August- September may bring in gains through government, and you are likely to get back money you had loaned earlier, or which had got stuck. Some of you may take personal loans from relatives and friends for some ceremonies at home or paying fees abroad for education of your children. Professional gains may add to your financial growth during September. Expenses on health and travel may mount in October. During the last quarter of the year, you may add to your wealth by self efforts, side businesses, consultancies, and through increments at work place. Many of you may earn well through your own businesses. The year end may give good yields for your hard work and efforts.
EDUCATION HOROSCOPE 2019 FOR SAGITTARIUS
2019 seems to be a year for focusing your energies for realizing your goals and students should concentrate on their studies well, without allowing the mind to wander in unnecessary and futile pursuits, according to predictions for Sagittarius. In the beginning of the year, students going for higher education may find some good opportunities. College students may face some difficulties in getting admission to streams of their choice, but they may eventually succeed in getting admissions in colleges of their choice. Some of you may get admissions in foreign universities for higher education. In the first quarter of the year, students appearing for competitive exams may find good success. Students from technical fields,engineering and medicine are also expected to do well. Students pursuing CA, law and journalism may also find the period favorable. In the following period, students pursuing fine arts, theatre, animation, architecture may find good opportunities for showcasing their creativity and talents. College students may also perform well. Those doing higher/PG degrees may also expect excellent results. A very good period for technical students, as they may do well in in their practical projects. During the mid year, students appearing for government competitive exams, civil services, banks may find good success through hard work. Students who have just graduated may find admissions for higher studies in institutions of their choice during the August-September period. A good period for students, as they may travel abroad for higher studies. A very good period for turning dreams into reality. In the last quarter of the year, most of the students would have settled in their courses and been doing well. Many may attain jobs in both private and government sector and management students would also find good jobs during the end of the year. Overall, a good year for the studious ones.
FAMILY HOROSCOPE 2019 FOR SAGITTARIUS
Family atmosphere may be a curious mixture of aloofness, detachment, learning and discipline, according to what the stars augur for Sagittarius for 2019. In the beginning of the year you may be concerned about mounting expenses in the family. Some of it may be for health care. Health of elders may cause concern. The first quarter of the year may be bit taxing for you, but there will be light moments too. Children may need your attention and perform well. An auspicious event may be celebrated in the family, which may add to the cheer and fun. You may spend time with your spouse, children, siblings and parents. Friends will join the celebrations. In the later period some misunderstandings with your spouse/partner are indicated, which may cause tension in family life. You should try to avoid unnecessary arguments and maintain your cool and not get worked up. Some differences with parents and siblings are also not ruled out. It may affect everyone, including the children in the house. Things may get resolved soon ,with help from well-meaning friends and acquaintances. Harmony may return. Take care not to pressurize yourself with stress about issues at workplace and home, in the mid year. Things may fall in place around August. You may go on a vacation with your friends and family. It will uplift your spirits and bring you much relief. Your spouse will be happy with you and children will be ecstatic. Friends may be supportive. Party time! Singles may contemplate on tying the knot and take decisions about marriage. During the last quarter of the year, family atmosphere is expected to be harmonious and devotional during the festive period. It may be a period of searching answers for your life's questions through spirituality and philosophy. Most of your family members will be supportive in your endeavours. You will get plentiful blessings from your parents and love from your spouse. You may find guidance from spiritual gurus, and seem to taste some bliss during the last part of the year. A family reunion may be possible due to your efforts. The year may end on a happy note.
LOVE HOROSCOPE 2019 FOR SAGITTARIUS
The year may begin with a celebrating mood, according to love forecast for Sagittarius for the year 2019. You may spend on gifts too. In the beginning of the year, you may not be inclined towards serious committed relationships. You may be happy being just friends. You may have your share of disappointments in love during the first half of the year. You may go on a short holiday with your love interest in March or even plan a picnic with friends. Romance with an office colleague or a co-worker is not ruled out. Some of you are likely to mix business with pleasure, if you are single if you come across someone special among your professional circle. Passions may run high in April, but you should be careful not to rush into anything, if you want the relationship to last long. The mid year will see expansion in your social life, but love may still not be smooth. Saturn will help to you to choose your best partner, you may find the right one only if your love is true and stands the test of time and circumstances. During the last quarter of the year, you may get to know each other well and recognize the duties and responsibilities well. You may get blessings from your elders and convert your love into marriage during the year end.
HEALTH HOROSCOPE 2019 FOR SAGITTARIUS
Sagittarians are advised to manage their stress levels and avoid mental worries/tension in order to maintain optimum good health, according to forecast about health for 2019. Guard against chronic health problems going worse, digestive system, acidity etc. They can be managed well with proper diet and medication. Plan out your workouts and exercise and guard against over exertion, during the first quarter of the year. Some of you may experience migraines and headaches. Take care of respiratory tract infections and skin problems in the later period. Avoid very rich foods. Increase your immunity level with right diet and exercise. The mid year may cause water retention, heat problems for some. Skin allergies, problems related to pitta and vata are also indicated. You may enjoy good health in the later period. Elderly people should take care of health throughout the year. Not much health problems are seen in the last quarter of the year. Practice of pranayama and deep breathing exercises coupled with meditation may give very beneficial results. Health issues may not pose a problem if unnecessary tensions are kept at bay, or they may result in physical weakness and fatigue.
REMEDIAL MEASURES
Feed cows with yellow fruit on Thursdays.
Reciting Sri Vishnu Sahasranama stotram daily will give good results.
Distribute yellow coloured sweets to poor and orphan children on 43 consecutive Thursdays.
Worship Hanumanji everyday, recite the Sundarkand and distribute sweet boondi Prasad in the temple on Saturdays after darshan.
Donate money regularly for upkeep of cows in goshala.
Herbs for health include turmeric, saffron, peaches, almonds pineapple and gooseberries.
Sponsor education for poor children, or feed poor and orphan children with moong dal, rice khichdi on important days like birthdays and anniversaries.
Lucky numbers are 3, 12, 21,30 and so on.
Lucky colours are all shades of yellow, mustard, purple and mauve.
Be charitable, help the poor and sick, take care of your old parents for a trouble free Sade Sati period.
Wish you all a very great and fruitful year ahead. Chalk out your plans and follow good counsel.