Scorpio Horoscope 2019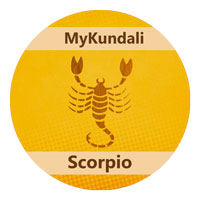 Scorpios are generally constructive people with a deep understanding of life . Though you may display a tough exterior but you are loving and sensitive. The year 2019 may be particularly favourable for evolving according to your aspirations and expectations. The transit of Jupiter may give good results regarding many issues ,throughout the year for Scorpios. Some struggle may be expected , but it may help you to grow stronger. A successful year ahead may be expected as per Scorpio 2019 horoscope. Frequents travels are also on cards during the year, but health should be well maintained and taken care of well. Scorpions are known to be passionate about their love life. 2019 may be an exciting year as far as relationships go. You may have many conflicting ideas in your minds. It would be better to stay calm and take decisions with a cool mind. You may come to the right conclusion and find the right way out.
WORK AND BUSINESS HOROSCOPE 2019 FOR SCORPIO
The beginning of the year may be hectic, but may give good achievements to your credit, according to predictions about work and business for 2019. You may enrich your knowledge and expertise in the company of seniors at workplace. Some of you may travel abroad for business and work purposes. You may have to push yourself hard to meet your deadlines. The first quarter of the year seems favourable for businessmen. They may have to travel for setting up their business, but may be successful in their ventures. Partnerships may work well. Aggressive marketing may also attract good business. People working from home on foreign projects may get good projects and remuneration. The later period may be a bit tougher at work place. You may have to prove yourself and deliver the goods. It may be a time for taking the initiative, troubleshooting and dynamic actions. The mid year may bring in more challenges at work place, there would be a lot of hard work too. You may win accolades and appreciation for your efforts. You may also earn promotions and incentives in the August-September period. You may earn incentives in form of free overseas holidays too. The IT industry, food and beverages and hospitality industry, metal industries, as well as small scale industries may be benefited during the year. Business may be good. Transfers and on site opportunities may be on cards during the last quarter of the year. Writers, journalists lawyers and judges may also rise in their careers. You may relax and enjoy the fruits of your hard work during October. The last part of the year will be professionally satisfying with good prospects of growth in career and climbing the professional ladder. It will also be a period of learning. Some of you may add more qualifications to your resume. It is also a good period for finding jobs of your choice. Businesses may flourish and your hard work will make you wiser and stronger.
FINANCE HOROSCOPE 2019 FOR SCORPIO
Scorpios may invest money in the beginning of the year and expenses may also be high, according to finance and wealth predictions for 2019. You may invest for children's education or for their future. The first quarter of the year may see gains through profession, creativity, shares and you may even benefit through friends. You may get back your stuck money. A good period for paying off loans or debts. Self employed Scorpios, musicians, creative media persons,artists and those working from home may benefit financially. Some of you may get opportunities to make good money through speculation, but better to exercise caution, you may end up losing money in the later period. Some of you may spend on weddings or other auspicious ceremonies in the family during April-May period. Expenses due to travel may be expected. Businessmen may make good profits and investments. During the mid–year, you may gain through auctions, bidding or even through shares and betting. The following month may not be favourable and fate may let you down. The August- September gains may accrue from various sources. Income may rise through promotions and increments, government schemes, inheritances, legacies and so on. You may inherit paternal property, but some of you may spend on repairs and renovations of old properties. Some expenditure on health may be expected in the following period. Medical expenditure may be high for yourself or your family members. During the last quarter of the year, many of your may invest your hard earned money in insurances for the benefit of family members and in buying properties. Some of you may take loans for higher education. A good period to advance your financial prospects. Overall, a good year for financial benefits, but wise investments and cautious expenditure may help.
EDUCATION HOROSCOPE 2019 FOR SCORPIO
The year 2019 will favour Scorpio students who are gritty and hard working and goal oriented, according to the education forecast for 2019. The aspect of Jupiter is very auspicious for both college and higher education. The beginning of the year will give excellent results for students from all streams. The first quarter of the year will be beneficial for students appearing for various competitive exams. Some of you may find part-time jobs for teaching and giving tuitions. Enrolments in professional courses in institutions of your choice is also foreseen. But hard work will be necessary. You may get opportunity to go abroad for higher education. Don't let laziness overcome you. Students of catering,hotel management, research, technologies, law, engineering, ayurveda and fine arts are expected to do exceptionally well in their chosen fields in the second half of the year.Success is indicated for those appearing for competitive exams. The august- September period will be a fulfilling period overall success, admissions, opportunities, for going abroad and for achievements. You will receive good help from seniors, professors, mentors and fellow students. The last quarter of the year will be helpful in assimilating your knowledge, planning your strategies, and goals. Many of you may find jobs too during this period. Students studying fine arts and religion may also gain benefits immensely during this period. Overseas travel may be on cards. Many Scorpios may find well-paying job through campus placements during the end of the year. Overall, a very good year for education.
FAMILY HOROSCOPE 2019 FOR SCORPIO
Family relationships may become serious nature for most part of the year 2019 for Scorpios according to predictions for the year. A sort of a cold war may be visible in relationships. In the beginning of the year, you may have very good relationships with your children, a sort of a sweet loving relationship. You may pay more attention towards their studies and well-being, and devote much time and energy to them. You may have serious differences of opinions with family elders and siblings. You should try and keep your cool and should not be provoked or get into verbal arguments. You may have a good rapport with your spouse in the first quarter of the year. Some arguments and tensions over inheritance may crop up in the later period, with your siblings. If you are elder to your siblings, you may assume the role of a peacemaker and try to stabilize issues but it may be met with a lot of opposition. Tensions with elders, father especially, and female members of the family may be evident. You may feel that you are not getting a fair deal , and may go for the advice of your family friends and seek their help in sorting out differences. You have to strive to diffuse tensions and try to maintain peace and harmony in the family. The mid year may be a good one, you will have sweet relationship with your spouse. A family trip or a vacation is likely. You may use your tact and will not be provoked easily and keep out of trouble. You may earn praise and goodwill from your father and elders. They will be pleased with you and you will receive blessings and the family atmosphere will be cordial. A family reunion is on cards in the August-September period. A family religious function may be in the offing. The last quarter of the year will bring in learning from experiences, a sense of togetherness and the wisdom of deep thinking. Children will make you proud with their achievements. The year may end on a happy note with celebration.
LOVE HOROSCOPE 2019 FOR SCORPIO
Love life will be happy and smooth for most Scorpios in 2019. It might be an intense but guarded type of a love. In the beginning of the year, love may take on the form of surrender to the partner, love at first sight and boundless romance just like in movies. In the first quarter, there may be a tendency of being suspicious or even jealous about your partner. Love shouldn't be tested, it should be left to grow and develop slowly with time. Singles may start relationships or get married during the year. Married people will be happy in their marriage. You may go overboard in gifting during April. Office romances may be passionate and stormy. But, they may stand the test of time. The mid year may see ups and downs in love. Love may be tested on various levels, you may try hard to get your family to accept your love and your beloved to accept your family. Be patient, things may fall in place eventually. Your partner may be invited for attending some religious function in your family during the festive period. Office romances may blossom during August-September period. You may find your Mr/Ms. Right during this period, you may feel a sense of completeness with them. During the last quarter of the year many of you may contemplate on tying the knot. You may feel oneness with your partner and feel the urge to get married. Friends and family will be supportive. Most of the eligible Scorpios will settle into matrimony with the blessings of family and good wishes of friends. You may go on a holiday with your partner. Be ready to loosen your purse strings and enjoy your time together.
HEALTH HOROSCOPE 2019 FOR SCORPIO
Health may see some minor ups and downs through the year, according to forecast for health for 2019 for Scorpios. Don't do anything in excess. Rest and relaxation is recommended along with appropriate physical activity according to your age and vitality. Health will be good in the beginning of the year but in later period of the first quarter, stress at workplace may take toll on your health. Chronic problems like arthritis and digestive problems or blood related disorders like anaemia and hypertension should be taken care of. Take the normal precautions in form of medication and diet. Some vague ailments may surface during the later period. Avoid spicy and oily foods, consume satvik food. Health should be good during the mid year, but as the seasons change, be careful about water/food borne diseases. Guard against infections and inflammations. Health seems good in the future period in the last quarter of the year. Elders should be careful of any chronic ailments throughout the year.
REMEDIAL MEASURES
Worship Hanumanji everyday and chant the Hanuman chalisa and kavach, distribute sweet boondi Prasad in the temple after darshan on Tuesdays.
Worshipping Ganesha will be beneficial for removal of obstacles in work.
Give masoor dal in charity to poor people on Tuesdays.
Auspicious numbers for you are 9,18, 27, 36, 45 and so on.
Lucky colours are all shades of crimson or red, as also all shades of rose and pink.
Red coral may be lucky for you, depending on positions of planets in individual horoscopes.
Offer 'Arghya' of water to the rising Sun, everyday at sunrise, for beneficial results.
Hope 2019 finds you in the pink of health and in the best of happiness and well-being. Wish you a great year ahead.