Solar Eclipse 2019: Dates, Remedies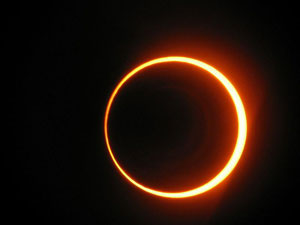 Eclipse or a grahan is a phenomenon that occurs at least twice every year. Scientifically, the explanation of the act makes it look like a regular event. However, astrological views for the same are different. It is believed that the two shadow planets namely, rahu and ketu, are responsible for the eclipse, be it solar or lunar. Vedic astrology suggests that eclipses impact your mind as well as body. It influences health, finances, mood and other aspects of human life, and is crucial to astrological as well as religious point of view.
The year 2019 will witness three solar eclipses. Though not all of them will be visible in india and thus the impact will be negligible, but the occurrence of a celestial phenomenon as huge as a solar eclipse can't get unnoticed. So, when is the next solar eclipse and what are the regions under its impact?
The chart below describes the date, day, time and type of solar eclipses for the year 2019. The details are given as per Indian time zone.
| | | | |
| --- | --- | --- | --- |
| Date | Day | Time | Type |
| 6 January 2019 | Sunday | From 05:04:08 to 09:18:46 | Partial |
| 2-3 July 2019 | Tuesday | From 23:31:08 to 02:14:46 | Full |
| 26 December 2019 | Thursday | From 08:17:02 to 10:57:09 | Annular |
First Solar Eclipse of 2019
On Sunday, January 06, 2019 a partial solar eclipse will be visible from western shores of Alaska, in Middle Eastern China, Japan, North-South Korea, North-Eastern Russia, Mid-Eastern Mongolia and Pacific Ocean. The first eclipse of 2019 will last for about 4 hours and 14 minutes. As per Indian time, it will begin at 5:04 hrs in the morning and continue till 21:18:46 in the evening. During a partial eclipse, Moon, Sun and Earth do not get aligned in a straight line, hence the sun does not turn invisible. The shadow of the outer shell of moon falls on earth and the sun's glorious shine fades for some time. This partial solar eclipse will not be seen in India and hence Sutak does not apply to it. Astrological calculations suggest that this eclipse will take place in the Sagittarius sign and Purvashada nakshatra. The day will be of Amavasya and the surya grahan may be unfavorable for Sagittarians.
Second Solar Eclipse of 2019
On Tuesday, 2 July 2019, another surya grahan that will not be visible in India, is taking place. This one will be a full eclipse or a total solar eclipse. The duration of the eclipse will be 2 hours and 44 minutes. It will commence at 23:31 PM and continue till 02:14 AM in the morning. This solar eclipse will also not be visible in India. However, Chile, Argentina, Pacific region and some parts of South America will experience this rare total solar eclipse. This eclipse will take place on the Amavasya of the month of Ashada in Gemini and Ardra Nakshatra. In India. Sutaka does not apply to this grahan as well.
Third Solar Eclipse of 2019
Final eclipse of 2019 will be a solar eclipse which will take place on Thursday, 26 December 2019. This will be an annular eclipse i.e. the sun will appear like a ring of fire as moon would cover the center of the sun, leaving its outer edges visible. The eclipse will be observed between 08:17 AM to 10:57 AM in the morning. Eastern Europe, Asia, North/Western Australia and East Africa, including India will witness the dazzling sun take the form of a ring. Sutaka will be observed in India for this eclipse. The third solar eclipse will take place in Sagittarius and Mool Nakshatra during an Amavasya in the month of Paush.
Sutak Period
The annular solar eclipse which will be the last in the year 2019 will be visible in India and the rules of Sutaka must be followed during the event. On December 25, 2019, one day before the eclipse, at 17:30 hrs, the duration of Sutak will begin. It will continue till 10:57 AM on December 26. The duration of Sutak is critical to an eclipse. This period is considered inauspicious and many things are not supposed to be done during this time. Some of these include:
Initiating a new project or task
Preparing or consuming food
Touching of the idols of god or Tulsi plant
Cleaning teeth or combing hair
Mantra to Chant During Solar Eclipse
To get rid of malefic effects of Solar Eclipse, one must chant the following mantra during the eclipse.
"ॐ आदित्याय विदमहे दिवाकराय धीमहि तन्नो सूर्य: प्रचोदयात् "
" oṃ ādityāya vidamahe divākarāya dhīmahi tanno sūrya: pracodayāt "
Eclipse and Pregnant Women
The impact of Grahan as well as Sutak is particularly felt by pregnant ladies, who are advised not to perform activities like
Going out of the house
Trying to watch the eclipse
Sewing or doing embroidery
Cutting, chopping or peeling vegetables
Using knife or needle
What To Do During Sutak Kaal?
The period of Sutak is not considered good for doing something new. However, there are things that must be performed during this time. Praying is equally effective during Sutak. Touching the idols is prohibited during this time but not worshipping. Chant Surya mantras and seek blessings from god.
Know more about the auspicious timings to carry out a task: Muhurat
Post-eclipse Practices
After the eclipse and Sutak period is over, one must exercise the following practices:
One must worship Lord Surya and recite Surya Mantras.
Sprinkle Gangajal to purify your surroundings.
Take a sacred bath after the eclipse is over.
Purify the godly idols by bathing them in Gangajal. After that, worship them.
Prepare fresh food to eat.
Hope you liked this article on solar eclipse 2019. Thanks for visiting the website!