Taurus Horoscope 2019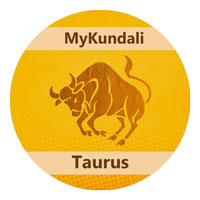 The natives of Taurus zodiac sign are calm and soft hearted. Being a Taurean, you are intuitive and very reliable. Now let's talk about the Taurus horoscope 2019; this year, people of Taurus are expected to get good results in business. At the same time your career will improve in the job sector. However, there are some points to be noticed. Creative thinking will push you forward. Economic year 2019 is giving a good sign. In the beginning of the year, you are likely to have an economic advantage. However, caution will be required while investing. On the other hand, students in the field of education, mathematics, astronomy, management, engineering and commerce etc. will benefit. This year will be important even from your family perspective. If you are married, then this year you can get married. In the early days of the year, there will be refreshment in love. At this time your relationship can start with a person. Just keep your health care carefully and do not care about health.
WORK AND BUSINESS HOROSCOPE 2019 FOR TAURUS
According to Taurus horoscope 2019, the stars foretell a good year for business and partnerships. A good period is expected for working Taureans as well as for businessmen alike, in the beginning of the new year. Jupiter in the house of partnerships gives a good probability of gains success in joint ventures. Financial gains may increase after mid January ,but tend to fluctuate in the coming months. For Taurus natives Saturn is a highly benefic planet. Even though the work and income is good, Taureans may face some impediments and hurdles or some obstacles due to Ashtam Shani. Financial ups and down and some financial crunch may be experienced during the first quarter of the year. But gains through personal efforts may also be plenty. At the end of the first quarter sudden changes for which you were not prepared for or transfers to certain places not of your choice may be expected. Keep your cool and avoid getting into arguments. You may incur the wrath of your seniors or bosses. Things may progress well in the later period. You may have to work hard in order to prove yourself. By the middle of the year till August you may ample opportunities for reaching the peak of your career. It won't come without responsibilities. Many of Taurus natives may get raises, promotions, honours or recognition for their sincere efforts. You may also get opportunities for furthering your creative instincts. Media persons and those in entertainment industry may also perform very well in their profession. Overseas travel may be on cards ,for work purposes. The middle of the year may require a lot of your energy and time in establishing good rapport for business and joint ventures. Invest money/funds after careful consideration. August may be a very favourable month. As per Aries horoscope 2019, avoid taking loans unless absolutely necessary during September-October period. The last quarter of the year may bring financial well being, again through partnerships and wise investments. Those in the hospitality industry may do well. As the year draws to a close most of you may get your share of fame, accolades and recognition for your work.
FINANCE HOROSCOPE 2019 FOR TAURUS
According to the Finance horoscope 2019 for Taurus, the beginning of the new year may bring gains in form of gifts, investments maturing, lotteries, shares or even lucky draws. After the end of January, you need to be careful of investing your hard earned money. You may invest money for your child's higher education. There are chances of losing money unwittingly in the first quarter of the year. The following period may be a good one. Increments and monetary gains through partnerships and professional sources may be expected. Expenditure may rise in April. Pay off your debts if any or pay off creditors ,or you may end up with more debt. A weak mercury may lead to more expenditure and an exalted Venus may encourage overspending on fancy items of luxury. During the mid year, you may be able to buy properties or invest in funds. Some taureans may make money out of speculation. Be careful before investing hard earned money in shares. Losses may be big. Around August property investments, funds, personal investments etc. may yield rich dividends. You may even get inheritance through legacies. Friends may return the money loaned to them by you. Expenditure may also increase in September. You may do charity. As the year progresses gains through business and profession will increase and add to the income. Big gains may be expected. In the last quarter money may be spent/invested on deserving causes ,healthcare investments, insurance policies, buying pension policies etc.
EDUCATION HOROSCOPE 2019 FOR TAURUS
According to Taurus horoscope 2019, it will be a good year from almost all the aspects. This year will be excellent for growth and progress for students in academics, mathematical skills, astronomy, management studies, engineering and commerce. Students appearing for competitive exams may do well during the beginning of the year and between March–April period. Students may get admissions to study abroad in prestigious universities abroad. Those studying for higher studies may have to keep a steady pace in studies and keep abreast of new research and happenings in their respective fields. The middle of the year may see very good performance by students with the help of family and their own self efforts. Give due respect to your teachers, professors and mentors as their blessings may go a long way in your success. Honour them and acknowledge their role in your success. You may find avenues for expanding your knowledge through various agencies including valuable guidance from the right sources. You may face some hurdles and impediments or some disappointments during September. Be prepared well in advance and avoid last minute studying, to avoid disappointments. You may sail through the period easily. You may be more focused during October, exam time. The end of the year, the November-December period may give a lot of experience regarding techniques, expertise, skills and qualifications. Some of you may even get job offers through campus interviews or due to success in their endeavours. Overall, a good year regarding education and achievements.
FAMILY HOROSCOPE 2019 FOR TAURUS
As per Taurus horoscope 2019, the year is a very significant year for married partners. 2019 is very auspicious for marriages and matrimonial bonds. It may be a period of spiritual renewal and inner contemplation for Taureans and their partners. During the beginning of the year relationships with spouse/partners will be very fulfilling and sweet. You seem to be more in agreement with each other over matters of love, partnership, bonding, choices and many other issues. Some minor tiffs with spouse may be expected after the initial euphoria, but it may be short-lived. Relationships with children and elders in the family may be cordial. Children may do well academically. Some differences of opinions with siblings may be evident during the first quarter of the year. Avoid arguments over any issues with family members and be careful of what you speak. It may lead to trouble later. Children may demand a lot of attention. April may find you in a very good mood and spirits may be high. Friends may be very co-operative and you find yourself celebrating with friends both professional and personal. You may have a reason to worry about health of your parents. Family relationships may be affected due to arguments with family members. It would be beneficial for all if you keep your patience, tolerance and poise, intact. Family atmosphere may be affected badly. Things and relationships may ease by the middle of the year. You may get busy with your work during this period and your immediate family and children expect you to spend more time with them. Children may make your proud. A family reunion may be on cards during the August festive period. Some auspicious functions in the family may be in the offing. You may feel tensed and concerned about your children's health and their well-being. It may be a sort of spiritual awakening with your spouse in October and may even go for a short pilgrimage with your family. Around the end of the year, you may spend time with your family and parents and feel rejuvenated and nourished by their presence.
LOVE HOROSCOPE 2019 FOR TAURUS
According to Taurus horoscope 2019, good communication with your loved ones may be essential for making relationships work. Work may take up a lot of time and you may have to squeeze enough time for your loved ones. However, you may rely on your partners for their support, more than ever. The beginning of the year may bring freshness in love relationships and, new friendships may be forged. There may be more outings and socializing. Singles may have more opportunities for marriage. You may meet a soulmate at your place of work,or a professional acquaintance may charm you. Perhaps someone who is involved with your career. Be careful in relationships around March- April period. They may go sour if you are not committed in love. You may spend money on expensive gifts for your partner in order to profess your love. It may be worth it if you or your partner is committed and serious. Relationships which are not based on true love,may falter during this period. Some differences of opinions between partners may develop, but they may be easy to handle if a proper understanding is developed between partners. Opportunities for lovers/ partners for domestic and international travel may arise in the middle of the year. Don't mind overspending during this period. Already married people will also find this period full of excitement and a happening period. It might add a zing in their routine lives. You may commit or lovers may decide to tie the knot or significant relationships may become permanent. The presence of Jupiter house of marriage may help to cleanse relationships and relationships may become committed and serious. If your relationship is going through a rough patch around September, talk it over, harmony may return. Eligible Taureans may seem to be determined to get involved in constructive relationships. You may settle down in matrimony during the last phase of the year. You may feel capable of taking on new responsibilities and ready to take the plunge. Peace and happiness may reign.
HEALTH HOROSCOPE 2019 FOR TAURUS
Health for most part is expected due to a benefic aspect of Jupiter in lagna. As per the health horoscope 2019 for taurus, take a break from your busy routine and tensions and go to the countryside for getting a breath of fresh air. A visit to a yoga retreat or vipassana meditation retreat may work wonders for you. You may make a new year resolution and force yourself to start a sport or just by starting a morning walk to get fresh air. You may find yourself in good mood and spirit to follow resolutions concerning your health through the first quarter of the new year. April may find you in the pink of your health. Some problems regarding heat problems,pitta problems may arise in May. Elderly persons may also face some health problems during this period. With onset of monsoons certain food borne,water borne infections may surface in the last week of June and July. Avoid outside food. August onwards health for Taureans seems good, but the elderly need care. Avoid binge eating during the festive season of Navratri and Diwali. Count your calories. Your may have a better control by making better lifestyle choices and by keeping a strong morale to stay healthy.
REMEDIAL MEASURES
Worship Ganesha during Chaturthi, the fourth day of the waning moon every month.
Feeding birds with seven kinds of grains will be beneficial.
Practising yoga,meditation and mantra jaap with spouse may give beneficial results/effects for your well-being.
Offering Arghya to the rising Sun everyday at sunrise and chanting the Gayatri mantra will also give auspicious results. Males should chant the Gayatri mantra.
Kanya poojan ,giving gifts and feeding young girls, may bring luck for you.
Anna daan to orphans and poor children, helping widows and distributing milk sweets in temples will usher auspiciousness in life.
Worship Hanumanji , offer oil and Whole black udid pulse along with sindoor on Saturdays, in the temple.
Avoid using black/dark purple clothing ,pastel colours may be lucky for you. White, Silver, Silver gray articles and may be auspicious. Use them often for luck.
Devi upasana, goddess Laxmi/ Bhagavaty upasana will be beneficial. You may donate ghee for lighting lamps in the temple on Fridays.
Wearing an energized Sphatik mala may help in bringing more positivity and calmness in thoughts and actions.
Hope you have a wonderful year ahead and make the best out of these predictions.