Diwali 2020: Auspicious Muhurat & Rituals
Diwali 2020 (Deepavali 2020) is the biggest festival of Hindu and celebrated on a large scale all across India. Not only in India, but this prominent festival is also celebrated all across the big cities of the world. Needless to say that Diwali marks the beginning of happiness, energy, and excitement. Kids do wait for this festival all year long.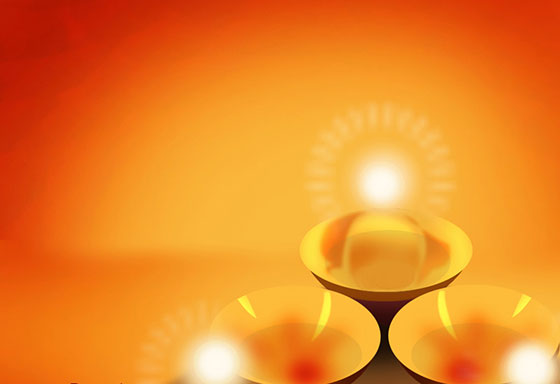 This time seems perfectly auspicious and profitable to start anything new. To put in simple words, Diwali is one of the notable festivals exploring all aspects of Hindu religion. This festival praises the triumph of "Good over Evil". Being on the right way will make you successful. Mythologically speaking, Lord Ram came back to Ayodhya after 14 years of exile with Lord Lakshman and Mata Sita. On this occasion, people of Ayodhya lit diyas and welcomed their lord. Hence, to this date, this ritual is followed, and this festival is celebrated with double happiness. Here is the auspicious muhurat to start the Lakshmi Puja:
Diwali 2020 Lakshmi Puja Muhurat
Lakshmi Puja Muhurat
From 17:30:10 till 19:26:01
Duration
1 Hour 55 minutes
Pradosh Time
From 17:40:34 till 20:14:27
Vrishabh Time
From 17:30:10 till 19:26:01
Note: This time is applicable for New Delhi
Also Read: Festival 2020
Diwali 2020: For Hindus, Diwali has always been an auspicious festival holding a grand religious, spiritual and emotional value. This festival stretches for up to five days. Therefore, it has always been quite a favourite among the people. This 5-day festival is celebrated with much happiness. Houses and workplaces are decorated with colourful lights, diyas, and flowers. People clean their homes and try to make it more presentable for Goddess Laxmi, who is welcomed with open hearts and hands on this day.
Diwali is celebrated among Jains, Sikhs, Buddhists, and Muslims. In Jain religion, Diwali is marked as a day of Moksha for Lord Mahavir. In Sikhism, Diwali is also regarded as a festival of Bandi Chhor Divas. Markets are decorated and look amazingly beautiful during this five-day festival. A great hustle-bustle can be seen from the day of Dhanteras to Bhai Dooj. Saying would not wrong that these all five days are quite extraordinary.
Diwali 2020: Historical Story and Significance
There is a special story associated with this day. It is considered that Lord Ram came back to Ayodhya after 14 years of exile. To celebrate it, natives of Ayodhya decorated their house with flowers, cooked delicious food, and lit up earthen lamps to welcome Ram, Laxman, and Sita. On this day, Lord Sita and Ram are worshipped. At some places, Lord Hanuman is also worshipped, since he holds a special place in Ramayana.
Moreover, as per another mythological story, a demon named Narkasur created havoc for the Devtas. As they became more and more worried because of his wicked deeds, they all went to Lord Krishna for help. Lord Krishna killed Narakasura in the month of Kartik during Krishna Paksha on Chaturdashi. This is why people light diyas on the night of Amavasya during the month of Kartik.
Diwali 2020: When and How Diwali Is Celebrated?
Diwali is a festival of happiness and enjoyment celebrated every year on the night of Kartik Amavasya during the Pradosh Kaal. Moreover, it is also considered that if the New Moon or Amavasya does not affect or overlap Pradosh Kaal for two days, then Diwali is celebrated on the second day. However, on the other hand, some astrologers also consider that if the date of the New Moon does not fall in those two days during Pradosh Kaal, then Diwali should be celebrated on the first day itself. In case Amavasya doesn't fall on any day, then it is observed on the fourteenth day. Talking about the muhurat of Diwali, it occurs during the Mahanishith period or Pradosh Kaal. Moreover, the festival of Diwali indicates the changing weather as after it, winter starts.
The popularity of Diwali isn't bound to only India but with other countries as well, such as Tobago, Nepal, Suriname, Mauritius, Singapore, Fizi and so on. Moreover, it shows how the popularity of Diwali is increasing, and people find it a festival of happiness and joy. People all across the world consider this festival as a sign of victory of truth and message of peace. On this auspicious day, people get up early in the morning, have a bath and wear clean clothes. Youngsters take the blessings of the elders and give best wishes to each other. On this day, temples are cleaned and decorated with flowers. Gangajal is sprinkled all across the home. It brings positive energy and takes negative energy away from you.
Find your best match: Horoscope Matching
On this day, people also donate according to their capability. People visit each other's house and share sweets and gifts. The decoration of the market is enough for anyone to fall in love with this festival. You can easily see every home, shop or corner decorated with fancy lights, diyas and flowers. In the evening, Laxmi-Ganesh Puja is performed, and Prasad is offered.
Diwali 2020: Muhurat and Puja Vidhi
On the evening of Diwali, Lord Ganesha and Mata Lakshmi are worshipped. There are a variety of things offered such as Kheel, Batashe and sweets. It is an auspicious ritual to celebrate light up diyas using clarified butter or Ghee. It is believed that Maa Lakshmi visits the houses on Diwali to give her blessings and shower prosperity. Lakshmi-Ganesha puja is done during a particular muhurat to make the deities happy. Pradosh Kaal or after sunset is considered the right time to worship. Below given is the table describing when Diwali puja must be done:
| | | | |
| --- | --- | --- | --- |
| Name of the Muhurat | Time | Attributes | Importance |
| Pradosh Kaal | Three muhurats after Sunset | Best time for Laxmi Pujan | Important due to the occurence of fixed Lagna |
| Mahanishita Kaal | Muhurat during Midnight | Provision of worshipping Maa Kali | Auspicious timing for Tantrik Puja |
Moreover, worshipping Goddess Laxmi is considered auspicious during the rising of zodiac signs Taurus, Leo, Scorpio, and Aquarius in one's Lagna house. The reason is that these all zodiac signs are fixed signs, and if the puja is carried out during a fixed lagna, Maa Lakshmi is expected to stay in the home. Many of you might not know that Maa Kaali is also worshipped on this day. Moreover, if the puja is organised by a Brahmin and he is well-fed, it is said that good results are incurred.
On the day of Diwali, it is also considered auspicious to worship of lockers or any particular place where money is placed. Moreover, the business record oriented registers are also revered so that Maa Lakshmi keeps her blessing on it. People get indulged in Diwali preparation quite earlier.
To welcome Goddess Lakshmi, people clean and decorate their houses. They get rid of anything that emits a negative vibe. On this day, Lord Kuber is also worshipped to gain his blessings and have a stable source of income. On Diwali, Rangoli is also made and decorated with earthen lamps symbolising happiness, peace, and joy.
Puja Rituals
During Diwali puja, place a red cloth on the Puja Chowki and keep the idols of God. Do the Tilak, offer flowers and light diyas with Ghee. After that, offer water, Roli, Rice, Fruits, Jaggery, Turmeric and Gulal and begins the puja. It is important that all family members are present together during puja. Offer Prasad to all and pray to God. Be thankful for gracing you with a good family, food and luxury.
Astrological Aspects
According to the astrologers, Sun and Moon stay in the Libra sign and Swati Nakshatra. This placement is auspicious and therefore, all zodiac signs attain positive vibes.
Also Read: Numerology 2020
Do's and Don'ts
With the help of this section, we are going to share Do's and Don'ts of this festival. You can get great results if keep you these things in your mind:
Waking up early in the morning, applying oil on your body and taking a shower is considered quite auspicious.
Consume food only after doing puja.
On the auspicious day of Diwali, you also should worship your ancestors after performing the Laxmi-Ganesh Puja, and offer food to them as well.
Doing puja according to the muhurat eliminates negative vibes, stress, and poverty from your house.
On this day, you also should stay away from wine, gambling, non-veg etc.
Do emphasise on cleanliness, both physically and mentally.
Do not fight with anyone on this day.
Spend time with your family members.
Do not sleep in the daytime.
Do not burst crackers and add to both noise and air pollution.
Do not leave any corner in darkness, and place a Diya/fancy light everywhere.
We hope that the above mentioned shared information would be quite helpful to you. Our team also wishes you a very happy Diwali.