Gemini Horoscope 2020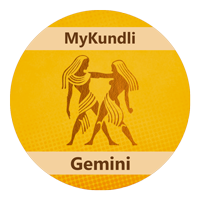 In Gemini Horoscope 2020, this year may bring about a series of events that may create confusion in your mind. This state will probably be a result of the transit of the shadow planet Rahu, which will take place in the beginning of the year. Misunderstandings may sour your relationships and put you in a dilemma. Do not fall in the traps that your enemies try to push you into. Due to the transit of Saturn in your eighth house, you may face delays in getting the fruits of your labour. It's going to be a tough road to success that you will be required to take. Remember that being gullible will land you into problems. No matter what happens, you should not lose hope. Only after learning from your past failures, you will be able to realise what you have been doing wrong. This process will help you to realise your mistakes and correct them.
You will focus on self-improvement. Due to lack of money, you might get stressed during the beginning of the year. This may lead to a confused state of mind and cause restlessness. New ventures started during the month of May might turn problematic due to the position of the planets - Saturn and Jupiter. Also, partnership in business might result in losses. You should make business related decisions with a very practical approach. A little carelessness may cost you more than you can imagine. Trusting others blindly is a habit that you should get rid of as soon as possible. Money that has been stuck somewhere may fall in your lap as a surprise.
You should talk to others in a gentle manner. Maintaining a good relationship with other people is an important part of life, which will help you in the long run. Owing to the transit of Rahu in the Zodiac Sign Taurus, you may set your foot on a foreign land. It will give a new direction to your life but on the flip-side, it will also skyrocket your expenses. Avoid giving or taking a loan during this stretch of time. With the advent of the month of September, you will be able to set things right. Your income graph will have a steep rise in the month of November. Your perspective may differ from that of your father. People may take advantage of the situation if you two fall into an argument.
Economic Condition for Gemini Horoscope 2020
The Economic conditions according to Gemini Horoscope 2020 the wrong decisions taken in the previous year may become a financial burden for you as per Astrology predictions for Gemini. There will be a delay in getting money and as a result, there will be times when you might find yourself devoid of money. It is better that you spend your money economically so that your budget can be maintained and you do not hit an extreme low in your financial life. An extremely lavish lifestyle may cost you a king's ransom. Your financial status will start to improve as the month of March begins. You may consider investing in the share market after the month of April. Make sure to weigh all the pros and cons before doing so. There are chances that you may spend on renovating your home or buying a piece of land during this year.
There are good chances of monetary gains if you are related to media and journalism, arts and literature, law, etc. Hanging out with friends may put a strain on your pocket. Avoid taking or giving loans during this year. Frequent travelling may add to your expenses. Returns from previous projects or from ancestral property will be a major support for you. You may spend a lot of money for catering to the needs of your children. You will be able to buy a vehicle if you have been planning for it.
Health according to Gemini Horoscope 2020
Gemini Horoscope 2020 the people of this sign need to be careful about their health. It is predicted that you will be packed with energy. Although there will be some minor health issues which changes in weather bring with them. Do not be nonchalant about them and take proper rest. Do not physically exhaust yourself as it will put a strain on your body. Frequent health checkups will help you to stay in pink health. If you are diagnosed with any problem, you should immediately seek medical treatment.
There are chances of physical injuries during the month of March. Hence, you are advised to take proper care of yourself so as to keep any accidents at bay. Pain in your leg may trouble you during the month of May. Traveling will not allow you to take proper rest and the pain in leg will not allow you to focus on work. It will be a hindrance in your way, so, consult a doctor regarding this so that you can get rid of it as soon as possible. Take care of your spouse, especially during the end of the year.
Career Horoscope for Gemini 2020
According to Gemini Horoscope 2020, your professional life will be troublesome as the year begins. Despite of the complexity of the problems, you will be confident enough to deal with them owing to the transit of the planet Jupiter in the Zodiac Sign Capricorn in the month of March. Also, you will be able to complete many of your pending tasks. You are advised to stay away from making any huge investment because it can lead to loss because of the transit of the shadow planet Rahu in your own Zodiac Sign. New partnerships are likely to get dissolved soon so you should stay away from them. The month of September looks good for you if you want to lay the foundation of a new venture.
There will be less pressure of work on you. You will be able to restart the projects that had been shut down due to some problems. Offers from abroad will surprise you. You need to be punctual and dedicated towards your work if you want to give a new direction to your career. You will be able to increase your market value if you work hard for it. Your efforts will be rewarded with praises, bonuses or may be a promotion as well. Bagging a job of your choice will be a piece of cake for you. If you want to get a transfer from your current working place to a new place, you can ask your seniors for help. They will lend support.
You should avoid making a change to your career during the month of May. Do not let materialism take a toll on you. Remember that there is an end to need but not greed. Therefore, do not run after money without considering all possible angles of the situation. From September onwards, you will do good in job or business, whichever you are associated with.
Education Horoscope for Gemini 2020
Gemini 2020, this year is going to bring you opportunities as well as challenges. Your patience will be put to test but these challenges will help you discover the various realms of your inner-self. They will help you to get better and improvise. You will be required to invest your time honestly if you want to score well in your examinations. You should remember that none of your efforts will go in vain. If you want to take admission in a new school or college, it may put a financial burden on you and your family. Thus, you are advised to make a decision that is affordable. Due to a fight with a close friend of yours, you may find your attention deviating from studies during the month of May.
If you want to go abroad for future studies, you may have your wish fulfilled. You will be required to make an effort if you want to get enrolled in a prestigious foreign institute. Taking part in co-curricular activities will help you to unveil your hidden talents. Annual functions and celebrations in your school or college will help you to showcase your skills and garner praises. Drive carefully and take care of your health if you do not want health problems to become an obstacle in your studies. Take care of your eyes and do not waste your precious time by surfing the internet or being always active on social media. Hard workers will reap the fruits of their labour.
Family life as per Gemini Horoscope 2020
During the beginning of the year, you may turn up against your family members because of some misunderstandings. There may be frequent clashes in your family due to the influence of an outsider upon you. You may face opposition from your in-laws as well. You should not let your blood relationships crumble down because of someone else. You will get a chance to improve your relationship during May or June. There may be some celebration or party in your family that will bring you closer to your kin. By the end of the year, the problems will be settled down. You may receive ancestral property during this year.
To make your bond stronger, and bring positive energy to your house, you will organize an auspicious event at your home and invite friends and family. Spending time with family and friends will help you attain peace of mind. You will get along well with your siblings. A new addition in your family is likely i.e. either marriage or childbirth will take place. You should maintain the unity in your family. This all was about Gemini 2020 Family Life prediction.
Marriage and relations as per Gemini Horoscope 2020
Gemini Marriage Prediction 2020: Due to the influence of an outsider on you, you may have problems in your married life. There will be frequent clashes between you and your spouse. These problems will not only affect you and your partner but also your family members. You may end up losing the faith of your in-laws if you do not mend your ways. You should, by all means, adhere to your vows of marriage. Do not let your marriage fall apart. Due to the change in the position of Ketu in September, there will be a gradual improvement in your marriage.
You may seek the advice of your spouse during the month of May. Going out for a trip, dinner, etc. is recommended. Taking care of your spouse's health is a must. Love your partner and let them realise their importance in your life. Your children will do well in the year 2020. Your child may get married during the beginning of the year or the end of the year. Take care of your young children in family. Their studies may be affected during the month of March. Help them in their academics and be their moral guide as well.
Love Affairs as per Gemini Horoscope 2020
According to Gemini Horoscope 2020 you will be on cloud nine when it comes to your love life. You will spend time with your lover and will get connected to them. The bond between both of you will keep getting stronger as the year progresses. Post May, there are high chances of you meeting someone new and getting attracted to them. You should stay away from getting associated with them as this will land you in a love triangle and will spoil your love life. You should realise that feelings are not something that you should play with. Be a loyal and committed partner and you will get the same from the other end. Do not ever do something that may be morally wrong for your love life.
Your partner may need your help and support after the month of November. You should serve as their pillar of strength and help them by all means. Single people may find the love of their life. You may get weak in your knees for someone at your workplace. Let them know about your feelings if you really want to change your relationship status from single to committed.
Remedies for people of Gemini sign for the year 2020
Plant a Peepal tree and water it every Thursday and Saturday.
We hope that the year 2020 brings you happiness and prosperity. Best wishes from MyKundali!