Happy New Year 2020: Happy New Year Quotes, New Year Messages
MyKundali wishes you a prosperous Happy New Year 2020. It officially starts with a bang, as everyone eagerly waits when the clock hits 12 AM on 31st December. Hopes and wishes, Smiles and many dreams are seen in the eyes of people all over the world! It starts with astounding sighting of firecrackers and people enjoying the first day of the new year by gathering and dancing. Everyone wishes for holding the best position in his/her life. Hence they commence the new year with great joy. It doesn't matter where you are, you will hear people everywhere celebrating and talking about New Year. It's time to make promises and also to fulfil those promises by putting efforts during the next 365 days.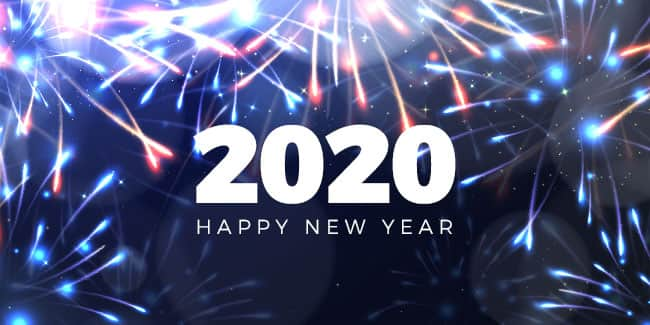 The start of new expectations and new dreams – New Year is a day envisioning what is about to come in the near future. Everybody across the globe celebrates, respects and welcomes the new coming experiences and moments this way. Everyone including friends and family gathers together in order to cherish the moments of the previous year and taste the special moments of next year altogether. Regardless of poor or rich, political or non-political, renowned or not – everybody observes New Year to some extent. A few people celebrate it at their home, while some go out and have a great time with their friends.
Happy New Year Quotes
People spend the New Year with their close ones, friends, relatives etc. so as to share their joy and disappointment from the last year and gain enthusiasm and energy for the upcoming year. Below we have provided some Happy New Year quotes 2020 for you to send it to your friends and family or update your social media platforms. Scroll down and check them out now!
"Hey let's celebrate the new day of the new year 2020."
"May God bless you the long life and joy and happiness in this year of 2020"
"Wishing to you and your family good health, good wealth, happiness and successful life and prosperity of the coming year"
"The coming new year brings the bright future and lovely life to you're my dear friend"
"I Miss you the old study or session buddies"
"Each year's regrets are envelopes in which messages of hope are found for the New Year." – John R. Dallas Jr.
"Let our New Year's resolution be this, we will be there for one another as fellow members of humanity, in the finest sense of the word." – Goran Persson
"For a new year to bring you something new, make a move, like a butterfly tearing its cocoon! Make a move!" – Mehmet Murat İldan
"May the New Year bring you courage to break your resolutions early. My own plan is to swear off every kind of virtue so that I triumph even when I fall." – Aleister Crowley"
Happy New Year 2020 Messages
People follow some traditions and cultures when it comes to celebrating the new year. Few people conduct religious worship on this day, whereas some spend money to buy gifts for their loved ones to see smiles on their loved ones' face. A few people don't trust any customs, they basically believe in enjoying the day to greatest to ensure that their year begins with a blast. People pray for happiness in the upcoming new year. Generally, people celebrate the new year in the hotels, plan parties there and have a great time.
We have some Happy New Year 2020 messages and wishes that will place you in the New Year's festival vibe and you won't forget wishing your friends and family. Find below some New Year 2020 wishes for your convenience:
"Let the coming year be a glorious one that rewards all your future endeavours with success. Happy New Year."
"May you are showered with choicest blessings from God, love of dear ones and trust from friends! Happy New Year 2020!"
"May each day of the New Year Bring happiness, good cheer And sweet surprises… To you and all your dear ones! Happy New Year!"
"Wishing you 12 months of pleasure, 52 weeks of exciting, 365 days of laughter, 8760 hours of good luck, 525600 minutes of joy, and 31536000 seconds of success. Happy New Year 2020."
"As the New Year renews all the happiness and good tidings, hope the joyful spirit keeps glowing in your heart forever! Happy New Year!"
If you desire to get in touch with the real feel of New Year's Eve, you should decorate your home. Individuals spend their time to ensure their house looks good and tidy on the first day of the New Year with a belief that it stays like this throughout the year. However, it is not compulsory to spend a handsome amount of money on decorations. Just some flowers and lights will do the trick.
New Year Celebrations in Hinduism
I Hinduism, this day holds eminent importance. Although this day is a westernized concept, Hindu natives still carry out celebrations and religious rituals to mark the arrival of new opportunities, profits and good news. People organize pujas at home or temples to attain blessings and fortune, visit temples to seek the divine blessings and carry out religious events such as Bhandara (distributing food), Hawans, Charity and Donations etc.
"We hope you like our post, stay tuned with us for more updates on New Year 2020"