Virgo Horoscope 2021 Predictions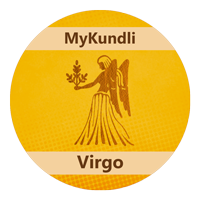 Virgo horoscope 2021 offers yearly horoscope 2021 predictions based on Vedic Astrology. Get your personalised life predictions as per your zodiac sign and know what's in store for you.
Virgo 2021 Yearly Horoscope shows that the Virgo lord Mercury sits in the fourth house with Sun. This year is going to be favorable for you. Any pending task will be performed this year. From a family point of view, the horoscope 2021 shows happiness, peace, and prosperity. This year Saturn will stay in Capricorn Sign in conjunction with Jupiter in the Fifth House and Rahu in Taurus Sign in the Ninth House. In April Jupiter will transit in Aquarius Sign in the Sixth House and in September, it will again transit in Capricorn Sign in the Fifth House. In mid- November, Jupiter will once more enter Aquarius Sign in the Sixth House on turning direct. Mars will remain in its normal motion. These 12 months will give moderate results when talking about competitive examinations.
There will be mixed results in your career. The time period is favorable for those who want to pursue higher education. The beginning of the year will be relatively auspicious for students. There will be possibilities of getting employment after April 06. These 12 months will be favorable from a financial perspective. As per Virgo Annual Horoscope 2021, there will be continuity in your finances as Jupiter and Saturn have a combined aspect on the Eleventh House. Your source of profits will end up becoming more stable. You will have gains from the progress made by your children. Also, you will earn good profits from the share market, and speculation business. However, matters can also get challenging as the months progress, that is after April 2021.
A new form of stress may also hassle you in the mid-year. Make certain that you don't lose your stability while making any vital decisions. You may also additionally sense some uncommon stress shaping your life and career. However, you will obtain a higher depth of understanding of your lifestyles, and gain experiences from it. This period may allow you to make some sensible choices. Saturn and Jupiter have conjunction in the Fifth House which offers a strong indication for newly married couples to have children as per Virgo Horoscope Predictions 2021.
The beginning of the 12 months will be favorable for progeny. Your children will get admission in a reputed institute for higher education. If your children are of marriageable age, they may get married. The transit of planets is relatively auspicious for the earnings and career of your second child. The beginning of these 12 months will be favourable from a health point of view. You will be mentally and physically alert and will be in good health due to the aspect of Jupiter on your sign. After that, Jupiter will transit in the Sixth House from April to mid-September. During this period, your health may deteriorate and unexpectedly you can also fall ill. It will be advisable for you to do workout or Yoga in the early morning. The time period after mid-September will be favorable for health.
Virgo Horoscope 2021 for Career
As per 2021 Virgo horoscope, Virgo natives will have mixed results during this year. The placement of planets Saturn and Jupiter in the fifth house can bring turmoil and distraction in trade and business but will gradually improve with time. This year will be beneficial to the import-export business. The conjunction of Sun and Mercury in the fourth house will provide advancement in the profession. Virgos looking to go abroad may see an opportunity between January and July. The transit of Mars in mid of May can get things worked up. You may then become hasty to push things ahead. However, you should keep patience and be very careful in taking any decision. The months of January, March and May will prove lucky for Virgo natives. Promotion and job transfers are on the cards. By mid of the year, you will feel a new flow of energy in you that will increase your interest in skill enhancement and learning new things. The latter part of the year will be favorable due to the positive placement of planets and nakshatras, as you may stumble upon good opportunities and see growth and development in your career and business.
Virgo Horoscope 2021 for Financial Life
As per the Virgo Financial horoscope 2021, this year will give favourable results to Virgo natives. The lord of finance in your chart, Venus is placed in the third house in conjunction with Ketu, which indicates situations will improve related to money matters. Venus and Ketu will create a new source of income in your life. Placement of Mars in the Eight house in the Month of January and February may earn you some money from a secret source. With the placement of Rahu in the Ninth house in the sign of Taurus, you will attain sudden monetary gain that will strengthen your economic status.
Going abroad for business expansion and coming across good opportunities will bring wonderful results. Your second house of finance is very strong this year and getting aspected by benefic Jupiter which will bring prosperity and abundance. Your 2nd House of Finance will become powerful after September. The months of April to September may add up to your expenses as Jupiter will be in the Sixth house. This year your expenses will increase due to the placement of Sun in the Fourth house. As a result, you may end up buying a vehicle, house or other amenities. Virgo natives who plan to buy a house this year may also face some difficulty, it is advised to do proper investigation before signing a deal. It is advised to take care of your expenses and not to be a spendthrift.
Virgo Horoscope 2021 for Education
As per the Virgo Education horoscope 2021, this year will give favorable results to Virgo natives. Saturn, your ruling lord of education house, is placed in its own sign in conjunction with Jupiter. Surely this year is going to prove beneficial for students who wish to pursue higher education. They have immense scope in the field of education this year but it is possible only with handwork and lots of effort. Students preparing for competitive exams will attain success this year. Placement of Saturn in the fifth house throughout the year can create delay and hardships for the students if they don't put in their hand work into their studies. You will have a good year if you are associated with the field of Politics or Social Service. On the other hand, students studying Information Technology are most likely to get success as predicted by Virgo 2021 Annual Horoscope.
Virgo Horoscope 2021 for Married Life and Children
As per Marriage and child horoscope 2021, this year will prove favorable for Virgo natives as your lord of married life, Jupiter is placed in the fifth house with Saturn therefore this year will be filled with sour-sweet moments with your spouse. This is a favorable period for those who want to get married this year and turn their love life into married life. Pending issues of marriage may get resolved. The favorable period for marriage is till October after that, time is not suitable for marriage till the end of the year. The months of January to March will prove beneficial for you and you will be blessed with the best years of life, it is advised to spend some quality time with your spouse. The mid-year will also give you good results for your marriage, the end of the year might bring some trouble, but it is not that this time will cause much harm. This year will bring happiness to couples who wish to conceive it will remove all obstacles that were causing a delay in childbirth. But in the matter of children when facing trouble be friends with them to understand them better. January, February, May and October are favorable for your children in terms of luck and prosperity.
Virgo Horoscope 2021 for Family Life
As per the Virgo Family horoscope 2021, this year will give satisfactory results to Virgo natives as difficulties can arise in your family life. The placement of Ketu in the third house will create a situation of confrontation in the family. Brothers and sisters will try to resolve their differences. The situation may turn worse slowly and you may start facing problems from your family members, friend circle, and relatives. Debates regarding ancestral property may arise. You may become overconfident with an egoist attitude due to the placement of Sun in the fourth house as per Virgo Yearly Horoscope 2021. Therefore, it is advised to choose your words carefully. Your social circle will increase as you will meet new people, and that will bring some positive changes in your life. Due to a busy schedule at the workplace, you will get little time to spend with your family and friends. Support of your parents and spouse will prove beneficial for your success in life.
Virgo Horoscope 2021 for Love Life
As per Virgo 2021 horoscope predictions, this year will give you mixed results as Saturn is placed in conjunction with Jupiter in the fifth house. You are likely to be in a state of confusion as far as your love life is concerned. This year shows differences between you and your partner. The situation may become even worse if you will not avoid these arguments and quarrels between you, both. Misunderstanding and anger are the main reason for these problems, so try to be calm and go for healthy discussion. The month of February will bring some positivity in your relationship. Single Virgos who are in a committed relationship should put their proposal in front of that person.
Tying the knot with your lover is also on your cards as per 2021 Libra Horoscope. Your lover's health needs good care. It is advised to beware someone close to you might create problems to ruin your relationship with your lover, so be prepared to handle this situation and act wisely. Positive outcomes are seen in the Month of September after Jupiter transit back into the fifth house. Your favorable and happiest moments this year will be from January 14th to March 20th, from May 21st to July 22nd, and from September 22nd to November 21st.
Virgo Horoscope 2021 for Health
As per Virgo health horoscope 2021, this year will bring good health. Mercury in conjunction with the Sun in the fourth house will give you good results regarding your health at the beginning of the year. The placement of Ketu in the third house will give you courage and keep you energized to maintain health. During the mid-year from April to September with Jupiter in the sixth house may cause problems related to urinary tract. Also, skin problems during the month of May 2021 may not be ruled out. Stomach ache, indigestion and acidity may bother you as Jupiter will transit in the sixth house. It is advised to avoid junk food during this period. Your unhealthy lifestyle is likely to create health problems for you during this time. You have to give attention to your health, especially take care of your feet otherwise you may suffer.
Virgo Horoscope 2021 Remedies
This year will be favorable for spiritual deeds as indicated by Virgo yearly predictions 2021. You will be inclined towards religious ceremonies. Respecting your elders, teachers, gurus, and following their advice will prove beneficial for you. Also, helping the poor from time to time will enhance your luck
Chant Rahu Mantra and donate black articles in charity and seek blessings of your elders, Gurus
Wearing an Emerald gemstone of the best quality in a gold ring in your little finger on a Wednesday will be favorable for you.
Soak some raw Moong dal (lentils) on Tuesday and feed Gau Mata with your own hands on Wednesday. It will be favorable for you to recite Durga Chalisa every day.