Yearly Cancer Horoscope 2018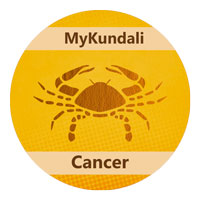 Summary: This year, immediate attention is needed in your personal and marital relationship. Major issues with your spouse are indicated which needs to be resolved soon otherwise it will take an ugly turn. Some of the couples may go for separation. On the other hand, Cancer horoscope 2018 says you will get the love and support of your parents. Their intervention will bring improvement in your life. Good time indicated for family members. There are chances of purchasing a residential property. Also, renovation and extension related to house is possible. Business owners will get huge profit and initiate foreign collaborations. But think properly before getting into partnerships. There are possibilities of fast-paced growth for natives in job.Your enemies will lie low and they will be unable to create problems for you. Healthwise, no major issues will trouble you and you will enjoy a good health. You will rarely feel low. Excellent time for linguistics, translators, psychologists and psychotherapists. They will grow rapidly and will be highly in demand. Also, realty sector and educational institutions will prosper and come into positive focus. If we talk about your finances, you are suggested to stay alert. You will earn enough money but unable to save due to your excessive spending.
Remedy: Regular worship of goddess Durga and chanting of Durga Kavach will bring good luck, peace and prosperity.
To read your cancer horoscope for year 2019, please visit: Cancer Horoscope 2019
January
On professional front, you will make more efforts to bring some improvements and eventually you will succeed in it. Your interest will increase in this arena and chances are high of fast paced career growth. This is an excellent time for natives in business as huge monetary gains are indicated this month. Minor irritants may affect but your family life will be peaceful. You will be happy with the situation at your home and enjoy some memorable time with them. If we talk about your married life, Cancer horoscope 2018 predicts some challenges may come to your way. Avoid conflicts and disputes with your spouse otherwise it will ruin everything. Try to spend more time with him/her or plan an outing. Healthwise, this month appears good for you. Regular morning walk and little work out will always keep you fit and fine. For students, this month is very significant because you will reap the rewards of your hard work during this period.

February
There is a need for caution in your marital life. Anger management is very important during this time otherwise explosive situation may occur. Also, control over your speech because your harsh words will hurt the feelings of your life partner. Try to reduce your suspicious and controlling nature. Give enough space to your spouse. If we talk about your finances, there will be a good cash flow especially your family income will increase around this time. Still you need to be very careful because you may have some financial worries as per Cancer horoscope 2018 predictions. Avoid wasting money unnecessarily. If you are planning to buy a residential property then you are advised to postpone your plan because this is not a good time. Your enemies will be afraid of you and unable to harm you. This is an excellent month in terms of career and growth.
March
You will be blessed with good fortune and you will be excited with the success in your works. Lady luck will smile on you and good things will happen in your life during this month. Lots of long and short trips are indicated which might make you feel tired. Progressive time for natives in business as they will initiate foreign collaborations and get fruitful results. People in real estate or property dealing may get unexpected gains around this time. On familial front, happiness will prevail in your family and you will pay more attention towards your home. Decoration and renovation of your house will be your main agenda as per Cancer horoscope 2018. Your interest will rise in charitable activities and this will enhance your reputation in society. Also, religious institutions will come into positive focus during this period. When it comes on health, you need to be alert. Stomach related issues might trouble you.
April
You will able to maintain a good balance between your personal and professional life. All your plans will be successful which will increase your confidence. Apart from this, help and support from father figure and mentors will keep you in good spirits. Also, your father's social will position will be enhanced in the second half of the month. Favorable time for all types of advisors. They will flourish during this period. Counsellors and guides will be highly in demand. This is very important time for students. Cancer horoscope 2018 predict,s they will get the reward of their hard work in the form of admission in their favorite institutions. Natives looking for job will get many good options and he/she should work on improving his/her skills to get better job profile. Ambitious and career oriented professionals will grow rapidly and rise very high in their jobs.
May
Difficult time for married couple. Your marital life will suffer from severe affliction and you will find it hard to deal with it. Some of the couples may decide to part ways. Avoid arguments and tiffs with your partner and try to behave gently. It will be great if you seek and follow the advice of your elders. Beside this, work related foreign journey is on cards. Also, long awaited wish of your elder siblings, of getting work opportunities from overseas, might get fulfilled during this time. They will invest double efforts and get desired results. You will have good relations with your family members, as per Cancer horoscope 2018 predictions. Happiness and peace will prevail in your family life. Good time for financial progress and family business ventures will beget beneficial results. During this period, you will see an increase in your fixed assets. Also, your expenditure will go high due to the purchase of luxurious items or household items.
June
Your health may stay disturbed during this month. So, take special care of yourself to avoid major issues. Especially, females are suggested to stay alert in the matter of health because they will have problems related to their reproductive parts. Also, eye related issues may trouble many of you. You may suffer from sleep disorders due to increased mental activities. Avoid taking too much of stress it will have a negative effect on your health. Take a break and relax for some time. You will feel better. If we talk about your married life, don't play blame game with each other. Try to maintain happiness and peace in your marital life instead of pointing at each others mistake. Women in romantic relationships need to be very cautious because misunderstandings and ego will ruin everything. On financial front, Cancer horoscope 2018 predicts this month seems average. Very progressive time for students especially for researchers in dream analysis and psychoanalysis. They will perform extremely well and advance further in their studies and findings.
July
Great financial progress is expected this month. You will get success in your efforts to fetch more income from foreign sources. If your family business is having an overseas connection or your family members are working over there, then it might be one of the reasons of rise in your family income. Your sweet speech will save you from the awkward situations in arguments. You may go through mood swings, which might create tension in your personal, social and professional relations, as per Cancer horoscope 2018 predictions. On one hand you will be sarcastic in your behaviour whereas on the other hand your changing emotions will make you unpredictable and moody. At times, you might feel stressed due to excessive workload. You are advised to take some time out and relax. Linguistics and translators will experience a very good time and they will be highly in demand. Also, therapists of all hues and sorts will do well and flourish.
August
Issues in your marital life may take an ugly turn if it is not handled with care and maturity. Especially, women in marital relations will have to face some tough situations. Females may have to suffer from verbal and physical abuse during this period. Tension in your married life might keep your family life disturbed and also have negative impact on your children. Your kids will not be able to concentrate on their studies. Hence, you are advised to avoid conflicts and arguments especially with your spouse. Healthy discussion is the best way to resolve all the issues. On the other hand, you will focus more on your work. Your personal problems will not affect your professional life because of your determination and dedication towards your job. All your career plans will work and you will get good results. Cancer horoscope 2018 says you will maintain good relations with your seniors and colleagues. Your behavioural change will keep you in their good books. Business ventures in electronic items will be profitable. This is not a good time for new investments. If we talk about your parents, they will enjoy good health and you can take their help to solve your problems related to your marital life.
September
Intervention by elder members of family and well wishers will improve the situation at your home. So, listen to them and follow their advice. Their experienced guidance will surely reduce tension in your personal life. There are chances of family get together to celebrate some auspicious occasion. On financial front, you will get some good chances to earn money. But your expenditure will also increase. You will spend more on entertainment and on other luxurious items. Spousal relation will stay good but some minor issues are possible. Avoid being angry especially while talking to your life partner and don't get into arguments. At work, your seniors will appreciate you for your hard work and quality of your work. Also, your co-workers will be very supportive and you will enjoy the friendly atmosphere at your workplace. On the other hand, your enemies will lie low and unable to create hurdles in the way of your success. Cancer horoscope 2018 says it's a good time for women professionals. They will get high profile roles in their job and they will execute all the tasks with great self-confidence.
October
You will perform all your tasks very creatively and skillfully. Joint business ventures with siblings and friends will give you good results. You could expect huge monetary gains. It will be better for you if you stay alert in the matter of exchange of money. Don't believe strangers especially when it comes to business partnership. Think properly before choosing your business partner. In order to get success, you will take some good initiatives and put more efforts. Also, your courage, valor and self-confidence will increase during this time. First half of the month is good for new investments. You will get some unexpected monetary gains. While second half of the month is perfect for making some long term plans and asset management. Favorable time for married couples. They can do family planning during this time. On the other hand, pregnant ladies will have safe delivery. Students learning advanced level of software technology will shine and get suitable professional channel.

November
Positive developments are expected in your married life and you will get the desired results of your continuous efforts. Tension will reduce and there will be happiness and harmony in your marital relations. You will spend some quality time with your spouse and children. Also, all your family members will stay happy with you and there will be unity among them. During this time, you will be able to handle all the challenges of life efficiently and creatively. If we talk about your health, you will remain healthy during this month. But you are suggested as per Cancer horoscope 2018 to follow your wellbeing program regularly. Excellent time indicated for schools and other academic institutions. Your work will do great financially and your reputation will also increase. Apart from this, your interest will rise in religious activities. You will regular chant and perform all the religious rituals in order to have mental peace.
December
Your interest will rise in occult sciences and practises. On the other hand, many of you will go on a pilgrimage during this month. At work, some of the natives may plan to change their current job. Many long and short work related journeys are indicated around this time. In the second half of the month, constant hard work is predicted. You will enjoy the friendly atmosphere at your workplace and remain in the good books of your senior management. Your marital life will be blissful. You both will have a very good mutual understanding and support each other even in the tough situations. Cancer horoscope 2018 says, this is a good time for your elders and children at home. On financial front, this month will be normal with some mild ups and downs. Business owners will get beneficial results if they invest in a new project around this time. Healthwise, you need not have to worry so much. Also, your interest will increase in yoga and meditation.