Yearly Capricorn Horoscope 2018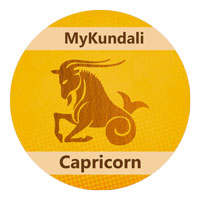 Summary: For Capricorn, horoscope 2018 predicts that life will bel normal with minor ups and downs. Looks like, you are going to enjoy a good time in your professional life. At your workplace, you will receive appreciation for your wonderful performance and may get a promotion. Try to maintain good relations with your seniors because it will make things easier and wonderful for you. Also, their support will help you to be strong and confident. Natives running their business, will get huge profit. They may plan to expand their business. Positive developments are expected both at home and workplace. Many work related journeys are on cards this year. But some problems are indicated in personal and intimate relationships. An auspicious occasion might take place at your home. Apart from this, your interest will rise in spiritual pursuits and you will be more involved in philosophical activities. Your finances looks good this year. Your earnings will be good and your bank accounts will remain green this year. But over expenditure may land you in trouble so be careful. You may buy a land or property and your investments during this time will fetch you beneficial results. Also, don't trust people blindly in money related matters. An attitude of detachment will help you a lot. All the problematic situation will be resolved automatically. Healthwise, take good care of yourself. Regular exercise and a healthy diet will keep you fit and fine.
Remedy: You will be blessed with good fortune because of your involvement in charitable deeds and activities.
To read your capricorn horoscope for year 2019, please visit: Capricorn Horoscope 2019
January
This is the time for deep introspection and reflection. So, find out some extra time for you it will surely make things easier for you. At domestic front, some tensions are indicated. You may have disputes and arguments with your spouse on many issues. Misunderstandings and conflicts will keep you disturbed during this time. You are suggested to alert financially because over expenditure may trouble you. You will spend a lot on charitable deeds. Your professional life might be very hectic this month says Capricorn horoscope 2018. Work related journeys especially to a foreign land are on cards. You may feel tired and exhausted because of excessive workload. Excellent time for software professionals. Positive developments are expected in your career and you will be blessed with a good fortune. You will find yourself interested in religious rituals and chanting.

February
You will experience the best time in your professional life during this time. Your hard work done previously will pay off in the form of promotion or pay hike. If we talk about your finances, earnings will be good and many other sources will benefit you. Money will keep flowing and you will enjoy your life to the fullest. Capricorn horoscope 2018 suggests, investments will benefit you and boost your family income. Simultaneously, your expenses will also increase so be careful and your saved money during this time will help you in future. Family life will be blissful and you will get full support of your spouse. There are possibilities of vertical mobility in your social life during this period. Healthwise, you need not have to worry so much because minor abdominal problems are indicated. Just, keep a check on your eating habits.
March
Your interest will rise in creative pursuits and you will be actively engaged in it. Also, your artistic side will shine and you will receive praises for your creativity. You will be more inclined towards religious and spiritual pursuits during this time. Your interest will rise in spiritual and charitable institutions such as schools and hospitals and your charitable deeds will come to prominence around this period. At domestic front, you will have some wonderful time with your family. You may plan a short trip. Capricorn horoscope 2018 says, children will progress and get you bliss in life. Excellent time for business houses dealing with religious scripts and accessories will flourish this month. They will make good profits this month. Apart from this, natives in media, public relations and advertising will achieve huge success. If we talk about your health, your carelessness may trouble you.
April
As per the horoscope 2018 predictions, time seems good for you and you will get success in whatever you do. Also, your mother will be praised for her charitable deeds and her social status will enhance during this time. You professional life will be awesome and your seniors will appreciate you for your hard work and excellent performance. Family business will have foreign collaborations which will beget fruitful results. Huge profit is expected which will increase your family income. Your financial status will remain strong and earnings will be good. Besides, you are suggested as per Capricorn horoscope 2018 to pay more attention on your domestic affairs. Tensions, tiffs and disputes are seen. This might hamper your personal relations which might keep you stressed. If we talk about your children, they will perform well in their academics and secure good marks in their examination.
May
This month, you will put more efforts in both personal and professional life. You will focus more to maintain a good balance between both. But exercise control over your speech and avoid rash temperament. Your wrong behavior may create problems in interpersonal relations. Help and support of your parents will be very beneficial for you. They will be blessed with good fortune during this time. At domestic front, Capricorn horoscope 2018 predicts that tension may prevail in your marital life. You may have strained relations with your spouse and difference of opinion might be the reason of your marital disharmony. If you are a student and pursuing advanced research then time is favorable for you. You will be able to perform well and shine in your career. Be careful about your health because problems related to abdomen may trouble you.
June
There are possibilities of health complications for your spouse. So, don't be careless about his/her health. Proper diet, some exercises along with doctor's consultation will surely work out. Also, second medical opinion will be very important during this time. Don't get involved in gossips or avoid criticizing your colleagues. Because your hidden enemies may create problems for you which might have a bad impact on your job. However, you will work very hard to achieve success but your one mistake will spoil everything. So, stay alert. Natives in business are suggested to maintain good relations with their partners. Behave kindly and treat them with dignity otherwise irreconcilable differences may occur. If we talk about your children, they need your suggestions and guidance in their choice of friends says Capricorn horoscope 2018. Friendly advice or counselling rather than parental preaching will help them a lot. At health front, you will experience mental fitness but your personal health will be affected.
July
Pregnant ladies are advised to stay more careful during this period. Don't miss check-ups and counselling sessions with your doctor otherwise you may to have to experience serious complications. Problems are seen at your workplace. You may lose your mental peace during this time which will hamper your performance. But help and support of your seniors will surely make things better for you. Time is not favorable for any big investment in business and drop your plan of expansion. You may suffer from a huge loss. Marital life will be tensed. Regular arguments, tiffs and disputes will make the situation worse and some of the married couples will decide to live separately for some time. You are suggested as per Capricorn horoscope 2018 to be careful about money matters. Keep a check on transactions in business and do not trust your partners blindly.
August
People under Capricorn sign, will find increase personal interest in spiritual matters. Time seems not good for your marital life. Lots of challenges may come to your way and you may lose the sweetness of your relationship. Your ego battle will destroy your married life and some of you may decide to part ways mutually. Some educational hurdles may trouble your children around this time. It will be great if you give some extra time and attention to your kids. Financially, this month will be excellent for you. Inheritance is expected in the second half of the month and increase in your shared resources will make your financial status strong. Capricorn horoscope 2018 says working natives may plan to take a break from their hectic professional life. Some of you may love to travel while others may go for spiritual retreats. Favorable time for modern artists. They will be highly in demand during this period.
September
This period will prove to be successful for professionals working in MNCs/TNCs. They will go overseas to work on some prestigious assignments. Also, time is good for women professionals. They will prosper in all directions and assume greater prominence in their work-spheres. Luck will stay on your side and you will get many golden opportunities around this time. At work, Capricorn horoscope 2018 predicts your success rate will increase and you may receive appreciation for your tremendous performance. You will be awarded with a promotion along with a salary hike. You will get respect and honour for your increased involvement in charitable activities and deeds. Some problems are indicated from your father's side in the first half of the month. But don't get disappointed because issues will be sorted out in the latter half of the month. Your health will stay good and your interest will rise in yoga and meditation practises.
October
This is going to be a good time for your financial affairs. Inheritance and huge monetary benefits are expected from your parents. Your earnings will improve and you will get some new sources of income. Your energy and excitement will increase and you will be able to give your best both in personal and professional life. At domestic front, some positive changes are indicated around this time. You will get love and full support of your family members which will definitely lift up your spirits. Your marital life will blossom with peace and harmony. Progress of your children will bring happiness in your life. If we talk about your professional life, an expanded job profile is indicated during this time. If you are looking after the management of your company or associated with the administration department then you may face employee related issues. So, you are advised according to Capricorn horoscope 2018 to handle all the problems very carefully. Extensive work related journeys are on cards around this time. But these journeys will fetch you fruitful results. Favorable time for arbitrators and negotiators.

November
You may face problems and hurdles in your married life. But don't worry this duration will be very short as things will improve soon due to the positive intervention of your family members. Your elders will shower their blessings on you and they will play an important role in your life during this period. Apart from this, your mother's interest will rise in spiritualism and she might go to a pilgrimage during this time. You are advised to keep a check on your words especially when talking to your spouse. Also, avoid making sarcastic remarks on others and if want to maintain peace in your married life then don't take your life partner's comments on heart. Your income will be good and you will earn money from multiple sources. Your family business may flourish and some unexpected gains are indicated. You will make some long term plans in your business. Also as per Capricorn horoscope 2018, all your investments will give you beneficial results.
December
Personal issues might keep you disturbed this month and you may suffer from low self-confidence. But you should learn to balance things positively. At financial front, money will keep flowing like usual but your expenditure will increase during this period. Avoid wasting money otherwise you will face financial challenges. In a bid to get some relief from your personal problems, you will focus more on your hobbies. If we talk about your marital life, Capricorn horoscope 2018 says, you will enjoy a good time with your spouse. Your relationship will stay good and you will support each other. Great time for advisors and counsellors. They will shine in their career and their demand will also increase around this time. Healthwise, this month demands your attention especially you need to be careful about your eyes. Eye related problems and injuries are possible.