Yearly Leo Horoscope 2018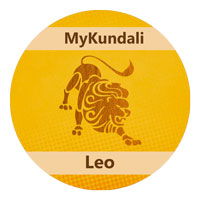 Summary: According to the predictions of Leo horoscope 2018, this year seems good for you both in personal and professional sphere. Children might be a cause of worry as some problems are indicated. Your equation with them will not be good as per your expectation. Try to handle them with lots of love, care and affection. On the other hand, time is very progressive for your siblings and you will have very good relations with them. If we talk about your marital life, you will get both emotional and moral support of your spouse which will keep your relationship stronger. Also, your family members will get you bliss in life. You will earn good money and your financial position will remain strong. Leo 2018 horoscope says, there are possibilities of accumulation of wealth and some huge monetary gains. On job front, your performance graph will go high and you can expect reward of your hard work. Natives in business may get benefits from their investments. Some of you may go to a foreign country during this year. If you are a student, then you need to work very hard and you will surely get the fruit of your hard work in the form of good marks. At, times you might feel pressurized which may cause restlessness, lack of peace and sleep disorders. So, avoid taking too much of stress and relax. Time is good for engaging in yoga, meditation and spiritual treat.
Remedy: Rudra Puja and chanting Rudram/Chamakam will beget good results.
To read your leo horoscope for year 2019, please visit: Leo Horoscope 2019
January
Good month with some positive developments is indicated. You will make extra efforts to improve your financial status. You will remain busy in making some big financial plannings and ideas. Also, this month is likely to bring good fortune in terms of finance and you will able to accumulate some wealth. Excellent time for your father. He could expect some sudden monetary gains. All, your siblings will flourish during this time. They might experience a rise in their career. On the other hand, 2018 Leo horoscope predicts, you may have ego clashes with your children. Especially issues with independent kids are need to be handled in a mature way. If we talk about your spouse, he/she may feel neglected due to your busy schedule. Try to spend more time with your life partner and increase friendly communication with him or her. In the second half of the month, some problems are indicated in your personal life because of your excessive attention in your professional life. Healthwise, this month demands attention. So, be careful.

February
Your personal life needs to be monitored strictly during this month. Try to avoid conflicting situations and stay away from confrontation. Because it may hamper your personal happiness and progress. If we talk about your work, this month you will be blessed with good fortune. Natives in job will flourish and their energy level will be high. They will amaze others with their excellent performance. While people in business will get good returns if they invest in property. Also, there are chances of getting good news from foreign sources which might prove to be very beneficial. Your overseas contacts will increase and your business will grow by each passing day. Your marital life will be joyful and harmonious. 2018 Leo horoscope predicts, there are possibilities of some joint activities with your life partner. Financially, this month looks favorable for you. You will not face financial challenges and your savings will be good.
March
It is not a good time to invest in risky schemes because you may suffer from huge loss. On the other hand, some other profits and accumulation of wealth is indicated. If you are in job, you will definitely reap the benefits of your hard work during this month. Promotion along with a good salary is seen. But somehow job satisfaction will be difficult to find. When it comes to your children, you need to be very patient. Behave politely with them because your harsh treatment will make them more rebellious. Relationship with your spouse will be harmonious. There will be lot of romance and you bot, says Leo 2018 predictions. h will spend some quality time. In the second half of the month, some health issues may trouble you. So, don't be careless about your health. At times, you might feel to spend some time in isolation. Also, your interest will rise in spiritualism.
April
You will receive monetary benefits along with love and support from your father or other paternal relations. Your tensions and worries will be high which will keep your health disturbed. Hence, avoid taking too much of stress. Some problems are indicated from your children side. Friendly and peaceful atmosphere is indicated at home and your spouse will contribute in your success. But your love, care and affectionate advice will surely help you a lot in improving the situation. You could expect some benefits from joint business venture with your siblings. As per Leo 2018 predictions, this month is quite promising in terms of career. There will be stability and continuous growth in your professional area. In the second half of the month, your self confidence will increase. Your leadership capacity will make you more powerful and you will take some really good initiatives.
May
You will focus more on your personal fitness and for that you will do intense workouts. Some of you may take training in martial arts techniques. You will earn applauds for your attractive personality and your maturity will boost up your social image. On the other hand, you will be more active, courageous and have excellent stamina. As per 2018 Leo horoscope, positive energies will surround you and you will experience growth and success. At work, your higher authorities will be happy with your performance and you may get a very high position. High degree of intellectual caliber and knowledge is indicated and if you will take wise decisions in your career, you will make great strides. On financial front, your earnings will be satisfactory but your expenses will be very high due to procurement of luxurious items for yourself.
June
You are considering to accumulate and your fixed assets during this time. On the other hand, you will waste lot of money and your excessive spending on unnecessary things will surely imbalance your budget this month. So, be careful and save more to avoid financial crunches. If we talk about your job, your responsibilities will increase and your seniors and boss will have so much of expectations from you. Also, you will get respect and high status in your professional life which will keep you positive. Some of the natives may get a chance to go abroad due to their work. At the home front, 2018 Leo horoscope predicts slight tension is possible. Some of the family members will be unhappy with you. Your spousal relations are expected to face difficulties which might increase your tension. If you are a student, then after initial struggle, you will taste the fruit of your hard work in the form of good marks.
July
In the beginning of the month, grooming and makeover will be on your agenda. Improvement in your appearance will surely increase your self confidence which might prove to be the key to your success. In the second half of the month, you will experience self-doubt and might keep you disturbed. For Leo, horoscope of 2018 predicts that your expenditure needs a check. Your expenses will increase due to your faulty lifestyle and choices. You will spend more than you will earn. Apart from this, your mind will be depressed and confused. Also, you will be unable to express your emotions and both your intellectual and physical energies will be scattered. Things are likely to improve from the second half of the month. Your faith will increase in your own abilities and this will help you in achieving success. 2018 Leo horoscope says your spouse will be very supportive and co-operative. In your job, you will perform excellently and receive praises. Both your life partner and your job will be the main source of your strength. Your health will not be up to the mark. So, stay alert.
August
First half of the month seems problematic for you especially in your professional life. You will show less interest in your life which will increase problems. But this tough period will be very short. Your confidence and courage will return in the second half of the month. However clarity of vision and your passion to grow high in professional sphere will be lacking. Also, financial instability is indicated for some time. Avoid excessive spending and keep an eye on your budget. You will have good relations with your spouse and you both will enjoy a joyful marital life. Additionally, health of your life partner demands attention. Emotionally, you may feel low due to which your mental peace will remain disturbed and problems like sleep disorders may occur. So, avoid taking too much of stress because it will increase your problems. Leo horoscope for 2018 also advices you to stay positive and focus on your goal. Mental sports experts such as chess and bridge will excel both at national and international level.
September
Your creativity will be at its peak and you will use this time for fun and artistic expression. If we talk about your children, they will be unable to perform well in their academics which might keep you stressed. On the other hand, adolescent children may require extra attention and guidance of their parents. Also, their social circle needs to be monitored. You will be clear with your thoughts and may have a bold personality. Your balanced approach and perspective will keep you in better position, says 2018 Leo horoscope. If you are planning for any big investment, then go for it because time is favorable for you. These investments will fetch you huge benefits in the latter part of the month. On familial front, good time is indicated. You will enjoy some happy moments with your family. There will be excursions, fun and entertainment. Excellent time for orators, public speakers and mass media specialists. Also, popularity of professionals in the field of art and design, multimedia and film production will increase this month. Beside this, there will be great demand of paintings and art installation.
October
Financially, this is going to be a very good time for you. You will earn lots of money and able to save more. Also, multiple sources of income and accumulation of wealth is indicated during this period. Natives in business will prosper and get huge profits this month. There are possibilities of new ventures and business expansion as per Leo horoscope for 2018. Excellent time for chartered accountants, bankers, financial advisors, financial auditors and insurance advisors. There career graph will go very high and their demand will increase. At domestic front, your family life will be blissful and there will be peace and happiness. Spousal relations will be harmonious and your relationship will grow stronger. Success of your children bring happiness to you. They will perform exceedingly well in their academics and in extracurricular activities as well. Women entrepreneurs and professional will shine and their prestige will get a boost for their valuable contribution.

November
New sources of income will increase your family earnings and there will be your significant contribution in it. At work, things will be stable and some positive developments are indicated. You will enjoy the friendly and peaceful atmosphere at your workplace. During this time, you will focus more on your personal life. Your married life will be pleasant and your life partner's good fortune will fetch beneficial results for you and your home. House improvement or renovation is indicated for some. Also, there will be increase in religious and spiritual activities at your home, predicts 2018 Leo horoscope. Big family gatherings are expected to celebrate some auspicious occasions. Some of you may inherit a residential and landed property on the other hand joint acquisition of property and shared resources are indicated for many. You are advised to take special care of your health. Your carelessness may cause serious illness later. Beneficial time for freelancers, home-based entrepreneurs and family business.
December
This month your interest will rise in meditation practises. You will get inclined towards spiritualism and you mind will be engaged in spiritual quest. This is a very good time for self analysis and consideration. If we talk about your married life, there are chances of ego battle between you and your spouse due to his/her increasing assertive role at home and in family life. All the issues need to be sorted out as soon as possible otherwise things will go out of hands. At times. you may have difference of opinion with your children. They need to be handled with love, care and affection. Try to give some more time to your kids. Leo horoscope for 2018 says you might feel frustrated when things will not happen according to you. At work, you will enjoy the stability and your boss will praise you for your tremendous performance. Very beneficial month for natives in printing and publishing. If you are running your business in partnership, then you may not have good relations with your partners. You may decide to part ways and handle your business independently.