Yearly Sagittarius Horoscope 2018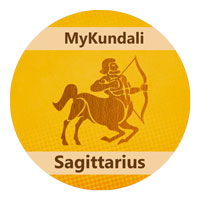 Summary: According to the Sagittarius forecast 2018, your financial situation will be good during this time and you will spend a luxurious life. But, it will be great if plan your finances for long term benefits. Your investments will be productive and you will be able to accumulate personal wealth and assets. Your professional life will prosper and you will get the reward of your hard work. Apart from this, your familial life will be full of ups and downs. Relationship with your spouse will not stay good and both may have difference of opinion on various issues. But Sagittarius horoscope 2018 says, all the problems will be sorted out soon due to an open communication and positive interference of family members especially of elders. Besides, your positive involvement with siblings and other family members will bring happiness in your domestic life. Children will do well in their academics. But keep control over your speech because your wrong words may create misunderstandings and tensions. If we talk about your health, don't be so lenient during this time. You may suffer from nerve weakness due to lack of nutrition. However, you will recover soon due to planetary vibrations but as we all know that safety is better than cure. So, be careful. More social activities are indicated and your social status will also enhance during this period. Overall, time seems favorable for the Sagittarius.
Remedy: Yoga and meditational practices will help you a lot.
To read your sagittarius horoscope for year 2019, please visit: Sagittarius Horoscope 2019
January
A fresh and great start is predicted for Sagittarius. All aspects of your life will be very good and you will enjoy your life to the fullest. On familial front, you will spend some memorable time with your spouse and kids. Your marital life will blossom with peace and harmony. If we talk about your professional life, success rate will increase and your career will gain new heights during this time. However, slight tension with your father or elders at home are seen. But they will be sorted out soon with a healthy discussion. Health will remain largely good and you will feel more energetic and positive. Sagittarius horoscope 2018 says, you will be blessed with good fortune and sudden gains are indicated from lottery, shares and speculation. Some of you may plan to change your current job and some really good opportunities will come to your way.

February
During this time, you are advised to balance your relation positively both at personal and professional front. Be careful with your words. Some problems may occur due to miscommunication at your workplace and there are possibilities of some misunderstanding with your family members. Unexpected increase in family income is indicated. On the other hand, your expenditure will also rise around this time. 2018 Sagittarius horoscope says, if you will not keep a check on your finances you will have to face financial challenges in future. Also, some significant and rapid changes in your business are expected which will beget beneficial results. In a bid to get more profit you will plan to increase collaborations with your siblings. At your workplace, you will amaze all with your wonderful performance. Some of your co-workers might jealous of you and may create problems. So, stay alert and keep your eyes and ears open. Just handle them carefully.
March
For Sagittarius, Horoscope 2018 predicts that financially you don't need to get worried too much this month. Money will keep flowing like usual and you will buy a luxurious vehicle. But you are suggested to be careful while driving because there are possibilities of mishap and damage to the vehicle. Also, you may spend a lot on renovating or decorating your home. Some of you may purchase a land or it can be a farmland too. But you are advised to be careful before buying a land especially about the documents and other past legal issue related to the land. If we talk about your marital life, some tiffs are indicated with your spouse. You may have some difference of opinion which might be the reason of your dispute. Sagittarius horoscope 2018 suggests, a little change in your behaviour will bring peace and happiness in your life. Hence try to understand your partner respect his/her feelings otherwise situation may go out of hand. You will pay more attention towards home consequently your professional life will be hampered. But don't worry because soon you will able to maintain a good balance between personal and professional life as well. Take special care of your health around this time. Problems like exhaustion may trouble you. You should avoid taking on too much work during this time otherwise your health will remain upset.
April
It will great if you stay cautious in your love life this month. Disagreements and tiffs are indicated which may cause strained relationship. An intimate and loving discussion will surely help you in resolving all the issues. Married couples are suggested to give some space to each other this will surely help them in improving the situation and bringing them closer. Your father will get many opportunities to socialize which will enhance his reputation. As per 2018 Sagittarius horoscope, good news is expected from children's side. They will perform well in their academics and secure good marks. Some of the students will get admission into prestigious and renowned academic institutions. Favorable time for professionals in creative fields. Chances are high of getting huge success around this time. Healthwise, this month demands special attention. Problems like abdominal pain and acidity may bother you. Avoid roadside and oily food.
May
This month your father will be praised for his good deeds and may receive honor and fame in society. Success of your children will bring happiness and also enhance family name. Surprisingly, your interest will increase in artistic hobbies and recreational pursuits. Be careful in your relationships and avoid using wrong words because your harsh behaviour will hurt many especially in your family. Try to control your anger otherwise an ugly verbal spat will make the situation worse, says Sagittarius horoscope 2018. Hence anger management is utmost necessary during this period. Some of your family members will decide to live separately, to improve things. But domestic tension will continue and stress will persist around this time. So, don't loose your temper in a difficult situation. As per the 2018 horoscope predictions for Sagittarius, health will not stay good during this time. Your wrong eating habits will create problems like indigestion, gastric and acidity. Hence your eating habits need to be monitored.
June
During this time, you will plan to change your job and get some wonderful options. Don't miss any opportunity at work. Some positive developments are expected which will take your career to new heights. At familial front, try to spend more time with your spouse otherwise your negligence my create serious issues in your marital life. 2018 Sagittarius horoscope suggests, plan an outing to woo your life partner it will surely improve your relationship. Additionally, health of your partner needs attention so don't be careless. Working natives are suggested to maintain good relations with their business partners. Avoid unnecessary arguments and minor issues. It will be great if you show little trust on your partners. Money will keep flowing and you may get new sources of income. Natives involved in business related to computer parts are likely to get unexpected profit.
July
Healthwise this is not a very good month for you. Some major health issues may trouble you during this period. So, don't be careless and take proper care of yourself. Medical expenses will increase which might disbalance your budget. Some of the natives may have nerves related problem. If we talk about your parents, your father may face misfortunes. He may lose his property and suffer from big financial loss. At familial front, some major issues are indicated. Differences between family members will disturb the domestic peace and harmony. According to Sagittarius horoscope 2018, try to sort out all the complicated matters soon. Children needs your urgent attention as they might get into problems due to their friends and other social circle. They need your guidance, love and affection at every step. Natives associated with medical research may perform well during this period.
August
This month you will be in confused state of mind. Problems like lack of concentration may trouble you and you may feel disappointed. At times you might feel irritated and your mental aggression will aggravate problems in your family. If we talk about your work, you need to be careful in your business dealings and financial transactions.Someone close to you may cheat you. You may suffer from monetary loss during this time. 2018 Sagittarius horoscope says, A better financial planning and a check on your expenditure is needed this month. Don't get attracted by negative energy and stay positive. Your good time is expected to start in the later half of the month. Time is not favorable for working women as they might be unable to maintain balance between their personal and professional life. Excessive workload might be the reason of their stress.
September
There are excellent indications for natives in business. Windfall gain is expected during this period. Some of you may get overseas business projects which might fetch beneficial results. If you are in job, then chances are high of promotion. Your seniors will be very supportive during this period and your success rate will increase. You will prosper in all directions and experience one of the best times in your professional life because of your positive thinking and positive actions. Along with this you will feel more energetic and enthusiastic. If we talk about your family life, Sagittarius horoscope 2018 predicts some tensions are seen. Tiffs and disputes may cause into strained relationships. Some genuine familial issues need to be addressed soon otherwise things may go out of control. Also, try to spend some with your spouse this will surely maintain the sweetness of your relationship. Additionally, health of your life partner needs a check. Problems related to eye may trouble him or her this month.
October
People under Sagittarius sign will not face financial challenges this month. You are likely to get many new sources of income. You will spend a lot on entertainment and comforts of life. Also, support of your spouse and kids will fetch you beneficial results. During this period, you will spend a very good time with your family. Outings, get-togetherness and some auspicious occasion are indicated. Being a responsible member of your family, you will be able to perform all your duties successfully. You will work very hard to achieve your goal and eventually you will succeed in it. Also, you will make some long term plans during this time. You may plan to expand your business and venture into new enterprises. Benefit indicated from elder siblings. At health front, some minor issues may trouble you but you need not get worried. A good lifestyle and a healthy diet will keep you fit and fine.

November
There are possibilities of detachment from social life. You will show less interest in social activity and material life. Your life partner and kids will feel neglected and your domestic life will remain disturbed. Surprisingly, your interest will rise in spirituality. During this time, you are likely to meet some spiritual and religious leaders which might be very beneficial for you. Initially you will face some tough situations but things will improve soon. As per Sagittarius horoscope 2018, your finances seems good but you will not wish to accumulate more money. Some of the natives may plan to settle down in a foreign country due to professional reasons. It will be great if you take care of your health around this time. A good eating habit and a little work out will definitely help you in getting rid of all the problems.
December
According to the astrology predictions of 2018, this month your interest will grow in yogic and meditational practices. At work, you will put lots of effort to achieve success but unable to focus on your goal. It might be because of the strained relations with your seniors at your workplace. Hence try to sort out all the issues with your superiors and maintain good relations with them. If you rely upon Sagittarius horoscope 2018, avoid being egoistic during this time. Take your decisions wisely and keep your emotions aside because your wrong decisions may cost you in future. Some of the natives may buy a residential property in a foreign land. If we talk about your finances, time seems average for you. Your expenses may increase and you will spend more than your income. So avoid wasting money unnecessarily. During this time, your positivity will help you a lot and you will be able to accomplish all your tasks.