Yearly Scorpio Horoscope 2018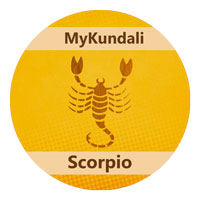 Summary: Scorpio sign is advised to stay alert financially during this year, predicts the astrology of 2018. Your financial life will be average along with a very high expenditure. Your family income will also decrease due to your over spending. You will spend more and earn less during this year. So, be careful. Apart from this, you are suggested to keep control over your words. Your wrong speech will hurt the feelings of others which might lead to strained relations. 2018 Scorpio horoscope suggests, try to behave kindly with everyone and a little change in your behaviour will definitely benefit you. Also, relationship with your father and other elderly figures in the family need to be handled with care and maturity. If there is some misunderstanding, resolving it soon will be better for you. Pay more attention to your children especially their social circle needs to be monitored. Being careless with your children might be a cause of regret in future. Work related long and short journeys are indicated this year. Beside this, you may undertake a pilgrimage or religious quest to seek the truth of life. Your health will be good and there will be an increase in your courage, confidence and valor. You will find your interest increased in meditational practices and religious activities.
Remedy: If you want to attract good luck, then feed poor or needy people and share essential household articles/items with them.
To read your scorpio horoscope for year 2019, please visit: Scorpio Horoscope 2019
January
You will fritter your personal valuable resources, money and energy on unnecessary matters for which you will regret later. It will be great if you think properly before taking decisions and take care of your actions. Healthwise, this month is not very good for you. At times, you might feel low and unable to focus on your work. Workload and stress might be the two reasons of your disturbed health. Also, there will be some medical expenses which may increase your problem related to finance. Though you will earn enough money around this time but it will not stay with you. Your expenditure will remain high throughout the month. If we talk about your married life, 2018 Scorpio horoscope says, you may have issues with your spouse. Shirking from domestic responsibilities will damage your relationship with your life partner. Differences with authoritative figures at home is indicated. Hence, you need to your influence and intelligence to resolve all the matters at home. Try to deal with all the tough situations of life in a courageous manner.

February
Personal issues will be dealt in an efficient manner and you may get a silent appreciation for this. During this time, you will adopt a new lifestyle and your fitness will become your top priority. You will monitor your health to ensure your fitness level. Also, you will change your dietary patterns. On domestic front, some positive changes are expected. Love and support of your family will keep you charged and refreshed during this time. Scorpio 2018 predictions says, your marital life will be good and you will enjoy some happy moments with your spouse and kids. Some of the natives may plan to change their current job. While problems are indicated for some at their workplace which might spill over at home and create discord and disharmony. Finances looks good this month. Unexpected monetary gains will increase your income during this period.
March
Your interest will rise in creativity and you will participate in some creative or intellectual group activities. Excellent time for romantic life. Your relationship will get stronger and love between you both will increase by each passing day. Lots of romantic dates are on cards. If we talk about your spouse, he/she will play a significant role in your present life and contribute in your success. Your marital life will be blessed with happiness and peace and you both will enjoy the moments of togetherness. On the other hand, some tensions are predicted in your family as per 2018 Scorpio horoscope. Your relationship with your family members will suffer due to some misunderstandings. If you are a student then there are strong indications of progress in your academic life. If you are waiting for your results then there is a possibility of scoring good marks. Time is good for writers and artists. They will be praised for their highly uncommon creative jobs.
April
You will keep on experimenting with various religious and spiritual practices in search of peace and harmony. Try to be more optimistic it will increase your confidence. Also, avoid negative emotions like fear, hatred,jealousy and revenge. Financially, this month appears average. Struggle and hard work needed to earn money during this period. You are suggested not to waste money on unnecessary things. On the other hand, health related issues will trouble your life partner around this time. So, there will be some medical expenses which might imbalance your budget. On domestic front, disagreement, rift and discord will create tension in your life. Some of the family members might be unhappy with your recent decisions. If we talk about your children, their educational performance will be satisfactory. Some of them may suffer from lack of confidence. Apart from this, 2018 Scorpio horoscope says, your problems may increase due to your unrestrained and faulty speech. So, be careful.
May
Good month filled with peace and happiness. There will be a tremendous increase in your self confidence and you will take a very aggressive stance around the time. You will put more efforts in your personal and professional life, eventually you will succeed in it. At workplace, your enemies will try to create problems in your way. But they will not get success in it. Some of your co-workers might get jealous of you which will make the office environment unfriendly. Don't worry just focus on your goal and move ahead, says Scorpio 2018 predictions. Coming to your finance, you will earn good money and all your debts will be cleared. But stay away from risky investments because there are chances of huge monetary loss. Healthwise, this month appears excellent. You will focus more on fitness. Strenuous workouts, yoga and meditation will become part of your daily routine.
June
Your spouse may get a chance to go abroad this month. She/He will be blessed with a good fortune and his/her success rate will increase. Also, there are some work related long and short journeys indicated for you. Additionally, health of your spouse cause concern in the beginning of the month. So, take good care of him/her. On the other hand, you may have some misunderstandings with your life partner. Don't worry, all the issues will be sorted with your personal efforts. Believing 2018 Scorpio horoscope,it will be great if you spend more time with your spouse. Time is favorable for natives in business. There will increase in exports and chances are high of foreign collaborations and monetary gains in the first half of the month. But be careful about your partnership in business. You may have some problems with your partner which needs to be resolved soon. Otherwise your partnership will come to an end and negatively affect your business. On domestic front, , increased expenses might be the reason of disharmony in your family.
July
Career of your spouse will reach its peak and He/She will make remarkable progress during this time. He/She will get many opportunities to improve His/Her luck and if He/She will use the chances properly then He/She will achieve many great things this month. There is a possibility of big promotion with a hefty pay package for your life partner. You will show less interest in personal health and fitness. Remember, carelessness may land you in trouble. Also, your lack of interest in life and other activities will keep others distressed. You are advised to be careful according to 2018 Scorpio horoscope, especially while driving there are chances of sudden injuries and accidents. If we talk about your parents, health of your mother will remain good but danger to your father's life is indicated. So, stay alert. At work, your differences with your seniors and colleagues will surely hamper your performance. Hence, it needs to be sorted out soon and avoid arguments at your workplace. It will damage your reputation. Also, professionally you may experience a downfall. So, hard work and proper attention needed during this time.
August
This is going to be a very challenging month for married couples. Issues like lack of interest and understanding may hamper their married life. Friendly environment of the house will be spoiled because of the regular disputes and verbal spats. Also, you may have strong differences of opinion with your elders at home. Your rash decisions and dominating nature will make other family members unhappy. On the other hand, time is not favorable for travelling abroad. Natives stationed abroad due to their work needs to be very careful with their money around this time. If we talk about your children, more attention is needed towards their upbringing. 2018 Scorpio horoscope suggests, if you will not keep a check on them they may go in a wrong direction. In the later half of the month, things are expected to improve in your professional life.
September
Great time for natives running their business as some good news from overseas is expected which might prove to be very beneficial. There will be a good cash flow but your expenses will also increase. During this time, you will enjoy a comfortable and luxurious life. Investment done in the past will give you more than double profit. Also, money invested in stock market will beget good results. As per Scorpio 2018 predictions, if we talk about your familial life, all your family members will stay happy with you and you will receive love, support and praises. Your marital life will be blissful and you may go abroad with your spouse and children. From the second half of the month, you will prosper in your professional life. Promotion along with handsome salary is seen Progressive period for elder siblings.
October
You will face some really tough situations during this time. Problems are indicated in your personal and professional life as well. You may suffer from weak immune system and sleep disorders around this time. Also, you may face lack of concentration due to hyperactive and disturbed mind. According to 2018 Scorpio horoscope, at times, you might feel sick because of low energy level which might lead to difficulties and disorders. Some of the natives may not be satisfied with their current job and may plan for a change. While profile change indicated for many. On familial front, tiffs are possible with your family members. Additionally, health of your spouse needs your attention. Don't get disappointed or frustrated because you will surely experience happiness. Just keep patience and be positive during the downs of life.

November
This is an excellent month and all your efforts will give you better results. If you are married, then you will enjoy your life to the fullest with your life partner. There will be peace, harmony and happiness in your life. Some good news is expected in the beginning of the month which may increase your self confidence. During this time, you will be more energetic and optimistic than before. All your planned works will be successfully completed around this time. Your reputation will increase due to your charitable deeds. On the hand, there will be a lighter and humorous atmosphere at your home and workplace. Scorpio 2018 predictions says, all your family members will stay happy with you and your relationship with them will also stay good. People will enjoy your company and your popularity will also increase. You will make new friends and your social circle will also increase. Natives connected with realty business may get huge success during this period. Also, time is good for buying or selling property.
December
This duration will be very progressive for you and things will happen exactly the way you want them to. At work, you will do great and get a senior position. There will be an increase in your shared resources which will surely take you forward. During this time, you will earn good profits and able to save more. Also, all your big investments will give you huge benefits. There are strong indications of new partnership in your business which may prove to be positive. If we talk about your married life, there will be happiness and love. 2018 Scorpio horoscope says, you both will support each other and your bond will also get stronger. Children will do exceptionally well in their education. Their success in academics will keep you happy. Single natives may get a chance to make new relations or they may tie the knot during this month. Time is favorable for administrators, planners and those connected with public dealing as part of their work.