2019 Moon Phases Calendar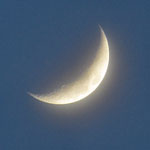 This below calendar addresses all Moon Phases for the year 2019. There are two phases of moon occuring in the nature, i.e. Full Moon and New Moon. For your advantage, we have put it in a systematic way and represented through a tabulated form for better understanding of Moon's stages. Underneath is the list of Full Moon and New Moon for the year of 2019:
Full Moon and New Moon Phases 2019
Month
New Moon
Full Moon
January
Jan 6, 2019
Jan 21, 2019
February
Feb 4, 2019
Feb 19, 2019
March
Mar 6, 2019
Mar 21, 2019
April
Apr 5, 2019
Apr 19, 2019
May
May 4,2019
May 18, 2019
June
June 3, 2019
June 17, 2019
July
July 2, 2019
July 16, 2019
August
Aug 1, 2019
Aug 15, 2019
September
Sep 14, 2019
Sep 28, 2019
October
Oct 13, 2018
Oct 28, 2019
November
Nov 12, 2019
Nov 26, 2019
December
Dec 4, 2019
Dec 26, 2019
Glossary
Full Moon: Full Moon appears on the opposite side of Earth's face from Sun. At whatever point when Moon, Sun and Earth appear in a straight line and Earth comes in the middle of Sun and Moon, Full Moon is formed. The entire surface of Moon lights up during this phenomenon. This wonder happens after each 29.53 days.
New Moon: This phenomenon happens when Moon gets placed in between Earth and Sun. In this case, we see the opposite side of Moon being illuminated by planet Sun. As of now, Moon goes too much close to the Sun.
Blue Moon: When a Full Moon falls twice in a month, it is called Blue Moon as per the new world. It is fundamentally a new thought, yet at first, it was seen as Blue Moon when it happened 4 times in a season. One season normally comprises of 3 different sightings.
Black Moon: This event is considered when two occurences of New Moon fall in the same month of Full Moon. This term is also used if there is no appearance of Full Moon in a month. However, it is rare to have no Full Moon in a month. Although, there are chances of it happening in the month of February due to lesser days than the cycle of 29. 53 days.
Stay tuned with us for more updates on dates of Full Moon and New Moon!