Mundan Ceremony Muhurat 2019: Auspicious Time for Tonsure
Perform Mundan ceremony on these below dates in the year 2019. Read information about auspicious muhurat for Mundan sanskars, as well as the benefits of Mundan rites and its religious significance.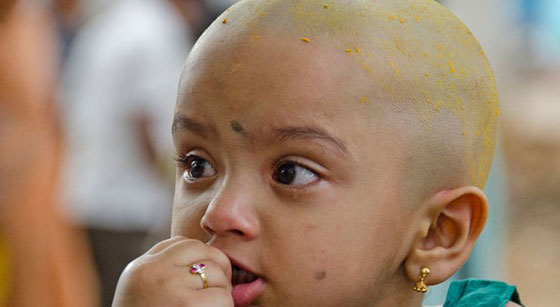 Mundan Ceremony Muhurat 2019
| | | |
| --- | --- | --- |
| Date | Start Time | End Time |
| Wednesday, 06 February | 07:06:42 | 31:06:42 |
| Thursday, 07 February | 07:06:03 | 12:09:25 |
| Monday, 11 February | 15:21:31 | 21:12:44 |
| Friday, 15 February | 07:00:04 | 20:53:15 |
| Monday, 04 March | 06:43:48 | 16:30:06 |
| Friday, 22 March | 11:06:25 | 30:23:36 |
| Wednesday, 10 April | 10:34:07 | 15:37:20 |
| Friday, 19 April | 05:52:15 | 16:43:31 |
| Monday, 29 April | 05:42:42 | 32:15:16 |
| Thursday, 09 May | 15:17:41 | 23:28:01 |
| Thursday, 16 May | 08:16:46 | 29:30:09 |
| Monday, 20 May | 05:28:02 | 26:30:03 |
| Friday, 31 May | 17:18:21 | 24:12:19 |
| Wednesday, 05 June | 21:54:47 | 29:23:02 |
| Thursday, 06 June | 05:22:55 | 09:56:18 |
| Friday, 07 June | 07:39:10 | 18:56:35 |
| Wednesday, 12 June | 11:51:24 | 29:22:40 |
| Thursday, 13 June | 05:22:43 | 16:50:45 |
| Monday, 17 June | 05:23:03 | 10:43:55 |
| Friday, 21 June | 19:10:15 | 29:23:44 |
| Thursday, 27 June | 07:43:52 | 29:25:15 |
Know other important muhurats: Muhurat 2019
Mundan Ceremony Muhurat
In the 16 rites of Hindu religion, Mundan is one of them. This ritual is done only in childhood. Mundan Samskar is performed from birth to age 5. There is a myth regarding Mundan Sanskar that birth hair is impure. It is said that we take birth in human yoni (species) after going through 84 different yonis and child's hair is symbolized as sin and previous birth's bad deeds. Thus, they are cut, and the ceremony is called Mundan. When it is performed the first time, an auspicious Muhurat is planned. It is also called as "Chaul Karam" and "Chudakarana Samskara", In Muslims, it is also named as "Akika".
Significance of Mundan Ceremony Muhurat
There is no such time limit to perform this Mundan Samskar, however, it can be performed choosing any auspicious time. It impacts the life of a child very deeply and positively. According to Shastras, it increases the hair growth and intelligence of a child. If this samskar has been performed at the right time, it would give strength to the child and stayed away from fickle mindedness and other disorders. Apart from this, it also increases intelligence power of the child. That's the main reason, people perform this ceremony at the auspicious time.
Why Mundan Ceremony is performed?
If you check history, you will find that Mundan Samskar has a special significance. The child gets direct benefits from it. The completion of Mundan Samskar releases the unnecessary heat from the body of a child. Before this ceremony, the head of a child is seems to very weak and warm. However, after this rites, the head becomes strong and brain gets cool. It is always recommended to perform this ceremony on auspicious time in order to make it more auspicious and prosperous.
How to calculate Mundan Ceremony Muhurat?
It is very easy to calculate Shubh muhurat for Mundan. Every calendar perhaps tells the auspicious time for Mundan in detail. To perform this ceremony, it is necessary to have auspicious Nakshatra, auspicious tithi, auspicious vaar and auspicious lagna. Nakshatras like Jyestha, Mrigashira, Revati, Chitra and Hasta are considered auspicious for Mundan. However, Monday, Wednesday, Thursday and Friday are considered auspicious. Dwitiya, Tritiya, Chaturthi, Shashthi, Navami, Dwadashi are the tithis which are considered auspicious. If it seems difficult to you, you may perhaps get all these types of information from Panchang or in Apps of Panchang, where it has been described very clearly and detail.
Download Printable Calendar 2019 and plan your ceremony
Astrological Facts related to Mundan Ceremony
Astrology says that it is considered auspicious if Mundan Sanskar is being performed in the age of 3, 5 and 7. However, according to family tradition it can be done in the first year also. Scholars say that it is mandatory to offer prayers to God in front of the fire (Kind of Yajna) within the house on this day. Mundan of boys is considered auspicious in odd years of their age, whereas for girls, even years of their age is considered good. It is believed that it should be performed after Uttarayan of Sun on Makar Sankranti in Uttarayan Months like "Vaishakh, Jyestha, Asada, Magh and Falgun.
Precautions
Do not forget to worship scissors before Mundan. Doing this is considered inauspicious.
It is mandatory to choose the auspicious time with the help of knowledgeable and experienced astrologers. It is really a big rite, hence you should avoid careless attitude.
If Mundan ceremony is done at the right time, it removes many faults of the child.
After the birth of a child, the third, fifth, or seventh year, i.e. the odd years, has been considered good for the ceremony.
Jyotish says that it is good to leave Pratipada, Chaturthi, Sasthi, Ashtami, Navami, Dwashashi, Chaturdashi, Amavasya and full moon day while performing this ceremony
Mundan of boys should be done in odd years of their age and even years are auspicious for girls. By doing opposite, there is a possibility of getting harmed in any area.
After completion of Mundan, it should be strictly followed not to allow your child to go outside for few days. If it goes outside, outer negative energy will influence negatively to the child. It is best to perform this ceremony in auspicious time of Shukla Paksha
We hope that you would like our article based on Mundan Samskar, if you wish to update yourself more, keep on visiting on our website on daily basis.