Holi 2020: Date and Mythological Significance
Holi 2020 will be celebrated on 10th March this year. Holi is considered to be the second biggest festival of Hindus after Diwali. On this day, all people apply Gulal on each other, distribute sweets and meet each other to spread harmony and peace. On the day of Holi, it is a tradition to meet people and forgive them all for any previous differences. On this day, different types of dishes are prepared and served.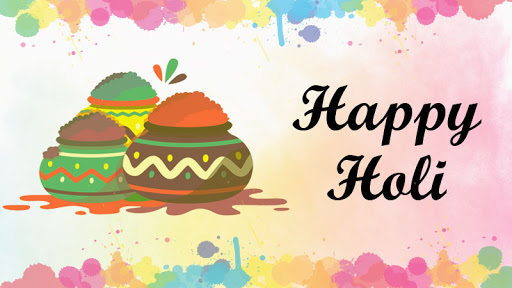 According to the Hindu Calendar, the festival of Holi is celebrated on the Pratipada of Krishna Paksha of Chaitra Month. Holi is known by many names like Dhulandi, Dhurdi, Phagwah, Dol, Ghalivandan. Holi is celebrated in Nepal besides India. Traditionally it is observed for two days.
Holi is celebrated at the beginning of spring season. During this period, the weather is pleasant and the atmosphere is beautiful. The beauty of flowers and mustard crop in the fields is exceptionally attractive. Birds also seem to be happy in this season of spring. Gujia is made on the Holi, which is a sweet dessert made from dry fruits, sugar, khoya and maida.
Because Holi is celebrated in the spring season, it is also called Vasantotsav and Kaam-Festival. Holi has been celebrated in India since ancient times. According to Historians, this festival was also prevalent in the time of Aryans, but mostly it was celebrated in Eastern India. There are many ancient religious books in which Holi has a mention, namely: Meemansa Sutra by Jaimini and Katha Guhaya Sutra. Holi is celebrated all over the nation but the Holi of Braj called "Barsane wali Holi" is always in the limelight.
Also Read: Diwali 2020
Holi 2020: Beliefs and Significance
Holi is the festival of the spring season; it is also considered the beginning of the Navsamvat and the symbol of Vasantagaman. The reason behind celebrating the festival of Holi is also believed to be Radha-Krishna's love. It's a known fact that Krishna the word means dark and Lord Krishna was dark in complexion, thus named so. Although Lord Krishna is considered very attractive in appearance, he once asked his mother, Yashoda Mata, that why is Radha fair in complexion and he is not. She told Baal-Krishna that if you want her to be of the same colour as you, she will have to be coloured. From that day, the festival of colours which removes the distinction on the basis of the colour of skin is being celebrated.
Spring Season and the festival of Holi have been the favourite subjects of many poets. About Holi, many poets have presented their views beautifully. The nature and purpose of Holi have been changing with time and place. In ancient times, it was celebrated by married women for the prosperity of the family, and on this day full Moon was worshipped. Another belief is that, on the day of Holi, the first man Manu was born; hence it is also called Manvadi Tithi. Nowadays, Holi celebrations take place on two days. The first day is Holika Dahan and second is Dhulandi or the day of playing colours. In all the houses, kheer, puri, desserts and many types of dishes are prepared. Kanji, cannabis and "thandai" are special drinks on this day.
Holi celebrations in 2020
| | | |
| --- | --- | --- |
| Date | Day | Festival |
| 9 March, 2020 | Monday | Holika Dahan |
| 10 March, 2020 | Tuesday | Dhulandi |
Holi 2020: Mythological Significance and Related Stories
There was a king named Hiranyakashyap in ancient India who was very powerful and was against the worship of any other God. He made the teachers or Gurus in gurukul teach the students that he was the Lord. He was undoubtedly powerful but people used to worship him out of fear and not respect. By God's grace, he was blessed with a son named Prahlad, who was a firm devotee of Lord Vishnu. He defied his father's orders and declared that Lord Vishnu was the nurturer and true God. On listening to such remarks from his own son, Hiranyakashyap felt agitated. He tried to enforce his will upon Prahlad but in vain. Soon, he started making attempts to kill his son. Prahlad was not afraid at all, he was absorbed in faith and devotion. Being punished, threatened and mistreated by his father Prahlad accepted everything that came in his way and did not let his faith on Lord Vishnu shake.
When Hiranyakashyap realised that all his attempts to convince Prahlad to worship him as the Lord were futile, he decided to get him murdered with the help of his sister. Holika, his sister was blessed with a boon by Lord Brahma. She could withstand the deadly flames of fire without getting burnt if she wore a particular piece of cloth on her body. Both brother and sister decided to kill Prahlad. She took her nephew in her lap and sat on logs of wood put to fire. She was covered with the blessed piece of cloth but not for long, as soon as the flames grew, a wind blew and the sheet covered Prahlad instead of Holika. She met her last while Prahlad was still alive. Being enraged with this, Hiranyakashyap decided to kill Prahlad himself.
Hiranyakashyap also had a boon that neither a human nor an animal could kill him. He would die neither in the morning nor at night, he will die neither at home nor outside. Thus, Lord Vishnu had to take an avatar. Lord Narasimha who had the face of Lion but the body of a human killed him with his nails at a time when it was neither morning nor night. Lord Narasimha held Hiranyakashyap in mid-air, positioned him on his thigh and while being at the entrance of his house, tore apart his chest. With the defeat of evil, Prahlad was crowned as the king and since then, the day is celebrated as Holika Dahan. Women observe a fast and worship fire while praying for the protection of their son.
Also Read: Festival 2020
Holi 2020: Popular Stories
Apart from the story of Prahlad, this festival is also associated with the ogress Dhundi, love of Radha Krishna and Kamdev. It is believed that people use colour on this day and make themselves the followers of Lord Shiv and create a scene of "Barat" of Shiv through dancing and singing. Putana, a demoness, was killed on this day by Lord Shri Krishna as per Hindu beliefs. A lot of myths and stories are associated with this festival. However, the main aim of this festival is to conquer evil by means of truth and spread happiness.
Holi 2020 Celebrations
Holi is celebrated throughout the country. The way of celebrating Holi also changes with the change of place. Holi is celebrated for ten days in states like Madhya Pradesh, Uttar Pradesh, Bihar and Uttarakhand. Rang Panchami is marked on the fifth day of Holi, which is celebrated with great enthusiasm. People start preparing for Holi a week ago. Holi celebrated at Mathura and Vrindavan of Uttar Pradesh is famous all over India. It continues up to 24 days in Vrindavan.
In the southern part of Gujarat, Holi celebrations are amusing. Holi is played as Rang Panchami in Maharashtra. Folk songs are sung on this day in Chhattisgarh.
A bonfire is arranged on the day before Dhulandi. In public places like a park, people collect a large number of wooden logs and pile them up. This pile is worshipped before putting to fire. Cow dung cakes are also placed in it. On the next morning of Holika Dahan, people wake up early in the morning to make their plans of colouring their friends and relatives. Gujiya, dahi bade, papad etc. are made to be offered to the guests. Gulal and Gujiya are inseparable components of this festival. Everybody looks gaily, full of life and coloured with happiness. This is one festival in which people instead of wearing new clothes prefer to wear old ones. Holi Milan continues for several days, before and after this celebration. Holi is such a festival that even enemies turn into friends forgetting about the past.
Also Read: Yearly Horoscope 2020
Holi 2020: Precautions
The festival of Holi is associated with joy, enthusiasm and excitement. Often people act mischievous and spoil the festival for others. Getting drunk and being immodest is not the right way of celebrating this festival of love. Bhaang-dhatura are commonly used on this day in thandai, and hence one must remain alert of things that are inappropriate for use or consumption for themselves. The colours used should be chosen with care as chemical based colours which do not get off even after washing are not safe for skin. Holi is the festival of colouring each other with happiness, and not a competition of applying the colours which are tough to be removed. At places, people even use mud, garbage and such things which are very harmful to your skin, hair and health in general.
Holi is a festival of love, of colours, of happiness, of friendship and alcohol, gambling or such ignoble practices must be avoided. Women must be treated with respect and nobody should be forced to play with colours. By no means, this occasion must be used for taking revenge. Such acts raise a question on the sanctity of our religion and festivals, hence proper care must be taken and no harm should be caused.
"Colour your life with Happiness this Holi. Best wishes from MyKundali."