Navratri 2020: Auspicious Muhurat & Rituals
Navratri 2020 is known as 9-day festival celebrated on a large scale all across India. During these nine days, all nine forms of Goddess Durga is worshipped and therefore it is considered one of the auspicious (shubh) festivals. Navratri comes twice a year, known as Chaitra Navratri and Sharad Navratri. On Navratri, people fast, devote their day to Goddess Durga and show trust and belief in her.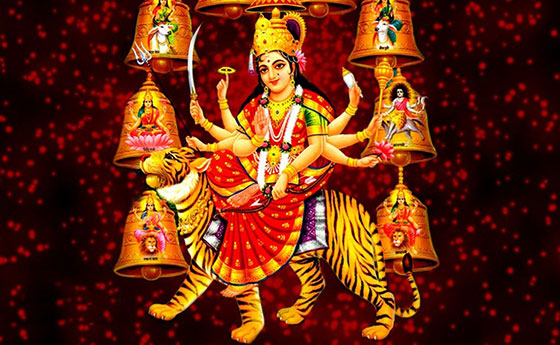 There is a scientific approach to this day as well. As we eat a lot of junk food, we sometimes forget that our body needs to relax, and we need to eat healthily. Hence, fasting on Navratri helps one to get rid of certain toxins and remain fit and healthy. During fast, we eat light food items and less spicy products that do not put the burden on our digestion system. Having a simple and healthy food brings our digestion system on the right track. Along with being physically fit, you also feel mentally refreshed and healthy. It is an ideal way to keep your body fit while believing in God.
Also Read: Festival 2020
Chaitra Navratri 2020
Chaitra Navratri is counted as one of the prominent religious festivals dedicated to worshipping all nine forms of Goddess Durga. On Navratri, puja is conducted, and best efforts are put forward to ward off negative energies from your loved ones. You will find yourself mentally at peace. Fasting on Navratri is also considered an ideal way to welcome positive vibes to home. Chaitra Navratri is celebrated in the month of March and April.
Chaitra Navratri 2020
Day 1
25 March, Wednesday

Day of Pratipada or First Day
Worshipping Maa Shailputri
Ghatasthapana

Day 2
26 March, Thursday

Dwitiya or Second
Worshipping Maa Brahmacharini

Day 3
27 March, Friday

Tritiya or Third
Worshipping Maa Chandraghanta

Day 4
28 March, Saturday

Chaturthi or Fourth
Worshipping Maa Kushmunda

Day 5
29 March, Sunday

Panchami or Fifth
Worshipping Maa Skandamata

Day 6
30 March, Monday

Shashthi or Sixth
Worshipping Maa Katyayani

Day 7
31 March, Tuesday

Saptami or Seventh
Worshipping Maa Kalratri

Day 8
1 April, Wednesday

Ashtami or Eighth
Worshipping Maa Mahagauri

Day 9
2 April, Thursday

Navami or Ninth
Worshipping Maa Siddhidatri
Ram Navami

Day 10
3 April, Friday

Dashmi or Tenth
Navratri Parna
Navratri 2020: Auspicious Muhurat for Ghatasthapana
| | | |
| --- | --- | --- |
| Date | Ghatasthapana Muhurat | Duration |
| 25 March, Wednesday | From 06:18:56 to 07:17:12 | 58 Minutes |
Note: Above mentioned muhurat is applicable in New Delhi.
Sharad Navratri 2020
Sharad Navratri also holds great importance in Hinduism and is celebrated with full enthusiasm all across the country. Sharad Navratri is observed in the Ashwin month during Shukla Paksha from Pratipada till Navami. This Navratri indicates the incoming winters and therefore is called Shardiya Navratri.
Sharad Navratri 2020
Day 1
17 October, Saturday

Day of Pratipada or First Day
Worshipping Maa Shailputri
Ghatasthapana

Day 2
18 October, Sunday

Dwitiya or Second
Worshipping Maa Brahmacharini

Day 3
19 October, Monday

Tritiya or Third
Worshipping Maa Chandraghanta

Day 4
20 October, Tuesday

Chaturthi or Fourth
Worshipping Maa Kushmunda

Day 5
21 October, Wednesday

Panchami or Fifth
Worshipping Maa Skandamata

Day 6
22 October, Thursday

Shashthi or Sixth
Worshipping Maa Katyayani

Day 7
23 October, Friday

Saptami or Seventh
Worshipping Maa Kalratri

Day 8
24 October, Saturday

Ashtami or Eighth
Worshipping Maa Mahagauri
Durga Maha Navami Pooja
Durga Maha Ashtami Pooja

Day 9
25 October, Sunday

Navami or Ninth
Worshipping Maa Siddhidatri
Navratri Parna

Day 10
26 October, Monday

Dashmi or Tenth
Durga Visarjan
See: Today Panchang
During Navratri, devotees wish for peace and prosperity in their homes and feel peaceful worshipping Maa Durga. On this occasion, religious events and activities are conducted in various parts of the country. People carry out auspicious activities during these nine days itself.
Navratri 2020: Mythological Significance
All sorts of festivals celebrated in India hold a significant impact over lives and are marked with great enthusiasm. There is a mythological significance behind celebrating this festival. According to the story, there was a demon named Mahishasura widely known for his almighty powers. He had a wish to become immortal and therefore, he started worshipping Lord Brahma. Lord Brahma got impressed and granted him a request.
As soon as he asked to be immortal, Lord Brahma said that everyone who has been born is bound to die; hence he can ask for anything but this. After this, Mahishasura wished that no God or Demon but only a woman would be able to kill him. After getting his wish fulfilled, he became mighty and didn't even spare Gods from his wrath. It became tough for even devtas to control him because of Lord Brahma's boon. On this note, Lord Shiva and Lord Vishnu came together with the Devtas to kill the demon but failed miserably. On seeing this, all the devtas, along with Lord Vishnu, worshipped the Aadi Shakti, due to which a beautiful fairy in the form of Maa Durga appeared from the white light. Seeing Goddess Durga, Mahisasur lost his senses and got impressed by her beauty. As he persuaded her for marriage, she accepted the proposal only on one condition- he had to win over her in a battle, which he accepted. The battle went on for nine days, and on the tenth day, she killed the demon. Hence, these nine days are observed with full devotion and pure-heartedness.
Navratri 2020: How Is It Celebrated?
Navratri is promptly celebrated in the northern region of India. However, several southern and north-eastern states also observe this festival as a means of prosperity and devotion. Somewhere it is celebrated with pujas and jagrans, other places like Gujarat conducts events like Dandiya nights.
Gujarat is a lovely city and has always been quite a favourite among the people for its diverse culture. Here, you can see people playing Garba and Dandiya on the occasion of Navratri. People all across the world come here to enjoy Garba on religious songs. Moreover, this makes the entire environment quite beautiful and amazing. Women wearing traditional clothes look amazing and add a tinge of beauty during Navratri nights.
West Bengal is also known for celebrating Navratri in a grand manner. Here, you can find big size Pandal establishing Goddess Durga idols. The entire Pandal is decorated using flowers and lights. People get together in the early morning and evening to enjoy religious songs and dancing. Moreover, a variety of delicious food is cooked called Parshad and served among the devotees with love and care. Throughout the nine days, people visit these pandals and worship Maa Durga with wholeheartedness. On the last day of Navratri, married women play Sindoor-Khela and apply vermillion on each other's faces.
People clean their house to welcome Goddess Durga. Moreover, some people also refrain from eating onion, ginger, non-veg items and liquor. It is also considered to follow a simple life during these nine days to attain good results. On the 9th day of Navratri, Kanya Poojan is done by distributing Halwa or Semolina Halwa, Puri or Fried Bread, Chane or Gram, Sabji, Batashe, Coconut, Mishri or Crystalized Sugar and so on. On Shardiya Navratri, the 10th day of Navratri is celebrated as Dussehra.
Also Read: Yearly Horoscope 2020
Significance Of 9 Days
The festival of Navratri stretches for over nine days, where nine different forms of Goddess Durga are worshipped. One special avatar of Goddess Durga is commemorated each day. Devotees worship the goddess with full devotion and carry out Bhajans and Kirtans.
The first day of Navratri is dedicated to Maa Shailputri. Shailputri is the second form of Mata Parvati. She is also called the daughter of Himalaya Raj. She represents Power and Karma and has a Lotus in left hand and Trishul in right hand.
Navratri's second day is regarded as a day of worshipping Maa Brahmacharini. It is considered that Mata Parvati is called Brahmacharini while she was unmarried. She is regarded as the epitome of peace and positivity. She carries Japamala and Kamandal in the left hand.
The 3rd day of Navratri is regarded as a day devoted to Mata Chandraghanta. According to the historical story, Mata Parvati got this name while getting married to Lord Shiva. On this day, yellow clothes are worn since Mata Chandraghanta loves the yellow colour. Moreover, the yellow shade also represents courage.
Day 4 is an auspicious day dedicated to Mata Kushmanda. It is believed that due to the blessings of the goddess, there is greenery everywhere on Earth. Moreover, therefore wearing green clothes is considered auspicious on this day. There are eight hands of Mata Kushmanda who rides on a lion.
Day 5 is dedicated to Goddess Skandamata. Maa, along with her son, rides a lion. Lord Kartikeya is also known as Skanda. She has four hands, and wearing grey coloured clothes is considered auspicious.
On Navratri's 6th day, Mata Katyayani is worshipped. She symbolises power and energy. She rides a lion and has four hands. On this day, wearing Kesar or Saffron coloured clothes yields good results.
The seventh day is dedicated to Mata Kaalratri, who killed two demons called Shumbh and Nishumbh, due to which her complexion turned dark. This is auspicious to wear white on this day.
Day 8 is all about worshipping Mata Mahagauri. On this day, pink coloured clothes are worn. Mata Mahagauri symbolises knowledge and peace.
Day 9 is dedicated to Maa Siddhidatri. She has four hands and sits on a lotus flower. Worshipping with a pure heart brings peace and intellect to you.
On the 10th day of Navratri, the idol of Goddess is immersed in water bodies. People pray for good health, wealth and life and prays for the goddess to come back soon.
Worshipping Rituals
You will attain good results during Navratri only if you follow the traditional rituals correctly. According to the shubh Muhurat, you should start Navratri Pooja by establishing a Kalash. In India, the muhurat can vary according to different place and timing but day remains same all over. On this day, the idol of Goddess Durga is set up on a platform in a big pandal, and then Prasad is distributed after conducting havan and pooja. People do Bhajan and Kirtan at home and temples. Food and clothes are also offered to poor people. However, it would be best if you also keep some important things in mind while worshipping.
Wake up early in the morning, take a shower and wear clean and washed clothes.
Clean the temple and change the clothes of Goddess Durga.
You also need to keep the surrounding area of the temple clean. Do not let anyone inside wearing footwear.
Decorate the Pooja Thali and keep all the needed ingredients.
Establish the Kalash at the altar.
Fill the vessel with Ganga Jal, keep mango leaves on the top of the vessel, and cover its mouth by placing a coconut wrapped in red-coloured clothes.
Do keep rice beneath the Kalash.
Sprinkle Gangajal all over your home and light the incense stick.
Keep reciting all mantras during Navratri pooja and offer Prashad on the 9th day of Navratri.
We hope that the shared information about Navratri 2020 would be quite helpful to you. We wish you a very happy Navratri.