Gemini Horoscope 2021 Predictions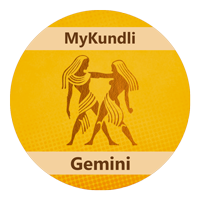 Gemini Horoscope 2021 indicates that the conjunction of Sun and Mercury in the seventh house will prove to be good for your Business and Profession. At the beginning of the year, Sun gives his powerful light to Mercury. It represents that natives will have good communication, get government favours, education and studies will be good during this period and the father will be very supportive. The fifth house lord Venus lies in the sixth house with Ketu, which is why you may face obstacles leading to problems related to your children in your life. On the other hand, unwanted friction in your relationship is expected to be seen. Trying to keep yourself away from the discord will be best for you this year. Placement of Ketu in the sixth house this year will prove beneficial for students, and they will attain success after putting in efforts and working really hard. The best month for students will be September, because at this time, you will be blessed from the aspect of Jupiter on your fifth house, and luck will be in your favour. Due to the presence of the Sun in your seventh house as indicated by 2021 Gemini Yearly Predictions, a sudden increase in your spouse's ego will cause problems and bitterness in your relationship. Saturn being in your Eight house can result in natives facing stomach related problems, such as ulcers or hemorrhoids. Health Horoscope 2021 for Gemini natives suggests taking care of your eating habits. Exercise well and include morning walk in your routine.
As per Gemini horoscope 2021, it will be a mixed year. This will be a year when natives will finally put an end to old issues and start afresh. You will be grateful to the transit of Jupiter on April 06, in Aquarius sign whose aspect is on your ascendant. Some progress on the health front is likely on cards by the end of the year. Some health issues from the past are likely to get treated during the year. Seek credit assistance only to the extent that is needed, keep patience as there may be a delay in your ongoing project.
Gemini Horoscope 2021 for Career
As per Career Horoscope 2021 for Gemini natives, the year shows mixed results. Jupiter is in your eighth house at the beginning of the year and remains there in conjunction with Saturn till April 06. This year, there are chances of the job changing. A lot of positive changes will be seen in your workplace this year as you will encounter several opportunities with the help of your colleagues. People involved in computer technology, tuition, cosmetics etc. will have a tough time. On the other hand, people working in the health sector, metal and publishing will witness a lot of success from April to September, since luck will favour them. Also, promotion is also on the cards. There will be an increase in earnings. September to November will be slightly unfavourable for working professionals. Therefore, you are required to remain cautious at this time, otherwise, troubles may increase. People doing businesses in partnership will have to remain careful during this time. However, in case you wish to start a business on your life partner's name, you will get immense success in the middle of this year. Those who have not yet got a job or are trying for a job change at the beginning of the year, there are no indications for getting auspicious results as soon as desired.
Gemini Horoscope 2021 for Finance
As per Gemini Finance Horoscope 2021, this year, your financial life will be average due to the conjunction of Saturn and Jupiter in the eight house , In case you have a family business, you will be benefited in monetary terms with the transit of Jupiter in the ninth house on April 06. January end, February, April and May are good periods for you. If you start worshipping Lord Sun in the morning, you will definitely face no money-related issue in your life this year. Saturn will be placed in the eighth house throughout the year, which will make you prone to loss of money. Therefore, stay alert when carrying out any transaction since financial losses are more likely on cards due to the transit of Jupiter and Saturn. The situation will start improving once the Jupiter transit will take place in Aquarius sign on April 06.
Since Venus lies in the house of Mars, attention is required when it comes to expenses in the year 2021. It will be easy for you to earn money, but spending on unnecessary things can be a problem. Therefore, it is necessary to keep a check on your expenses. Expenditure on children's education and luxurious things are on the chart.
Gemini Horoscope 2021 for Education
As per the Gemini Education Horoscope 2021, Your ruler for education, Venus is sitting in the sixth house in your Gemini sign. The year will bring mixed results due to the influence of Venus, Students preparing for the medical examinations have bright chances of success. Those who are planning to go abroad for studies will surely get good opportunities.A lot of efforts and hard work have to be put in by the students in order to get the desired result due to the placement of Saturn in the eighth house.
At the beginning of the year, there are less chances of attaining success in competitive examinations. If you desire to seek admission for higher education in a high profile institution, you would get admission after April 06.
Gemini Horoscope 2021 for Family Life
As per 2021 Gemini Horoscope 2021, the starting of this year would be favourable for a familial perspective. As Jupiter and Saturn sits in the eighth house and have a combined aspects on the Second House, there would be a peaceful environment in your family. There are indications for welcoming a new member in your family. Also, you can possibly face some worries regarding your children. Your social status will get upgraded after April 06. This period will be favourable for your brothers and you will attain immense fame during this time. After the transit of Jupiter, you'd seek less support for social activities. They will act in an uncooperative way, however, you are required to remain patient and maintain a calm demeanour.
Gemini Horoscope 2021 for Married life and Children
As per 2021 horoscope predictions for Gemini natives, your ruler of marital life Jupiter is sitting within the eighth house of Saturn while in conjunction with Saturn itself, leading to an increased influence of others on your life. You'll be ready to enjoy a cheerful marriage by spending time and strengthening your marriage with mutual affection and love. This is often a period of deep healing and profound emotional transformation which will positively underscore many aspects of your life. Transit of Venus in Gemini in the first house will take place during May28-June22. During this time, you will get to express your love-laced feelings, and enjoy the gorgeous and wonderful things life has to offer.
As per horoscope 2021 predictions, the beginning of this year generally wouldn't be favourable for your child. Take care of their health and protect them from any kind of mental tension. Venus is making a conjunction with Ketu, which can be a disappointment for the primary few months of the year, but things will become better within the middle of the year with the transit of Venus. Try not to be very strict with the children as that might create a disturbance. It's advised to bring humility in your dealings and behave with them in a friendly manner. This year would be moderately favourable for your children. Newly wedded couples might be blessed with a toddler. Overall this year would be full of ups and downs for your child.
Gemini Horoscope 2021 for Love life
As per yearly horoscope 2021, the love horoscope for Gemini natives indicates that with your lord of love and romance Venus being in the sixth house in Scorpio sign and creating a conjunction with Ketu, your relationship will undergo many ups and downs. If in a relationship, maintain faith in your partner. For Gemini natives at the start of this year, Mars will aspect the fifth house of your Moon sign, due to which you may face some problems in your love life. In this period, avoid talking unnecessarily and resolve every misunderstanding together. You can share your thoughts with a friend or confidant, who will show you the correct way. In the month of July this year, short-distance travel is likely. Months from January to September are the most favorable. In this period, both of you'll not only be ready to understand one another but the bonding will become great, and your love for each other will bloom. The period between January-February seems favorable as per Gemini Love Horoscope 2021 for those who want to travel ahead and get married to the one they love.
Gemini Horoscope 2021 for Health
As per the Gemini Health Horoscope, 2021, the period will be filled with lots of difficulties. As Saturn and Jupiter are making conjunction in the eight house at the beginning of the year and the presence of Ketu in the sixth house , will create health issues. Problems related to foot, waist, and headache may occur, therefore you are advised to take the treatment at the right time. Natives with blood sugar, blood pressure are advised to take proper care. As per 2021 Gemini Horoscope, Jupiter and Saturn are posted in eight houses, therefore, this period will not prove to be much auspicious as far as health is concerned. Seasonal diseases may occur during this period. If you are already suffering from a disease, then observe a regimen. It is advised to keep a check on the daily routine along with food habits. Exercising in the morning, and practicing Yoga will be helpful, and also avoid mental stress.
Gemini Horoscope 2021 Remedies
As per Gemini Yearly Horoscope 2021, Gemini natives will attain ordinary results regarding religious deeds, face a lack of concentration and obstacles in worshiping.
Serve a Brahman, a deity, elderly, or a spiritual guru.
Donate Banana or Yellow Dal in charity.
Keep a fast on Thursday and distribute Besan Laddu in charity.
On Saturday, apply Chola on the idol of Lord Hanuman ji and distribute black articles in charity.
Thankyou for visiting MyKundali. Stay tuned for more updates.