Libra Yearly Horoscope 2022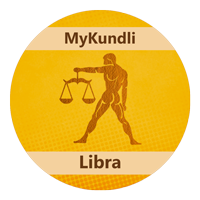 Libra Horoscope 2022 by MyKundali is designed based on the concepts and elements of Vedic Astrology and reveals the challenges and opportunities awaiting Libra natives in the new year. Libra is the seventh sign of the Zodiac Belt and belongs to the Air element. The benefactor of Judgment is ruled by the planet of pleasure, Venus. Libras possess creative interests and develop the same. They are normally fond of travelling and entertainment, try to do something unique so as to achieve success in their life and for this, they constantly put in the effort. Interest in love may be more with Libras. Let us go ahead and read Libra Yearly Horoscope 2022 for detailed predictions:
हिंदी में पढ़ें- तुला राशिफल 2022
Libra Horoscope 2022 for Career
The beginning part of the year may not bring major developments to those who are working. Due to the above, you may be facing little disappointments. More challenges may be present during the beginning of the year and success may come after putting in more effort. The positive influence of Jupiter may protect you from overcoming the challenges faced by you. The influence of Saturn over your house of the profession may keep you busy ahead in work. For those doing business, the influence of Jupiter may give you profits during March. After April, there may be a change in your job due to Jupiter moving to the Pisces sign and Saturn moving to Aquarius after April. There is a need to be attentive in doing work as Rahu will be moving to the seventh house of business and Ketu will be moving to the first house. The movement of Saturn and its influence on your career may give positive results from April to July and this movement of Saturn will also be favourable for natives who are pursuing business as their career.
Libra Horoscope 2022 for Financial Life
Libra life predictions 2022 reveal that there will be more expenses than gains in the first half of the year till April. Post-April, there will be an improvement in your financial situation as the eleventh house lord Sun will be in exaltation and Saturn will be moving to the fifth house. Situations that were very tight around the corner till April will be overcome. The above planetary positions may be applicable for the natives who are doing business as well. The time period after April to July is favourable for pursuing new investments.
Read in Detail: Horoscope 2022
Libra Horoscope 2022 for Education
The beginning of the year may not be favourable for students who are studying as well as those who are pursuing higher studies according to Libra Yearly Horoscope 2022 as Mercury will be in the third house and Saturn occupies the fourth house. Due to Saturn occupying the fourth house, there may be chances for students acting lethargic in their studies. Post-April, Saturn will be moving to the fifth house and there may be progress in studies among students. There may be a lack of interest in studies as Mercury will get debilitated during March. After June, things will become better as Mercury occupies the second house from your sign and due to this, there will be more progress in studies. Post-August, you will be able to make a good impression on your studies.
Libra Horoscope 2022 for Family Life
Libra natives will be facing more emotional encounters in family life after April due to Rahu moving to the seventh house. Initially due to the beneficial movement of Jupiter till April, you may be able to manage the situation. But after April, the situation will not be the same due to Rahu and Ketu transit. Saturn will be moving to the fifth house during April with respect to your sign and may give you relief in family life, but the whole situation may not turn out to be favourable. Only after August, there may be good results coming through in family life.
Libra Horoscope 2022 for Love & Marriage
The beginning of the year till April may be favourable for the Libra natives as per Libra Yearly Predictions 2022 since Jupiter will be giving rise to suitable chances for love and marriage. So those who are planning to get married may do so until April. After April 2022, Rahu and Ketu transit will not prove to be favourable as Rahu will be moving to the seventh and Ketu in the first house. Due to the above movement of Rahu and Ketu, you may not get good proposals that match your requirements and this may act as a barrier. Saturn from April to July may help you in landing a better marriage proposal, but getting the same is not so easy and you may need to compromise if you want to secure the proposal. Saturn may be the only planet that may favour you with regard to marriage during the latter half of the year. The time period from September to October may be better for you to get married.
Marriage Matching: Kundali Matching For Marriage
Libra Horoscope 2022 for Health
Healthwise, the first half of the year till April will be good as per Libra Life Predictions 2022 as Jupiter is aspecting your sign. Despite this, you may suffer from lethargy since Saturn is occupying the fourth house. Post-April, you may be subjected to stress and anxiety due to the placement of Rahu in your seventh house. There may be digestion related problems faced by you as Ketu is placed in the first house. Pursuing meditation may do wonders for you to keep you hale and healthy.
Libra Horoscope 2022: Remedies
Chant Durga Chalisa daily.
Perform Rahu/Ketu homa on Tuesdays.
Apply red vermilion Tilak on your forehead daily.
Know Your Lucky Number: Numerology Calculator
We hope you have liked our article. Thank you for being an important part of MyKundali. Stay tuned for more interesting articles.