Akshaya Tritiya 2020: Prosperity Knocks Your Door!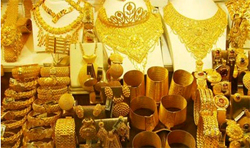 Akshaya Tritiya 2020 or Aksha Teej 2020 is an annual spring festival that falls on the Tritiya of Vaishakh Shukla Paksha. This is one of the most auspicious days of the year, for both Hindus and Jains. This year, the commemoration will fall on Sunday, 26 April 2020. Many legends and traditions are associated with this day. Where some Hindu legends describe Akshaya Tritiya as the day when Lord Vishnu took birth as his sixth avatar, Parshuram, thereby celebrating this day as Parshuram Jayanti 2020. While, on the other hand, some say this is the day Goddess Ganga came to Earth, in the form of holy river Ganges. Then again, some stories say that on Akshaya Tritiya, Rishi Ved Vyasa began reciting the Hindu epic Mahabharata to Lord Ganesha. This is also the day when Draupadi and the Pandavas received the 'Akshaya Patra' with the blessings of Sun-God.
On the other hand, in Jainism, Akshaya Tritiya 2020 commemorates the ending of the one-year asceticism their first Tirthankara, Rishabhdev, by consuming sugarcane juice poured into his cupped hands. Numerous other stories are associated with this day, that all boil down to this day being an auspicious one for almost all important sankaras and tasks. People celebrate this day by fasting, praying to Almighty, buying gold, and doing charity and donations. Donating watch, kalash, hand-fan, umbrella, rice, lentils, salt, ghee, sugar, clothes, vegetables, tamarind, fruits, sattu, cucumber, watermelon is meant to be an auspicious task.
Let us learn more about Akshaya Tritiya 2020, its dates, and muhurat.
Akshaya Tritiya 2020: Date & Muhurat Timing
| | | | |
| --- | --- | --- | --- |
| Event | Day | Date | Muhurat Timings |
| Akshaya Tritiya 2020 | Sunday | 26 April 2020 | From 05:44:24 to 12:19:04 hours |
Note: This Akshaya Tritiya Muhurat is for Delhi, India.
We hope that you will be able to perform the rituals and proceedings of Akshaya Tritiya 2020 at given muhurat with utmost devotion and happiness.
Akshaya Tritiya 2020
Akshaya Tritiya 2020 is one of the most important occasions that is considered highly auspicious day according to the Hindu Calendar. It is believed, any meaningful activity started on this day would bring fruitful results. So, we at MyKundali have brought you everything you would like to know about the upcoming Akshaya Tritiya 2020.
As it is believed that Lord Vishnu incarnated as Lord Parashurama on this day, therefore, many people also celebrate Akshaya Tritiya 2020 as Parashurama Jayanti 2020. Special Pujas (worship) are offered to Lord Ganesha and Devi Lakshmi. The word "Akshaya" means imperishable or non diminishing, unending. It is also believed that any new venture or any valuable items brought on this day turns imperishable and will grow forever.
Akshaya Tritiya 2020: Legends
As mentioned earlier, there are numerous legends associated with the auspicious day of Akshaya Tritiya 2020. According to some sources the Sat Yuga (Golden Era) began on this. It is also believed that Veda Vyasa started narrating the greatest epic Mahabharata to Lord Ganesha. Let us take a look at more of these legends associated with Akshaya Tritiya 2020:
Akshaya Tritiya 2020: Mahabharata & Akshaya Tritiya
One of the legends of Akshaya Tritiya 2020 is found in the epics of Mahabharata. When the Pandavas were in exile, they dwelled in forests and had to attend numerous dignitaries and sages who would visit the five kings and their queen. Queen Draupadi faced many problems in feeding so many people with the meagre food available to them. On the day of Akshaya Tritiya, Lord Krishna came to visit them with his large retinue, and all Draupadi had was a single rice grain. Lord Krishna placated a weeping Draupadi and ate the rice grain, and immediately the entire universe had a full stomach and were satiated. Afterwards, on behest of Lord Krishna, Yudhishtira prayed to Lord Sun who gave Draupadi the Akshaya Patra as his blessings. What was special about this Akshaya Patra was that it was filled with whatever food Draupadi wanted and it never went empty until she so desired.
Akshaya Tritiya 2020: Krishna-Sudama & Akshay Tritiya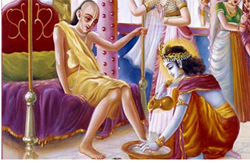 One of the most famous legends associated with Akshaya Tritiya 2020 is related to Lord Krishna and his childhood Brahmin friend Sudama. On the day of Akshaya Tritiya, Sudama visited Lord Krishna in Dwarka in order to ask for some financial help as requested by the former's wife. Sudama's wife had also tied a little package of rice for Lord Krishna – everything the poor woman could offer the Lord. As Lord Krishna got to know that his childhood friend had come to meet him, he personally welcomed Sudama with much warmth. Lord Krishna followed the principle of 'Atithi Devo Bhava' and washed his friend's feet, offering food, riches, and spent time with him.
As the time of his return approached, Sudama seeing the richness of Lord Krishna, was ashamed to offer his gift because he considered it to be of no value, as well as was embarrassed to ask for his help. Lord Krishna asked Sudama what his wife sent for him, but as sudama tried to make excuses, Lord Krishna took the gift from Sudama and saw that it was a handful of beaten rice or Poha. Lord Krishna relished this gift of his friend which he had brought as a tribute of love, friendship, and care. However, despite all that Sudama felt ashamed of asking any financial favor from his friend, yet returned home with a content heart.
However, as soon as Sudama got back, he saw that his hut was transformed into a palace. This was the boon of Lord Krishna for his friend. Ever since then, the day of Akshaya Tritiya is associated with material gains and wealth. Hence, it is also believed that buying gold on the day of Akshaya Tritiya 2020 would result in an uninterrupted growth in wealth and prosperity.
Let us now find out what offerings one should make on Akshaya Tritiya 2020, in order to attain unending inflow if wealth and prosperity.
Akshaya Tritiya 2020: Offerings
On the day of Akshaya Tritiya 2020, don't forget to donate these items:
Til (sesame seeds)
Bed or mattress (Shayan Daan)
Clothes(Vastra Daan) to the needy
Kumkum (dried red color powder)
Chandan (sandalwood)
Betel leaves
Nariyal (coconut)
Chhach Daan (buttermilk) result in good education, family and wellness
Donation of water in copper or silver vessel with saffron, camphor, Tulsi leaves and betel nut is considered auspicious for marriages and children. This is known as Uda Kumbh Daan.
Donating slippers on Akshaya Tritiya is said to save us from going to the Netherlands or hell after death.
Offerings made on the day of Akshaya Tritiya 2020 increases the auspiciousness of the festival. Akshaya Tritiya2020 is the time when we all will welcome prosperity, richness and wealth with the blessings of Almighty. One should not miss the chance to venture into new projects on such a holy day. During Akshaya Tritiya 2020, one should also worship and pray to Goddess Lakshmi and Kubera (Lord of Wealth) in order to get blessed with immense riches and wealth.
Akshaya Tritiya 2020 will arrive and grant us prosperity & well-being. This Akshaya Tritiya 2020, be ready to welcome the non diminishing prosperity right at your doorstep.
MyKundali Wishes All Its Readers a Happy Akshaya Tritiya 2020!