Bihu 2019: Celebrating Traditional Assamese New Year
The festival of Bihu will be celebrated on 15th of January in the year 2019. Bihu is a major festival of Assam. It is a harvest festival celebrated by the people with zeal and gusto. Bihu is regarded as the national festival of Assam and is celebrated three times in a year, in accordance with the Solar Calendar. The three types of Bihu fests are Bhogali Bihu (also known as Magh Bihu), Rongali Bihu (also known as Bohag Bihu) and Kongali Bihu.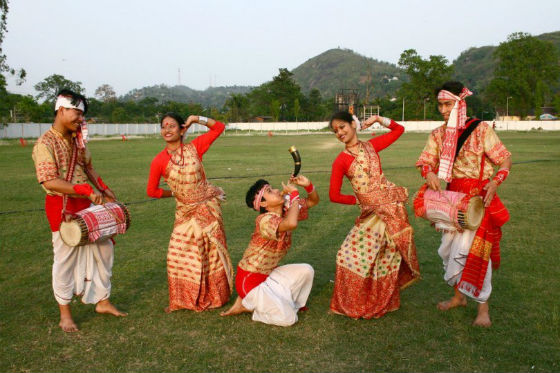 The word Bihu traces back its origin to the Sanskrit word Bishu, where 'Bi' means 'to ask' and 'Shu' stands for 'peace and prosperity'. However some people believe that Bihu is the amalgamation of the words 'Bi' and 'Hu', where 'Bi' signifies 'to ask' and 'Hu' means 'to give'. The festival of Bihu coincides with Pongal and Makar Sankranti. People begin their day by getting up early and taking a bath to purify themselves. Delicacies are prepared to add spice to the grand celebration. The point to be noted is that all the food prepared on the day of Bihu is prepared using the new crops. These preparations are then offered to the Almighty to get blessed.
Read Horoscope 2019 predictions
Origin of Bihu
It is believed that the festival of Bihu owes it origin to the ancient festival Bisuvan. On the day of Bisuvan, fire sacrifices were performed by the people in order to get a good harvest. It is believed that Bihu is the new version of Bisuvan.
Importance of Bihu
Bihu is a colorful festival which brings happiness and prosperity in the life of the people. It is a boon for the farmers and peasants and is celebrated with pomp and fervour by them. As it is associated with the harvest, it has gained more popularity among the common masses. On this day, the people of Assam dress up in their cultural dresses and adorn themselves with ornaments in the best possible manner. It is customary to take a bath with pure turmeric in this day. People generally buy new clothes for this occasion. After performing Puja, they enjoy the day by relishing their taste buds with the delicacies prepared on this day. Petha ladoo is the main dish of the day. The speciality of this festival is that its celebration is not confined to one day. The festival is celebrated for seven days long during which people enjoy themselves to the fullest.
Seeking the blessings of elders is considered to be very important on the day of Bihu. People distribute sweets and present gifts to their near and dear ones on this day. The day brings families and friends closer to each other. Fairs and processions are organised at several places. Although Bihu is majorly a festival of Assam, it is celebrated in many other regions of India as well. The festival is celebrated on the first day of Magha month in the Bengali culture.
Rituals and customs related to Bihu
As Bihu is a harvest festival, it is considered to be a golden opportunity to thank God. As a gesture of gratefulness, food prepared from fresh harvest is offered to God, which helps in getting prosperity.
Planting a Tulsi plant in the courtyard of your home is considered to be auspicious. Avoid bringing Peepal and Babul trees in your home on this day, otherwise a period of problems will follow.
Organise a community feast and invite family, friends, and other villagers, if possible.
Various dishes are prepared on this occasion.
People usually throw out unnecessary and unrequired stuff out of their homes and look forward to a fresh and better start to their life.
Using clay, straw, and firewood (also known as Mejis), some people also build temporary shelters known as "belaghars". They spend the night in the "belaghars" enjoying the festival. Next day, Mejis are burnt and tossed in the fields with a hope to have better harvest in the following year.
Bonfire created in the evening helps to keep the human body warm during the cold month of January.
People also worship Lord Indra (the God of heavens, rains, and thunder) with a wish to have good rainfall for the next harvest.
Know Indian festivals for 2019: Indian Calendar 2019
Highlights of Magh Bihu festivities
Magh Bihu is a festival of joy and celebration. It is also known as Bhogali Bihu by some people. As it marks the end of the harvesting season, people celebrate it by performing these activities:
Organising grand feasts which continues for 7 days are a major highlight of Bhogali Bihu.
Belaghars which are prepared to be burnt later are regarded as an offering to Lord Agni, the God of Fire.
Tekeli Bhonga which is a pot-breaking game is a popular game observed on this day.
We hope that you liked this article about Bihu. May this festival brings positivity in your life. Best wishes!