Dhanteras 2015: Wealth In Its Godly Personification!
The auspicious date of Dhanteras in 2015 is November 09. Earning bucks, and bulking up the bank balance might be easy, but what about living a prosperous life? In addition to money, a prosperous life also appeals for the well-being of an individual. Adorn yourself to honor prosperous well-being this Dhan Teras in 2015.
Dhanteras 2015: The First Day Of Diwali Festival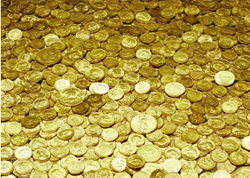 Dhanteras marks the commencement of the Diwali festival, which is a five day festive carnival.
If we talk about prosperity, the mercantile community of the country can be listed on the top. But, what about a prosperous well-being?
Well-being is an abstract wish, which can't be bought by money, or coins, but is gained through devotion toward Almighty.
Dhanteras is known as the day that calls for prosperity and well-being in a person's life. On Dhanteras, precious items and jewelries are purchased that enhance a household's prosperity. We have brought you everything that you need to know about the festival of Dhan Teras in 2015.
Dhanteras is the first day of the most celebrated Hindu festival, Diwali. The festival of Diwali (also known as Deepavali) starts off with Dhanteras and ends on the fifth day of Bhai Dooj.
If you want to know more about the five day festival of Dipawali, check Diwali in 2015 .
Another name for Dhan Teras is Dhantrayodashi. The literal meaning of Dhan Teras is the celebration of wealth or prosperity on the thirteenth day. As per Hindu calendar , Dhanteras is celebrated on the thirteenth day of Ashwin Krishna Paksha i.e. the dark fortnight of Hindu month, Ashvin.
Goddess Lakshmi and Lord Kuber are worshiped on the day of Dhan Teras, which is the first day of Diwali. It is believed that Lakshmi Devi brings home wealth and prosperity, and Lord Kuber is regarded as the treasurer of wealth.
Before proceeding further, let's know when Dhanteras will be celebrated in 2015.
Dhanteras 2015: Date & Timing
| Event | Day | Date | Tithi |
| --- | --- | --- | --- |
| Dhanteras 2015 | Monday | November 09 | Trayodashi |
We hope that the date and timing of Dhanteras in 2015 will help you to observe the most auspicious part of the festival of Dhan Trayodashi.
Now, as we know when to celebrate Dhan Teras in 2015, you might be eager to know, why to celebrate Dhan Teras in 2015? In order to answer this, we will discuss the legends associated with Dhan Teras.
Why Should We Celebrate Dhanteras?
Following are the legends that are associated with the celebration of Dhanteras:
Dhanvantari Is Honored On Dhanteras
The legends of Dhanteras date back to the period of Devas and Asuras. As per the Hindu holy scriptures, during Samudra Manthan, Devas (gods) and Asuras (demons) were churning the Kshira Sagar (ocean of milk) to gain the drink of immortality, Amrit. Dhanvantari Dev emerged out of the water with a pot of Amrit (elixir of life) in his hand.
It is said that somehow, Devas were cunningly able to attain the elixir drink, and retained it to be given to the demons or Asuras. This event also marks the discovery of Ayurveda, the method of healing people with natural methods.
Legend Of Yamadeepdaan: Lord Yama Is Honored On Dhanteras
King Hima had a son who was predicted to die on his fourth marital day. If we probe deeper, we can find out that a snake-bite was predicted to be the reason for his death. On knowing this, his wife got worried, although she reacted intelligently.
She plotted a plan and carried it out with sheer devotion toward her husband. She did not want him to sleep; hence, she went on to sing songs the whole night. This was indeed successful.
She had also lit a number of lamps near the doorstep of her house; in addition to this, she placed some jewelry articles near the doorstep, as well. When Yama arrived, he could not enter in. But what's the reason that halted the God of Death to enter inside a mere bricked house? Let's know.
Actually, Lord Yama came up in the form of a snake. Since a snake's eyesight is not very strong, the lighted lamps and the dazzling jewelries further posed a hindrance to him. Finally, the wife was able to keep his husband awake throughout night.
Dhanteras 2015: How To Celebrate Dhanteras?
Since, Dhan Teras is associated with wealth and prosperity, it is customary for people to buy silver or gold items on this day. It is believed that 'Dhan' or wealth is a symbol of good luck.
Diwali commences with the day of Dhanteras. On Dhan Teras, Lakshmi Puja is performed after the setting of Sun. To honor Lakshmi Devi, Bhajans are also sung. A special kind of sweet, known as Naivedya is also offered to the Goddess. People also indulge themselves in gambling on Dhanteras; though, it is a negative approach toward gaining prosperity. This day is also observed as Yamadeepdaan, as an honor to death lord, Yama.
Rangoli patterns (artistic patterns laid on floor) are drawn in pathways. The patterns of Rangoli are drawn in the shape of footprints that signify Lakshmi's entry into a house. On Dhan Teras or Dhan Trayodashi, lamps are also lit to penetrate into the darkness of earthly evils. We can also say that Dhan Teras is the first step to welcome home prosperity during the holy festival of Diwali or Deepawali.
Although, the significance of Dhan Teras is the same throughout the country, celebration patterns vary from place to place. As per traditions in Maharashtra, coriander seeds are first dried and then shaken with jaggery. This is supposed to be sacred on this very day. While in villages, cattle are worshiped, as they are considered to be the prime source of income for farmers. In South India, the celebration pattern is almost the same as in the villages, where cows are worshiped on Dhan Teras, as incarnations of Lakshmi.
Dhanteras is the day, when the incarnations of Laxmi comes to earth in a prosperous attire. Be it the form of gold, silver, or utensils, Goddess Lakshmi is all set to bless you with a prosperous well being on the occasion of Dhan Teras in 2015.
So, adorn yourselves to welcome Laxmi Devi on Dhanteras in 2015. This Dhan Teras in 2015, enjoy the moments by having family get-togethers. You can also send Dhanteras SMS to your close friends and relatives in 2015. It's the time to adorn yourselves to inaugurate the festival of Diwali with Dhanteras. Let this Dhan Teras fetch you warm moments this time.
But, do not forget to honor the lord of wealth, Kuber this Dhanteras in 2015. Lord Kuber is considered to be the treasurer of wealth, and he will again secure your wealth in 2015. To invoke the divine blessings of the Lakshmi and Kuber, be prepared with a devoted heart on Dhanteras in 2015.
MyKundali wishes you all a prosperous well-being on Dhanteras 2015!