Govardhan Puja : Worship The Hill That Rescued Mankind!
The holy date for festival Govardhan Puja in 2019 is Monday, October 28. Relation of Govardhan hill and Lord Krishna is very special, may be that's why He is also known as Govardhandhari. Auspiciousness of this day can't be defined in few words. Read on to know more.
Govardhan Puja 2019: What Is Diwali Padwa?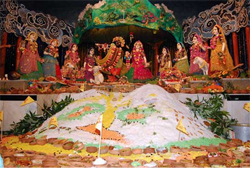 As you all know that the festival of Diwali is a five-day carnival, the fourth day is celebrated as Govardhan Puja. Govardhan Puja is also popular as Diwali Padwa, Bali Padva, Bali Pratipada, and Annakut. We are here to tell everything that you need to know about Govardhan Puja.
Govardhan Puja is dedicated to Lord Krishna, but there is no ordinary reason of honoring him with such reverence on this day. It was Sri Krishna who had made the natives of Gokul realize about the actual fact of nature and the importance of Govardhan to them. In some parts of India (especially South), this day is also celebrated as Bali Pratipada. Bali Pratipada Puja is performed to welcome King Bali; whereas, Govardhan Puja is observed in North India, as a tribute to the savior, Lord Krishna. Goverdhan is the name of a hillock, which existed during the era of Lord Krishna.
Govardhan Puja is paid high reverence due to its association with the festival of Diwali. Since, Govardhan Puja is celebrated on Deepavali's fourth day, one cannot celebrate the complete five-day combo of Diwali without honoring the day of Govardhan Puja or Annakut?
Now, let's know the date and timing of Govardhan Puja in 2019, according to Hindu calendar .
Govardhan Puja 2019: Date & Timing
| Event | Day | Date |
| --- | --- | --- |
| Govardhan Puja 2019 | Monday | October 28 |
Hopefully, now you would be able to perform the proceedings of Govardhan Puja in 2019 with a better approach.
Now' it's turn to why the festival of Govardhan Puja is paid such regards in our country. Let's proceed…
Govardhan Puja : Why To Celebrate Diwali Padwa?
Lord Krishna is also known as Govardhan Dhari, and in this section, we will discuss his role in glorifying the name of Goverdhan Parvat.
Why Krishna Is Called Govardhan Dhari?
Govardhan is a hill located at Braj. As per the Hindu text Vishnu Purana, Lord Krishna told the natives of Gokul that worshiping the nature will be more impactful than worshiping Lord Indra for better rain. Due to this, Lord Indra felt insulted. In response, the whole village got submerged in heavy rains.
This scared the people, and thought, it was the result of their negligence towards Lord Indra. Lord Krishna lifted up the hillock Govardhan Parbat and shed the people from the disastrous storms. Thus, he was able to save the people from the downpour created by Lord Indra. Hence, he came to be known as Govardhan Dhari.
Worship Bali On Govardhan Puja
Bali Pratipada is honored to King Bali. It is believed that on this day, Bali was destroyed by Vamana Avatar of Lord Vishnu. Every year, people venerate Bali, who is believed to visit earth during this time.
Although, Bali was a demon and a King, he was benevolent toward his subjects. His popularity soon grew, and started taking great pride in challenging the Devas. Soon, Aditi (Mother Goddess) got scared that he would be ruling everywhere. Hereby, Lord Vishnu was asked to stop his dominance.
Lord Vishnu visited Mahabali's kingdom in a disguised appearance of Vamana (dwarf) to teach him a lesson. At the time of his visit, Mahabali was performing a Yagna (ritual).
Being courteous, Bali asked Vamana if he had any desire. In response, Lord Vishnu asked for three parts of land that would be equal to his three footsteps. Bali granted his wish.
To fulfill his wish, Lord Vishnu became gigantic enough to cover earth with his first step. He claimed heavens with his second step. But, what about his third step? Since, one more step was left to be fulfilled, Lord Vishnu played a trick. He placed his third step upon Bali's head, this pushed him to underworld.
However, being a favorite among his subjects, Bali was given the boon to return to earth each year, on Bali Pratipada.
Now, as you know the reasons for celebrating Govardhan Puja or Diwali Padwa, let's take a look at how Diwali Padwa should be celebrated.
How Should We Celebrate Govardhan Puja?
Following are the three ways to celebrate Govardhan Puja:
Govardhan Puja : Annakut Puja 2019
The meaning of Annakut is 'heap of food'. Annakut celebrations involve preparations of Bhog (sacred food offerings) by the devotees. It is piously observed in Mathura and Vrindavan. Devotees keep awake the whole night, and prepare 56-108 delicious food items for Lord Krishna. People bathe idols of the deity with milk, and adorn them with jewelries. After this, the distribution of Bhog takes place among Lord Krishna's devotees.
Govardhan Puja : Diwali Padwa
Diwali Padwa is also known as Bali Pratipada, which is celebrated to honor king Bali. This day is also popular as Varsha Pratipada, as this is believed to be the day when king Vikramaditya was coroneted. Diwali Padwa is more prevalent in South India, than in North India.
Since, Diwali Padwa is celebrated with great fervor in Maharashtra, it's their turn to celebrate Padva in Marathi flavour. This is a special day in the lives of married people, when they relish being welcomed by their in-laws. This Diwali Padwa, you can also add more festivity to the event by sending Diwali Padwa images to your friends and relatives.
Following the day of Badi Diwali, Diwali Padwa or Govardhan Puja is paid high regards, considering its religious significance. Annakut is the celebration of godly modesty over ego. People should constantly follow the righteous virtues, leading them to the destination of forgiveness.
During Govardhan Puja, the mythological incident of Govardhan hill is revived once again. This is the day to honor the savior, Lord Krishna. All you need is a true heart, and you can easily substitute the mountain of food offerings (Annakut) with the pile of devotion and dedication.
So, don't let the chance slip out. Goverdhan Dhari will surely grant you the boon of blessings.
MyKundali wishes you a Happy Govardhan Puja..!