Kali Puja 2019: Welcome The Fiercest Form Of Goddess
Kali Puja is occurring on Sunday, October 27 in 2019. Welcome Maa Kali, the fiercest form of Goddess on Kali Pooja in 2019. Do you know the significance of black color of Maa Kali and how she brings positivity in our lives? Read on, to unfold the facts about Kali Puja in 2019.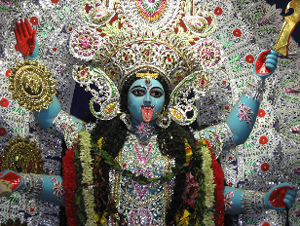 Kali Puja is celebrated in the honor of the Dark Goddess, Maa Kaali. The festival of Kali Pooja is celebrated on the new-moon day of the Hindu month of Kartik, according to the Hindu calendar .
Kali Pooja is a major festival in East India, which is widely celebrated in the states of Bengal, Orissa, and Assam. On the same day, the festival of Diwali is greatly celebrated in many other parts of the country. People of eastern parts of the country honor and welcome Maa Kaali to eliminate all the troubles and miseries of their lives.
Kali Puja In 2019
It is always good to know the Puja Muhurat in advance, so that best results can be obtained by worshiping and performing Puja rituals in this auspicious period of Puja Muhurat time.
'Nishita' time refers to night time because Kali Pooja rituals are mainly performed during the night time; therefore, the Nishita time Muhurat is given priority for Kali Puja.
Kali Puja 2019: Mahanishita Kaal In Kali Puja 2019
Mahanishita Kaal is best suited for conducting the rituals and customs on Kali Puja. As the name suggests, it literally means 'Grand Night Time'. Mahanishita time is considered to be an auspicious time for performing Puja rituals on Kali Puja. In addition to this, Mahanishita time is a holy time for Tantriks and Pundits for attaining Siddhis or perfection.
Now, it's our turn to know the legends associated with Kali Puja.
Kali Puja 2019: Legend Of Kali Puja
Now, let's talk about the legends of Kali Puja to know the real significance of celebrating festival, before observing Kali Pooja in 2019.
According to legends, two cruel demons Shumbh and Nishumbh once created chaos on earth and in heaven too. They wanted to take over all the powers of Indra (king Of Gods), and wanted that all the gods should act as their slaves. For saving heaven and earth from Shumbh and Nishumbh, Indra approached Maa Durga. Then, Maa Kali took birth from the forehead of Maa Durga to protect the earth and heaven.
Maa Kali destroyed Shumbh and Nishumbh and saved the earth from their cruelty. Since then, Maa Kali is considered as the deity who removes the evils of cruelty and wickedness. Kali Puja is celebrated to honor Maa Kali.
Kali Puja 2019: Divine Goddess Kali
Maa Kali's dark complexion and furious personality makes her a fearsome goddess. Only a glimpse of Maa Kali is enough to vanquish all the negativities and evil powers. She is frightening for all the demons and evils, but at the same time, she is extremely polite and endearing for all her devotees. She provides different Tantrik Siddhis and perfections to her devotees, who worship her to gain perfection in Tantrik Vidya.
Kali Puja 2019: Divine Symbols Of Maa Kali
Now, let's read about the divine symbols of Maa Kali. These symbols are the representations of her endless power. Let's read and understand, what messages are conveyed by the divine symbols of this fearsome goddess.
Dark Complexion
The dark colored Goddess Kali brings light and positivity. She absorbs all the miseries and negativities that bother her devotees. Goddess Kali saves her devotees by removing all the natural and supernatural effects of bad energies.
Black color represents mystery, authority, aggression, strength, and power. She is an aggressive goddess with lots of power, strength, and authority to remove all evils. Black color has the power to absorb all the other colors in itself; likewise, black color of Maa Kali absorbs all the negative energies of earth.
Long Tongue Of Maa Kali
Maa Kali's tongue hangs outside her mouth. After killing the demons Shumbh and Nishumbh, Maa Kali was roaring in anger and she started killing everything that came into her way. In order to stop her, Lord Shiva lied down in her way and she unknowingly placed her feet on her husband's (Lord Shiva's) chest. She was disturbed by her own act and her tongue came out in astonishment.
Maa Kali's tongue adds on to the brutality and aggression of her face.
Four Hands Of Goddess Kaali
The four hands of Goddess Kali give blessings to her devotees and hold weapons. Her hands also possess different Mudras to protect and bless her devotees. Let's read about the holdings and formations of Maa Kali's hands.
Sword of Maa Kali
Maa Kali holds a sword (long sharp edged weapon) in her hand. This sword of knowledge, removes the evil things from her devotees' life and show them the correct path of life. No wicked power can stand in front of sword of Maa Kali.
Demon's Head in Goddess Kali's Hand
She also holds a demon's head in one of her hands. This head represents her destructive nature. She removes the devil of ego, anger, ignorance, and false consciousness away from the body of her devotees.
Abhaya Mudra Of Maa Kali
Abhaya refers to fearlessness. This Mudra bless her devotees and remove all their fears. It is a symbol of reassurance and safety. Maa Durga assures her devotees that now she is there to protect them from all the fears of life.
Varada Mudra Of Maa Kali
Varada Mudra is the symbol of giving nature, dispensing of boons, charity, and offering. She provides her blessings, boons, and Siddhis to her devotees.
Skull Necklace Of Goddess Kali
She wears the necklace of skulls, which represents her fearless nature. It shows that she is the destroyer of heinous energy.
Kali Puja 2019: History & Significance
Navadvipa Maharaja Krishna Chandra started the ritual of celebrating Kali Puja. But, the tradition was carried forward by his grandson Ishwar Chandra. He spreaded awareness about Maa Kali and significance of celebrating Kali Pooja among the local people of Bengal. And soon, Kali Pooja got to be celebrated as one of the major festivals of Bengal.
Maa Lakshmi is worshiped in many parts of India while celebrating Diwali on the same day of Kali Puja. Like Lakshmi Puja in Diwali, Kali Pooja also holds a great importance for all the devotees of Maa Kali. Maa Kali is a strong and ferocious goddess, but being a mother, she can't see her devotees in pain or suffering. She removes all the negativities and darkness from her devotees' life by bringing light with her dark complexion. The significance of Kali Puja is based on this beautiful concept only.
Kali Puja 2019: Maa Kali & Tantrik Puja
Read about the special Tantrik Puja performed by Yogis on Kali Puja.
Different saints and Yogis, who want to earn Siddhis and want to practice the Tantra worship Maa Kali throughout the dark night of Kali Pooja. They sacrifice blood and skull of dead people and some saints sacrifice animals blood and bones. Different Tantrik Mantras are chanted by Yogis to please the fiercest form of mother goddess, Maa Kali.
Special offerings like blood, lentils, sindoor, meat, and sweets are made by the Tantriks, and the whole Tantrik Puja takes place in the cremation ground (Smashan Ghat) throughout the night.
Kaali Puja 2019: Celebrations Of Kali Puja
Festival of Kali Puja coincides with the festival of Diwali. West Bengal, Assam, and Orissa witness the great celebrations of Kali Pooja; whereas, the rest of India witness Diwali. Numerous lamps and Diyas (earthen lamps) are lit by the devotees in honor of Maa Kali and Maa Lakshmi.
In 2019 also, both the festivals of Diwali and Kali Puja will be celebrated again on the same day. Let's have a short glimpse of the five-day festival of Diwali in 2019.
Diwali 2019: The Combo Of Five Festive Days!
Diwali is not just a day, it's actually the platter of entertainment, zeal, enthusiasm, celebrated over a period of five days. Diwali is considered to be the most important festival for the Hindus. Now, without waiting anymore, let's take a look at all the five days that are going to be celebrated during Diwali in 2019:
Dhanteras : This is the first day of Diwali, when people purchase items that symbolize prosperity, such as gold, silver, other precious items, utensils, etc. Dhan Teras marks the commencement of Diwali.
Chhoti Diwali : This is the second day of Diwali festival, which precedes the main Diwali day.
Badi Diwali : The day of Badi Diwali is considered to be the prime day of Diwali celebrations, when people decorate their homes to welcome Goddess Lakshmi to their homes. Crackers are burnt to enlighten the environment. Badi Diwali in 2019 is going to be the perfect day to exchange gestures of friendliness and warmth among friends and relatives.
Govardhan Puja : Govardhan Puja is performed on the fourth day of Diwali. Lord Krishna is worshiped during Goverdhan Puja on Diwali.
Bhai Dooj : The fifth day of Diwali owes to the relation between brothers and sisters; Bhai Dooj is performed on the fifth and the last day of Diwali. On this day, sisters apply a mark of vermilion on their brothers' forehead and pray for their longevity. Hence, we can strongly say that the holy festival of Diwali ends with a warm note.
People of Eastern India, celebrate the festival with lots of lights, joy, and gusto. They believe that this dark night of Kali Pooja will remove all the darkness of their lives. Beautiful temporary marquees (Pandals) are decorated by the devotees throughout the city and they visit temples or Pandals to make special offerings to Goddess Kali.
Maa Kali is considered to be the goddess of Tantra and Mantra. So, special Tantrik Puja is also performed by saints and Yogis during the midnight of Kali Puja's Amavasya. Maa Kali bless them with the powers of Tantra and Siddhis. Special offerings of lentils, rice, fish, and meat are made by the devotees to Maa Kali.
Kali Puja 2019: Famous Dishes
Some traditional delicacies of Bengal are famous for the celebrations of Kali Puja. Every year some new recipes are prepared by the people in the honor of Maa Kali, to increase the flavor of the festival.
Following are some famous dishes of Kali Pooja that you should try for celebrating Kali Puja in 2019:
Bengali Khichuri (special Moong Dal recipe)
Kosha Mangsho (famous mutton preparation with gravy)
Chenna Payesh (sweet dish of milk and chenna)
Rasgullas
Sandesh
Rasomalancha
Ananda Bhog
Rasmalai
Kali Puja 2019: Famous Maa Kali Temples & Kali Mantra
The famous temples of Maa Kali in West Bengal are:
Kalighat Kali Temple
Dakshineswar Kali Temple
Chant this Mantra of Maa Kali to please her and get her blessings:
ऊँ क्रीं कालिकाये नम :
Om Krim Kalikaye Namah
Please Goddess Kali on Kali Puja in 2019 and be a part of her endless grace. Her divinity brings positivity and happiness in your lives. Make the full use of this auspicious day by receiving the blessings of Maa Kali and Maa Lakshmi.
My Kundali wishes you a Happy Kali Puja in 2019!