Hanuman Jayanti 2020: Day To Adore The Vanara Deva!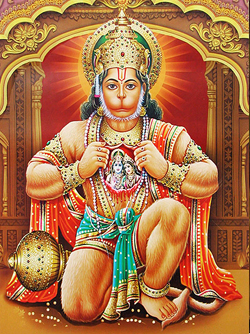 Hanuman Jayanti 2020 is the celebration of the birth of Vayuputra, Lord Hanuman. Not only is Lord Hanuman known for his unflinching devotion towards Lord Rama, but he is also the ideal Brahmachari or Nithya Brahmachari. According to the scriptures, Lord Hanuman is a Chiranjivi, one of the seven immortal living beings in Hinduism.
This year the celebrations for Hanuman Jayanti 2020 will fall on Wednesday, 8 April 2020. According to the Hindu Panchang, this commemoration occurs on the Purnima (full moon day) of Hindu month Chaitra. Yet, in some places Hanuman Jayanti 2020 occurs on Chaturdashi (fourteenth day) of Krishna Paksha of the Kartik month. The birth of Vayuputra, and the son of Anjani and Kesari, Lord Hanuman, is celebrated as Hanuman Jayanti 2020. This day is devoted to the ideal Brahmachari (one who follows the path of Brahma), Lord Hanuman who is the representation of strength and energy. As per mythology, Lord Hanuman can assume any form at will. He is the wielder of gada and numerous other celestial weapons. Moreover, he can move mountains, dart through the air, seize the clouds and the swiftness of his flight is even said to rival Garuda, the mount of Lord Vishnu.
Hanuman Jayanti 2020: Date
| | | | |
| --- | --- | --- | --- |
| Event | Day | Date | Purnima Tithi Timings |
| Hanuman Jayanti 2020 | Wednesday | 8 April 2020 | From 12:02:47 (April 7) to 08:06:17 (April 8) |
We hope that the Hanuman Jayanti 2020 date and timings will help you observe the festival dedicated to Sankat Mochan with complete devotion.
Hanuman Jayanti 2020
Hanuman Jayanti 2020 is a day dedicated to worshiping the Vanara God, Lord Hanuman. This day is celebrated as the birthday of Lord Hanuman. As per the Hindu calendar, the 15th day of Shukla Paksha, Purnima, during the month of Chaitra, is celebrated as Hanuman Jayanti 2020. Lord Hanuman is considered to be the greatest devotee of Lord Rama. So, we at MyKundali, bring to you each and every detail about Lord Hanuman, the 11th Avatar of Lord Shiva on this Hanuman Jayanti 2020.
Hanuman Jayanti 2020 is also known as Chaitra Purnima, as it is celebrated in the month of Chaitra, which falls in April-May as per the Hindu Lunar calendar. In different parts of India, Hanuman Jayanti 2020 is celebrated in different months. This distinction is because of the difference in the dates of Hindu calendar. In Orissa, Hanuman Jayanti 2020 is celebrated during the Oriya month of Vaishakha, while Tamils observe Hanuman Jayanti in the Tamil month of Margazhi.
In India, Lord Hanuman is worshiped by various names, i.e., Sankat Mochan, Bajrangbali, Anjaneya, Bajrang Bali, Maruti, Pavan Kumar, Kesari Nandan, Bajrangi, Anjani Putra, Pavan Putra, Rudra, Mahavira.
Now, as we have come to know what Hanuman Jayanti is, let's know the dates for celebrating Hanuman Jayanti 2020.
Hanuman Jayanti 2020: Significance
As we all know that Hanuman Jayanti 2020 is the commemoration of the birth of Lord Hanuman, however, it is extremely significant to know why he is worshiped in this manner? Why was Lord Hanuman regarded as the greatest devotee of Lord Rama till date?
As per the Hindu mythology, Lord Hanuman is the 11th incarnation of Lord Shiva. Lord Hanuman was born to Anjana and Kapiraj Kesari (King of vanara community).
The story begins when a great saint Durvasa visits the King of heaven, Indra. Indra in pride of his kingdom and wealth, organises a dance for the saint by his most beautiful Apsara, Punjikasthala. However, arrogant and impish Punjikasthala ended up infuriating Sage Durvasa who cursed the Apsara that she would be degraded from Swarg (heaven) and will take birth as a female monkey on earth. Apsara realized her mistake and asked for forgiveness. On this, the saint said that he can't take his words back but, Punjikasthala would be blessed with a son, who would be a great devotee of an avatar of Lord Vishnu. Hence, Punjikasthala later, as Anjani, gave birth to Lord Hanuman due to the great five divine factors. These factors were:
Curse to Punjikasthala
Blessings of the saint Durvasa
Anjani's prayers and strict penance to Lord Shiva
Lord Shiva had to take rebirth on earth
Blessings of Vayu Deva (God), i.e., the reason Lord Hanuman is worshiped as Pawanputra.
Putreshti Yaga's fruit (ritual for offerings along with mantras i.e done for a son)
Thus, on the day of Hanuman Jayanti, Lord Hanuman took birth and the entire Vanara community and Devatas (gods), celebrated this day in his name. Ever since then, this day is commemorated every year, and this year too, we will celebrate the day as Hanuman Jayanti 2020. Anjani Pawan Putra was born and named as Maruti on the Purnima of Karthik month.
Hanuman Jayanti 2020: Lord Hanuman's Role in Ramayana
Lord Hanuman is considered to be a passionate and fervid devotee of Lord Rama. The story begins at the time of Rama's exile when Lord Hanuman met his deity (Lord Rama). Hanuman played a pivotal role when Maa Sita was abducted by Ravana and held captive in Ashok Vatika in Lanka. Several stories throughout Ramayana describes the numerous powers of Lord Hanuman, who flew over seas, shrank and grew in size, and performed several miracles, and was pivotal in helping Lord Rama win the war.
Nobody was able to find Sita, but Hanuman with his powers, brains, and ability, was able to discover her. He grew so large in size, that in one leap covered the length of almost the entire sea. He stopped only because two demonesses captured him, but after defeating them, he easily reached Lanka. There, he shrank and wandered through the golden Lanka, looking for Goddess Sita, whom he found in Ashoka Vatika. After conversing with the Goddess, and assuring her that Lord Rama was on his way to rescue her, he destroyed Ravana's Ashok Vatika (grove) with Goddess Sita's permission.
As soon as Ravana found out that Lord Hanuman had entered the grove, he sent his son and troops to capture the Vanara. Although Lord Hanuman was strong enough to overcome all the soldiers sent, however, Ravana sent his son Indrajit who used the Brahmastra on Kesari Nandan. Lord Hanuman honored Lord Brahma and let the Astra hit him, and was captured by Maghnaad, and brought to Ravana's court. Dashanan decreed that Hanuman's tail should be put on fire. Maruti was in mood for mischief and wished to teach Ravana a lesson as well. Therefore, he started growing his tail, and the amount of oil dipped cloth being wrapped grew as well. Soon, the courtiers grew tired and Ravana grew angry, so the latter ordered that fire be lit to the cloth that has already been wrapped.
As soon as the fire reached Lord Hanuman's tail, he immediately shrank in size and started jumping around like the monkey Ravana claimed he was. Within moments, the golden Lanka of Ravana was now ash.
During the war, Lakshman was injured and there was no hope for him to survive. As told by Vaidya Sushen that the mountains of Dronagiri had a life saving medicine, named as Sanjivani. Although Sushen explained how to recognize Sanjivani Buti, however, Hanuman was still unsure. Thus, instead of taking a few herbs, he decided to pick up the entire mountain, and flew to Lanka, carrying it all the way. Ever since then, he was regarded as Lord Rama's dear brother.
Once the war came to an end, Lord Rama along with Goddess Sita and brother Laxman, returned to Ayodhya and Lord Hanuman devoted his entire life to Lord Rama.
It is also believed that Lord Hanuman is one of the seven immortals who stays on earth with all his devotees. This is because of the boon given to Lord Hanuman by Lord Rama for his sincere Bhakti (devotion) and dedication. For his undying devotion to Lord Rama, the ever-present safety even his name offers to his devotees, his might, his powers, and strength, Lord Hanuman is known by several names, like:
Sankat Mochan,Bajrangbali, Anjaneya, Bajrang Bali, Maruti, Pavan Kumar, Kesari Nandan, Bajrangi, Anjani Putra, Pawan Putra, Rudra, Mahavir
Now, as you know the story behind worshiping Lord Hanuman, let's find out how to celebrate Hanuman Jayanti 2020.
Hanuman Jayanti 2020: Celebrations
The Hanuman Jayanti 2020 Vrat (Hanuman Jayanti 2020 fast) is observed by the devotees of Vayuputra.
In Maharashtra, devotees observe the fast one day prior to Hanuman Jayanti 2020, whereas in the northern part of the country, it is celebrated on the same day of Hanuman Jayanti 2020.
Hanuman Jayanti 2020 Vrat is mostly observed by the Indian men.
Hanuman Jayanti 2020 Fast begins early in the morning. Devotees take a holy bath, clean the place of worship and establish the idols or images of Lord Hanuman.
The idols of Lord Hanuman are smeared with Sindoor (vermillion), flowers, and sweets.
On the day of Hanuman Jayanti 2020, people visit the nearest Hanuman temple and offer their prayers.
People recite Hanuman Chalisa and Hanuman Doha the whole day, and various Mantras of Lord Rama and Sankat Mochan are also chanted 108 times.
These are some of the celebrations which will be observed during Hanuman Jayanti 2020. Lord Hanuman is the protector of mankind. This Hanuman Jayanti 2020, worship and pray to Kesari Nandan and receive the blessings of Lord Rama and Lord Shiva along with him. According to scriptures, the lord does not see your material wealth or what offerings you have made to him. Instead, all the Gods and Goddesses only wish for you to selflessly worship them with utmost devotion and dedication. With your sincere piety, you will always find Lord Hanuman by your side, whenever you call out to him.
So, this Hanuman Jayanti 2020, pray to Lord Hanuman, wholeheartedly and witness the miracles he bestows you, with all your wishes fulfilled.
MyKundali Wishes All Its Readers a Happy Hanuman Jayanti 2020!