Janmashtami 2019: The Divine Baby Arrives
Krishna Janmashtami is one of the most significant festival among Hindus. On this day, devotees observe fast and worship Lord Krishna, the 8th incarnation of Lord Vishnu. It is celebrated to commemorate the birth of Lord Krishna. This year, Janmashtami will be celebrated on Saturday, August 24, 2019. According to the Hindu Calendar, it is celebrated on the 8th day of Krishna Paksha in the month of Shravana. It is celebrated in each and every region of India with different ritual and customs. It is also known as Krishnashtami, Saatam Aatham, Gokulashtami, Ashtami Rohini, Srikrishna Jayanti, Sree Jayanti. To know more, read on...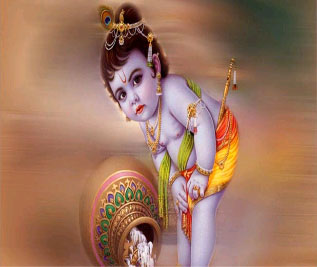 Whenever we think of Lord Krishna, the photo which immediately comes to our mind is a God who is always with a flute (Bansuri) and a peacock feather on his head. Lord Krishna is one of those gods whose Leelas (acts) are still worshiped across the country in various forms. His acts are named as 'Ras Leelas'.
Before we go ahead and celebrate Janmashtami, let's read more about Lord Krishna and the real story behind the celebration of Krishna Janmashtami. This way we would be able to celebrate Janmashtami with full devotion and dedication.
The Legend Of Janmashtami
Kansa was the ruler of Mathura during Dwapara Yuga. He had a sister named Devaki who was married to Vasudeva. As the marriage solemnised, an Akashvani (a voice from sky) was heard that Devaki's and Vasudev's 8th son will mark an end to Kansa's evil deeds and will save the people of Mathura. Listening to Akashvani, Kansa was terrified and wanted to kill Devaki. Vasudev begged for his wife's life and promised Kansa that he will handover all his newborn children to him. Kansa with no mercy imprisoned Devaki and Vasudeva.
Kansa killed their six new born sons. His seventh son was Balarama who was transferred to Vasudeva's second wife's womb and thus he was saved. At the time of the birth of 8th child, Lord Vishnu appeared and said that he would be taking birth as a child. Hence, Lord Vishnu took birth as Lord Krishna at the end of the "'Dwapara Yuga" and the starting of the current Yuga, 'Kali Yuga'. Thus, the birth of Lord Krishna is celebrated as Janmashtami. The birth of Govinda brings an end to all the evils which were existing at time of Dwapara Yuga.
Lord Vishnu asked Vasudeva to take the child (Balgopal) to his friend Nand's house in Gokul. On the day of Ashtami at midnight, Lord Krishna was born in the prison of Kansa. By Lord Vishnu's grace all the gates of prison got unlocked and the guards went off to sleep.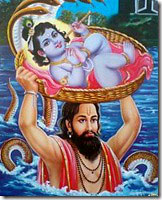 It is said that Vasudeva carried the divine baby through the river Yamuna on his head and through heavy rains. But as Lord Vishnu had assured that nothing shall block the path of Vasudeva, the very same thing happened. The river which was overflowing got subsided once the feet of Lord Krishna touched the river and the Naag (five mouthed snake) protected the child from rain.
Nand's wife Yashoda, gave birth to a daughter. Vasudeva exchanged Lord Krishna with that girl child and came back to the prison. On the other hand, when the people of Gokul came to know about the birth of Nanda's son they rejoiced in happiness.
Kansa came to know about the birth and tried to kill the baby. This time the baby transformed herself into the Goddess Yogamaya. She told Kansa that his death is near, as the child is already born.
Post this incident, Shri Krishna grew up in Gokul and he marked the end of the atrocities of Kansa. Since that day, we celebrate Janmashtami as the birth of Lord Krishna. Balgopal performed various Leelas in Gokul. The people residing in Gokul celebrate Janmashtami as Gokulashtami.
Janmashtami or the Gokulashtami is among such festivals that are celebrated across the globe. Janmashtami is celebrated in various styles and forms. You can also celebrate this festival of Janmashtami by enjoying the Leelas of Kaanha.
Let's tell you how Janmashtami is celebrated in various places. Also, let's have some more knowledge about how people across the country and globe can celebrate Janamashtami in 2019. Read on to know what Lord Krishna would bring to you on this Janmashtami in 2019.
Janmashtami : Different Ways Of Celebrations
Every year we share Lord Krishna's wallpapers and Lord Krishna's photos on Janmashtami with our friends, relatives and loved ones. Also, we apply them on the screens of our gadgets. Janmashtami SMS and greetings depict our love, respect, wishes and faith in Lord Krishna. So, don't miss out all this on Janmashtami and wish your loved ones a fun filled Janmashtami. Let's know how this Janmashtami can be turned out into a big celebration and how the people of the country and abroad, would celebrate Janmashtami.
Janmashtami : Celebrations All Around
We all know that mother is the biggest protector of her children from all odds and evils. Shri Krishna is one of those Gods whose childhood stories inspire us all. Govinda's love towards his mother, Yashoda defines motherhood and Yashoda's love towards Balgopal is undefinable and indescribable.
The festival of Krishna Janmashtami is celebrated throughout the country marking the birth of Govinda. Lord Krishna is considered as a newborn and people love him, pamper him, and show respect for him on this day.
On this Janmashtami, we should also try to have the same celebration throughout the country and make everyone feel the festivity of Janmashtami. Let's see how the celebration has been in various parts of the country and globe in the past years.
Since, Lord Krishna was born in Mathura and stayed in Gokul, the festival holds a great celebration time for the people belonging to these areas. Mathura, Vrindavan, Gokul and Brij are the places where Lord Shree Krishna did a lot of Leelas (acts) (Ras Leela, Krishna Leela), hence this festival is celebrated with a lot of enthusiasm, joy and devotion at these places.
Every year, the festival of Krishna Janmashtami is celebrated with same dedication and rituals. Hopefully, this Janmashtami will again witness the same festivity. People believe that Lord Krishna was born at 12 in the midnight. So, they also remain awake and wait for the Balgopal to come. The celebration of Janmashtami is just the same as people wait for the birth of a newborn in their family.
On the day of Janmashtami, people perform special Poojas, keep fast, sing Bhajans, and dance to celebrate the birth of Krishna.The temples in these places are decorated and special Jhankis (tableaus) are organised. Lord Krishna is pampered as a newborn. People offer sweets and Jhulas (swing) to the newborn Krishna.
This form of Balgopal is especially worshiped by pregnant ladies, who idolise their newborns to be like Balgopal.
Hopefully, you will also celebrate this Janmashtami with the same enthusiasm and devotion as the Lord Krishna devotees feel. Janmashtami is not only celebrated in India, however it is the festival that is celebrated across the country and globe.
Janmashtami : Celebrations Across The Country
In the various parts of Maharashtra, Kanha's birth is celebrated in a different form and style. At some places, this celebration is given the name as 'Dahi Handi'.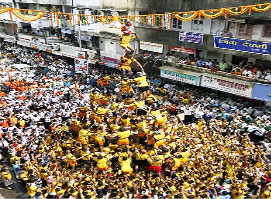 "Govinda Ala Re Ala", the birth of Lord Krishna is carried out in the various parts of Maharashtra. This festival of Janmashtami is also known as Dahi Handi (buttermilk pot). Usually, the festival is a projection of Lord Krishna's youth and he is worshiped as Govinda. The celebration of Dahi Handi festival depicts the love of Govinda toward butter, milk, Dahi (curd), and sweets. Various "Dahi Handi" events are organised in Mumbai where young boys make a Toli (troops) to perform this ceremony. Usually in the Dahi Handi ceremony, a group of boys make a human pyramid to break the Handi, which is tied in the air. The Dahi Handi festival is also a depiction of one of the Govinda's Leelas.
On this Krishna Janmashtami, the streets of Maharashtra will again witness various Tolis competing in the "Dahi Handi" festival.
On the other hand, in the Southern India, Lord Krishna is worshiped in the form of child, on the occasion of Krishna Janmashtami. In South, people depict Krishna as if he is in his tender days and running or walking in search of butter and milk. Lord Krishna has always been depicted with butter on the face in various Lord Krishna's photos. Balgopal footsteps are painted outside the house depicting the same thing.
Janmashtami : Celebrations Across The Globe
Not only in India, but Janmashtami is celebrated in many countries across the globe. The birthday of Balgopal is celebrated with a lot of enthusiasm in temples of ISKCON. The Mantras are chanted, Jhankis are organised, and special sweets are prepared.
Many Govinda and ISKCON temple will also be decorated on this Janmashtami. We all can witness the festivity behind the birth of Lord Krishna.
Krishna Janmashtami festival is celebrated throughout the country and globe with a lot of enthusiasm. However, there are certain common rituals followed throughout the regions across the globe that depict the sentiments of Krishna devotees toward their lord.
Rituals In Krishna Janmashtami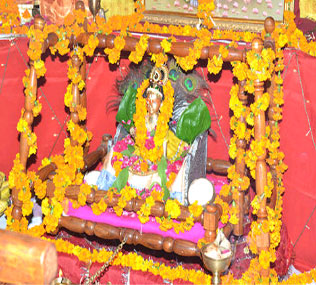 Every festival has its own rituals and tradition. Krishna Janmashtami is celebrated with some rituals too. We all can look forward to the birth of divine baby on this Janmashtami.
People observe a fast throughout the day till midnight when Balgopal is born, on the occasion of Krishna Janmashtami.
People visit temples of Lord Krishna and offer him prayers, sweets, flowers, and milk.
At midnight, traditional prayers are offered to Govinda by priest in temples.
Baby cradles are installed in temples where Balgopal is placed in them, people offer their prayers to him and treat him as a newborn on Krishna Janmashtami.
Jhankis across the temples are made, special prayers are sung and various other events in various parts of the country take place on the occasion of Janmashtami.
The world throughout celebrates the festival of Janmashtami with full dedication, devotion, and complete surrender to Lord Krishna. It is believed that whenever the evil and injustice will rise, Lord will take birth on earth in order to save humanity and bring justice the same way as Lord Krishna did by bringing an end to the atrocities caused by Kansa.
Janmashtami marks the birth of Lord Krishna, but it is important to remember Govinda's teachings and follow the path of righteousness, truth, and justice.
So, let's all pray and wait for the birth of Lord Krishna on this Janmashtami, which will witness the same celebration throughout the globe.
MyKundali wishes its readers, "A Very Happy Janmashtami..!"