Maha Shivaratri 2019: Please The Supreme Lord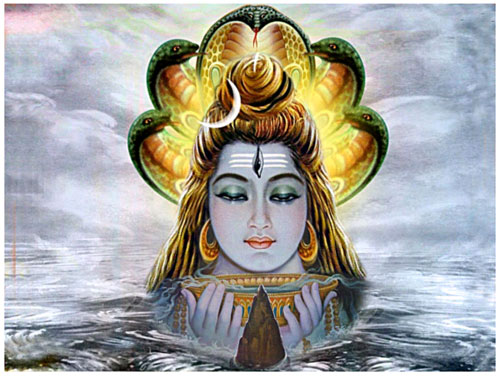 Maha Shivaratri is one of the most important festival celebrated among Hindus. This year, it'll be observed on Monday, March 4, 2019. According to the Hindu Calendar, it helds on the 14th day of Phalguna month. As per the Almanac, this day is celebrated on the same day in India. Devotees observe fast to please Lord Shiva and to receive his blessings. Want to know more about this festival? Read on...
Who Is The Lord Shiva?
While celebrating Maha Shivaratri, one should know the true essence of Lord Shiva. As we all know Mahashivratri is the festival for Lord Shiva, let's know more about him. According to Hindu Mythology, Lord Shiva is called the Supreme God. He is the destroyer and the transformer, like Brahma is the creator and Vishnu is the preserver. Holy Ganga flows from his hair and snake is the garland of his neck.
There are many forms of Shiva that can be seen in his Panchavaktra (5 heads) form. Aghora, Ishana, Tatpurusha, Varna Deva and Braddha Rudra are the five forms of Shiva depicted as the five energies of Shiva. Nataraja is also a form of Lord Shiva, which is portrayed as the dancer for both destruction and creation. Hanuman is also believed to be the manifestation of Lord Shiva. People worship Shiva in the form of Lingam, which is known as Shivling.
The Convergence of Shakti & Shiva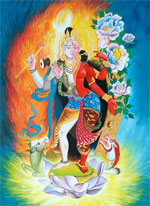 According to the Hindu mythology, Maha Shivaratri is the day when Shiva and Shakti united as one. It is the day when Shiva got married to Parvati, which is known to be one of the form of Goddess Shakti. However, it is said that due to the Tandava (destructive dance) performed by Lord Shiva, the world was going to end. Then, Parvati worshiped her husband to save the world. Finally, Lord Shiva stopped dancing and Shiva & Parvati became one. Since that time, this form of Lord Shiva and Parvati is known as Ardhanarishwara.
Maha Shivaratri : Favorite Day Of Lord Shiva
It is said that Maha Shivaratri is the favorite day of Lord Shiva. Once Parvati asked about the rituals, which Lord Shiva like the most. Then, Lord Shiva replied that the night on Chaturdashi of the Magha month during Krishna Paksha is his favorite day. The rituals performed on that day pleases him the most. Parvati told this to her friends and then the word spreaded all over the world.
Now, as you know that the day of MahaShivaratri is Lord Shiva's favorite, don't miss the chance of enchanting him by following his favorite rituals.
The Legends of Maha Shivaratri
As all the Hindu festivals have some mythological legend behind, Maha Shivaratri is also one of them. The day is very auspicious and many mythological legends are associated with it.Before observing fast on Maha Shivaratri, you must know the events occurred on this holy day.
The Legend Of Neelkantha
You have read about the legend of Samudra Manthan (churning of milk ocean) so many times, as this legend is associated with so many events that are mentioned in Hindu mythology. According to this legend, when gods and demons were churning the milk ocean, there were many objects that came out of the ocean. One of them was a poison pot. This poison was very dangerous for the universe. So, Lord Vishnu suggested the gods to call Lord Shiva, as only he was able to drink it. To save universe from this very toxic poison, Lord Shiva drank it all. But, it stayed in his throat, as Parvati pressed his neck and the poison didn't affect him. The neck of Lord Shiva became blue because of the poison. Thus, he was named as Neelkantha.
Although, the poison didn't have any effect on Lord Shiva, gods had to keep him awake on that night as the poison was very toxic. All gods kept a vigil that night to observe Lord Shiva. To keep him awake, they entertained him by performing various musics and dances. As the Sun came out, the Lord Shiva was very happy with the devotion of gods and blessed them. Since then, devotees try to enchant him on this day. They fast and keep vigil at night to thank Lord Shiva for saving the world. It is said that Lord Shiva blesses all the devotees,who pleases him on the occasion of Maha Shivaratri.
The Legend Of A Hunter
There was a hunter in Varanasi, named Suswara. His only earning was through hunting the birds and animals and selling them. Once, he was in search of animals in the forest and found a deer. He was about to kill it, but he noticed that the family of the deer was very sad for its coming death. So, he decided not to kill it. That day, he hunted nothing and it was night already. So, he climbed up a tree to sleep. As he was hungry, he was unable to sleep. The tree which gave him shelter was a Bael tree (wood apple). To pass his time, he started plucking the leaves of Bael and dropped them down on ground. In the morning, he brought some food for himself and his family. When he was about to eat it, a beggar came and asked for it, so he gave his food to the beggar.
Two messengers of Lord Shiva came to him, at the time of his death. Those were sent to take his soul to Lord Shiva. The messengers told him that on that day, when he didn't killed any animal, he unconsciously worshiped Lord Shiva on the night of Shivaratri. There was a Lingam at the bottom of that tree on which he dropped leaves of Bael, the leaked water from his bottle washed the Lingam. He fasted all day and night, so he followed all the rituals of Shivaratri. Then, he lived with Lord Shiva.
This is why people worship Lord Shiva, to take his blessings.
How To Observe Maha Shivaratri Vrat?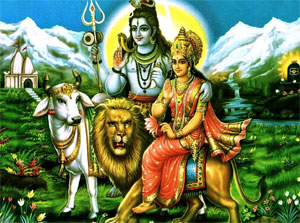 Now, we will talk about the rituals and customs related to the Maha Shivaratri Vrat to help you.
According to the Hindu mythology,Lord Shiva narrated the way of observing Maha Shivaratri Vrat (fast) to his consort Parvati. He said that his devotees should worship him in four different forms.He explained the right way to perform all the rituals of Maha Shivaratri.
According to that, devotees should bathe him with milk, curd, butter, and honey. They should offer Bael leaves to him and fast all day & night. After completing the rituals, devotees first feed the Brahmins in the morning; and all the rituals should be followed strictly.
Maha Shivaratri is a very auspicious festival for women. They pray to both, Lord Shiva and Parvati for a happy married life.
Maha Shivaratri : The Celebrations All Over
Every year, this holy day of Maha Shivaratri is celebrated all over the world by the devotees of Shiva. In 2019, devotees will plan their Maha Shivaratri well in advance. So, what are you waiting for? If you also want to become the part of the blessings of the Supreme Lord, observe MahaShivaratri Vrat.
All the devotees of Lord Shiva celebrate Maha Shivaratri with great belief. Amarnath temple is known to be the holiest temple in India. Number of people go there to worshipLord Shiva during the time of Maha Shivaratri. Amarnath pilgrimage will be organized by the government and many devotees will participate in it. In Central India, Mahakaleshwar temple in Ujjain will be visited the most by devotees on Maha Shivaratri.
Maha Shivaratri is a festival, which is not restricted only to India. Nepal also celebrate this festival with great enthusiasm.
So, this was all we had about this glorious day of Maha Shivaratri, as of now. Stay tuned to MyKundali for more such interesting stuff. We hope you will make the best out of Maha Shivaratri. Stay blessed!
Happy Maha Shivaratri !