Onam 2016: The Harvest Of Festive Grandeur
Onam 2016 dates are here. Onam is a ten day festival starting from September 4, 2016 and will end on the day Thiruvonam i.e, on September 13, 2016. Onam is also known as the harvest festival and is unique for celebrating the return of demon king, Mahabali. Read below to know more about Onam.
Onam 2016: What Is Onam?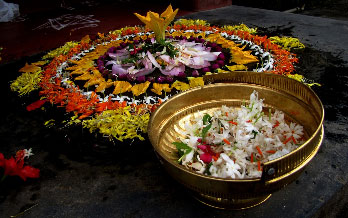 Onam is one of the most popular Hindu festivals in South India. Onam is celebrated in Kerala as the Harvest festival. Kerala regards the festival as the welcoming gesture to their ancient king, Mahabali.
The festival Onam is celebrated for a period of ten days. The celebration is accompanied by great piousness and devotion by the natives of Kerala. Onam is celebrated in the month of Chingam (Malayalam month) which corresponds with the English months of September and October. The harvest festival of Onam is an amalgamation of a number of cultural aspects. Onam is popular as Thiruvonam (the last day of the harvest festival).
It's the mid phase of 2016. The month of Chingam is not so far when Onam 2016 will approach. Hence, we bring you the dates of Onam in 2016.
Onam 2016: When It Should Be Celebrated?
The table shows the dates and Tithis for Onam 2016. Let's take a look at the Onam 2016 dates:
| Date | Day | Tithi | Event |
| --- | --- | --- | --- |
| September 4, 2016 | Sunday | Chaturthi | Atham |
| September 5, 2016 | Monday | Panchami | Chithira |
| September 6, 2016 | Tuesday | Shashthi | Chodhi |
| September 7, 2016 | Wednesday | Saptami | Vishakham |
| September 8, 2016 | Thursday | Ashtami | Anizham |
| September 9, 2016 | Friday | Navami | Thriketta |
| September 10, 2016 | Saturday | Dashami | Moolam |
| September 11, 2016 | Sunday | Ekadashi | Pooradam |
| September 12, 2016 | Monday | Dwadashi | Uthradam |
| September 13, 2016 | Tuesday | Trayodashi | Thiruvonam/Onam |
Hope the dates of Onam 2016 will help you scale your routine accordingly.
But, what is the actual cause for celebrating the harvest festival of Onam?To have a better understanding of why Onam is celebrated, let's take a look at the legends associated with Onam 2016.
Legends Of Onam
Similar to any other Hindu festival, Onam has more than one legend associated with it. Let's take a look at the legends of the harvest festival of Onam or Thiruvonam:
King Mahabali And Onam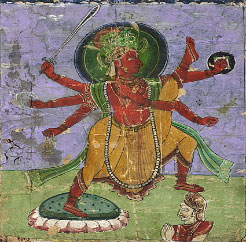 The legend dates back to the reign of the Asura (demon) Mahabali. Mahabali had achieved enormous popularity due to his judicious and benevolent nature towards the subjects and courtesans.
His power soon extended to the heavens and he took great pride in challenging the Devas. It was presumed by Aditi, the mother goddess that Mahabali would soon be dominating both the heavens and the earth. Aditi requested Lord Vishnu to stop his dominance.
In response, Lord Vishnu decided to teach him lesson in the guise of a Vamana or dwarf. Vishnu visited Mahabali's kingdom in his disguised appearance. At the time of his visit to Mahabali's kingdom, Mahabali was performing a Yagna or ritual.
Being courteous, he asked Vamana Vishnu about a wish that he would desire. Vishnu asked for three parts of land parallel to his three footsteps. His wish was granted.
As part of his granted wish, Vamana Vishnu grew up in gigantic size. He claimed the earth with his first step and his second step claimed the heavens. Still the third step was left to be fulfilled but there was no other piece of land left that owed to Vishnu. Mahabali asked him to place his third step upon his head. With Vishnu's third step upon Mahabali's head, Mahabali was sent down to Sutala or a heavenly underworld.
Due to his attachment and benevolence towards his subjects, he was allowed by Lord Vishnu to visit the earth once in a year. The day of his visit is celebrated as Onam in the coastal parts of Kerala. This is the most highly regarded evidence that will be the reason for celebrating Onam 2016..
Parashurama And Onam
According to an evidence from the Malayalam dictionary, Parashurama has contributed to the rescue of Kerala and hence, the celebration of Onam takes place. Parashuram is believed to have saved Kerala as he threw his axe from Gokarna (north) to Kanyakumari (south).
Onam is celebrated for ten days. Let's take a look at the ten days that will be followed traditionally in Onam 2016.
Onam 2016: Ten Days Of The Harvest Festival!
Onam is celebrated for a period of ten days where each day has its own significance. They are as follows:
First Day Of Harvest Festival: Atham
Atham is the first day of the festival of Onam. On the day of Atham, people prepare themselves for the spiritual proceedings by taking bath in early morning. A traditional breakfast is prepared that consists of bananas (steamed) and pappad. Atthyamachan is a royal custom where processions of elephants are followed with other traditional programs.Cradles are decorated with bunch of flowers which is a special delight for the younger generations. A mat called Pookalam is crafted. But, what is actually a Pookalam? Pookalam is an intricate arrangement of floral patterns on the floor. Pookalam decoration is a part of the tradition of the festival of Onam. Pookalam is formed by the combination of two words Poo and Kalam. Pookalam means decorating with floral sketch patterns. A Pookalam is prepared to welcome King Mahabali during Onam.
Pookalam beautifies the festival of Onam. Each day more flowers are added to the Pookalam, and thus, it gets larger day by day. The dyes for making the Pookalam is derived from natural substances like indigo, bark from trees, vermillion, rice and flour.
Second Day Of Harvest Festival: Chithira
Chithira is the second day of harvest festival of Onam. On Chithira, floral arrangement o is the prime feature. Special patterns are layered up on the Pookalam and men are responsible for the arrangement of flowers. This is the day when the planning list for the day of Onam is done.
Third Day Of Harvest Festival: Chodhi
Chodhi is the third day of Onam. This is the day when shopping activities take place and markets of Kerala become a display of carnival. Gifting of various times also takes place on Chodhai. The addition of more flowers to a Pookalam decorates it with more gusto and marks the approaching festivity.
Fourth Day Of Harvest Festival: Vishakam
In old times, the day of Vishakam used to be a display of harvest items for retail sale. On the fourth day of the harvest festival of Onam, special competitions for Pookalam are also held. Women start the preparations for meals and gatherings are also arranged for close relatives and friends. This is the ethnic day of Onam celebrations when people dress up in traditional wear and hold singing participation among themselves. The day of Vishakam is the day of frolic and festivity.
Fifth Day Of Harvest Festival: Anizham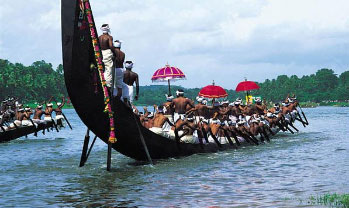 On the fifth day of the harvest festival of Onam, boat races catch the special attention of both the tourists and the natives. On Anizham, boat races are held known as Vallamkali. The boats are shaped like snakes with a narrow interior in each of the boats. The boats are known as Chundan Vallam.
Each Chundan Vallam is rowed by hundreds of men accompanied by Vanchipattu (boat songs).
Overall, the day of Anizham is a famous occurrence along the backwaters or Kerala and it has achieved enormous popularity in the country.
Sixth Day Of Harvest Festival: Thriketta
The sixth day of the harvest festival of Onam marks a family get together when family members reunite. This is a day of organizing various cultural participations. Schools and offices remain closed on the day of Trikette. By this day, the carnival of Onam gets heated up. Thriketta is considered to be great day to attend friends, relatives as the offices and workplaces are closed.
Seventh Day Of Harvest Festival: Moolam
On the seventh day of harvest festival of Onam, people can be seen enjoying themselves in the frenzied atmosphere after the last year's Onam. The seventh day is known as Moolam. Traditional dances like Puli Kali and Kaiputti Kali take place. Special buffet lunches or Onasadya are arranged on Moolam for close acquaintances and relatives.
Eighth Day Of Harvest Festival: Pooradam
On Pooradam, small pyramids are created as clay idols of Gods. They are called Maa. There is a special tradition when idols of Mahabali and Vishnu are cleansed. As believed, this washes away the impurity and therefore, taken in processions along the house. This is the last day of shoppings as the tenth day arrives soon. People can find themselves hurrying themselves to wrap up the traditions. By Pooradam, the pookalam gets bigger.
Ninth Day Of Harvest Festival: Uthradam
Uthradam is commonly known as Onam whereas the tenth day is known as Thiru Onam in Kerala. This marks the day when Mahabali returns to earth and blesses the subjects. On Uthradam, tenants gift their Karnavas or eldest member of family. The gifts are known as Onaka Chva. Women cut the items that would be required on Thiru Onam on this day. Altogether, this becomes a warm-up of several preparations before the Thiru Onam.
Tenth Day Of Harvest Festival: Thiruvonam
Thiruvonam is the tenth and the last day of Onam festival. People engage themselves in prayers and ritual gatherings by taking a holy bath in the morning. On Thiruvonam, the biggest Pookulam is displayed that is presented to Mahabali. Onam Sadya or Onam fest is prepared for relatives and friends. Onam Sadya is followed according to a tradition, where at least 12-13 varieties of food are prepared and served on banana leaves. Dances, musical shows and traditional gatherings add more festivity to the air of Kerala.
Some traditions are also followed on Avittom and Chathayam. Theses are the third and the fourth days of Onam. It is believed that it is till Chathayam that King Mahabali bestows his blessings on earth. Mega dance events are held on these two days. Clay idols are immersed in sea or river water. Processions of men dressed as tigers are taken to the streets of Kerala. The Festival of Onam is a special carnival that bridges together the connection of netherworld and the earth. This signifies that even a demon's benevolence can win him such honors.
But, how can one talk about a festival without speaking about food? Let's take a look at the things that can be done to increase the gusto of the Onam 2016 carnival, as we bring you some mouth-watering aspects of the annual harvest festival of Onam in 2016.
Onam 2016: Feast Of Gestures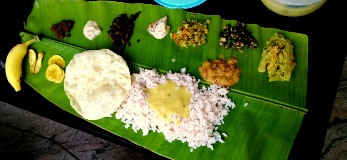 The festival of Onam also comprises Onam Sadya. The feast that concludes the festival of Onam is called Onam Sadya.
Sadhya is a variety of vegetarian dishes that are served on a banana leaf. Sadya literally means 'banquet'. During Onam Sadya, people participate in the feast with great zeal. Onam Sadhya includes the serving of around 24-27 food items at a single course.
People do not use cutlery and eat food with their hands on Onam Sadhya. Onam Sadya is the time when people participate in a traditional feast. Onam Sadhya cultivates a special gesture of friendliness and warmth, when relatives gather for a foody get-together. Without food, a festival is unable to share its core belongings. Onam Sadhya is the perfect farewell to the grandeur related to the festival of Onam.
During Onam Sadya, food is usually served for lunch. The preparations for Onam Sadya begin on the Onam Sadya eve. The feast should be traditionally be prepared on Onam Sadya before 10 o'clock in the morning.
Although, it is a tradition to sit on floor with crossed legs, nowadays, people prefer to sit on chairs at Onam Sadya feast. In Onam Sadya feast, the food are served on Banana leaves.
Now, let's take a look at the delicious food items that is generally served in Onam Sadya.
Onam Sadya Feast Delicacies
Rice
Achaar (pickles)
Khichdi (hotchpotch)
Rasam (a watery dish made of tamarind, tomato, and spices)
Jaggery
Parippu (a thick curry lentil dish)
Thoran (a dish of salted vegetables and grated coconut)
Aviyal (mixture of vegetables and coconut)
The feast day of Onam Sadya and the Onam Sadya eve involves a social intercourse, when people involve themselves in welcoming their guests. Although, the preparations of Onam Sadya differ among various places of India. Some communities in the northern part of Kerala also include non-vegetarian dishes in Onam Sadya.
It's the time when people can take a breath of their busy routines and prepare themselves for a social get together in Onam 2016. Onam 2016 gives you the opportunity to increase the joyousness of the carnival of Onam 2016.
On Onam 2016, we can get involved in a ritual cum cherishable gathering among our friends and relatives. Onam or Thiruvonam is referred to as the harvest festival so it's time in 2016 to sow the harvest of happiness and enthusiasm.
Onam 2016 is the feast of gestures that includes friendship, joy and reunion.
My Kundali wishes you Happy Onam 2016!