Yearly Aquarius Horoscope 2018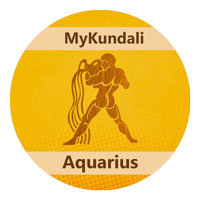 Summary: Good fortune will accompany you in both the spheres personal or professional. Your success rate will increase rapidly and all your incomplete task will get accomplished. At work, you will get the recognition by your seniors for your hard work. During this period, your enemies especially at your workplace will lie low. Also, your father and siblings will enjoy a good time. Huge gains are expected in your family business and perfect time for investments in new projects. Investing in stock markets will give benefits as well. Beside this, your interest will rise in spiritual studies. Your financial position will improve and all your debts will cleared. All your monetary plans will be successful and you will earn good money. Work related foreign journeys are indicated which might give your fruitful results. If we talk about your children, they will achieve success in their academics and professional lives as well. Students wishing to go abroad for further studies may get their wish fulfilled around this time. Apart from this, your health will remain largely good. But your carelessness may trouble you. Regular morning walks will be very beneficial for you. Overall, this is going to be a progressive year with lots of golden opportunities.
To read your aquarius horoscope for year 2019, please visit: Aquarius Horoscope 2019
January
Start your year on a positive note as happiness will prevail in both your professional and personal life as well. You will enjoy a good personal life with congenial relationships. Beside this, you will be more inclined towards spiritualism and increased involvement in religious deeds are indicated this month. Also, increase participation in social affairs will enhance your father's social status and reputation. If we talk about your professional life, Aquarius 2018 predictions says a lot of recognition and praises are expected from your seniors and reward of your hard work in the form of promotion. Prevent yourself getting into arguments with your co-workers at your workplace. In business, your joint venture with your siblings will be very beneficial. You will earn money with your hard work and get lots of good opportunities which will definitely improve your business. If you are a student, then you will get full concentration in studies and score good marks in your examination.

February
This month you will be in good spirits. You will be surrounded by positive aura and people will get influenced by your attractive personality. During this time, your intelligence and wise decisions may beget good results. Your familial life will be joyous and you will spend some happy moments with them. Additionally, your bonding with your spouse will get stronger and you both will stay together even in tough times. Your success will make your parents will proud and happy during this time. Also, you will get their love and full support which might fetch beneficial results. There are possibilities of some unexpected gains for them too. Acquisition of joint property by some married couples are indicated. Aquarius 2018 predictions says, excellent time for students preparing for their exams or waiting for their results. You will taste the fruit of success during this period. Your friend circle will expand as you will make some new friends. Your popularity will increase between your friends and family members.
March
You will not have to face financial challenges and you will get quite a good profit during this period. All your investments will give expected results especially if you have invested in property. Unexpected huge gains are indicated which will make your finances strong. Also, financial contribution of your spouse will increase your family income. Along with this, you will get success in your business. Joint ventures with friends and siblings will be very beneficial during this time. Aquarius 2018 horoscope says, if you are running your business in partnership, then you will enjoy benefits through your partners also. On the other hand, some of the natives will get the awareness about a property or inheritance. Investments during this time will surely give you huge gains. You will be praised for your kind behaviour and sweet speech.
April
Health related issues especially abdominal problems might trouble you during this month. Hence, keep a check on your eating habits. There are possibilities of mouth ulcers, sores and eye related infections. Your home prospects are looking good this month. Happiness will prevail in your familial life and you will spend some good moments with them. Your spouse will help you in your career progress and you will have a very good understanding with each other. At work, you will work very hard and eventually you will get success. But you are advised to stay neutral and avoid gossips at your workplace. Aquarius 2018 predictions predicts, your hidden enemies will try to trouble you but they can't be successful. If we talk about your finance, all your debts will be cleared and your financial status will also improve. Avoid investing money in shares otherwise you may suffer from a huge loss. Students planning to go abroad for higher studies need counselling because it is a costly affair. Hence they need proper suggestion and guidance.
May
Professional success is indicated during this month. Your confidence will increase and you will be happy with the success of your work. Foreign connections and collaborations will be very fruitful and you may expect good profit. Favorable time for your younger siblings as they may go to abroad for higher studies. But you are advised to be careful while dealing with the authorities. You will experience mental happiness and there will be an increase in your courage and valor. If we talk about your mother, she will enjoy a good health this month. Aquarius 2018 horoscope says, her involvement in social activities will enhance her social status and she might help you financially. Also, you will plan to go on a pilgrimage along with your father. Health will remain good but a little work out will be very fruitful for you.
June
This month will give excellent results to students opting out creative career. They will show their hidden talent and earn applauds. On the other hand, your financial position will get better and you may plan to buy a new property for residential purpose. Your expenses may increase too during this time. Natives working abroad may face some trouble at their workplace. hence , they are suggested to have patience because this tough duration will be short and all the issues will get resolved soon. If you are planning to go abroad around this period, then you are advised to drop your plan because this is not the right time. Aquarius 2018 predictions says, though you will get many opportunities but the right one will come to you at the right time. Tension, disputes and tiffs are indicated in your domestic life. You may strained relations with your spouse and elders at home. Try to clarify all the issues carefully and with maturity.
July
Your personal health will remain good but your mind will be cloudy due to which you may have difficulty in thinking and concentrating. So, don't let negative energy attracts you. You can take help of meditation for mental peace. Married may face some tough situations. Minor issues may turn into major ones which might ruin everything. Second half of the month will bring new challenges in your marital life. Be on alert. Your love life will be full of ups and downs. You may have quarrels and disputes with your partner. Also Aquarius 2018 horoscope predicts, avoid suspecting your partner for no reasons. Single natives may plan to walk the aisle during this time. Avoid wasting your energy in unnecessary pursuits and focus on your goal. Your professional life will be good and promotion is seen around this time. It will be great if you do not trust people blindly in financial matters.
August
Time seems not good especially for women as they may face problems related to their private/reproductive parts. So, be careful and take wellness advice from your doctor. You will find that your personal relationships are not working out the way you want them due to which your morale will be quite low and you may experience a cloudy mind. At your workplace, your interpersonal relations need a check. Try to maintain good relations with your seniors, boss and colleagues. Also avoid criticising others and behave gently with everyone. In the second half of the month, you will find proper and clear perspective in relationships, as per Aquarius 2018 predictions. Your spouse will help you in your progress and your marital life will be blissful. Your finances will be good and if you will invest in a new project during this period then you will get huge profit.
September
As per the 2018 horoscope predictions for Aquarius, successful period for your father is indicated. He will remain in a strong position and get fame, honor and respect in society. Also, his increase participation in charitable activities will enhance his social status. Your family life will be blessed with peace, harmony and happiness. You will get love and support of your family members which will keep you positive. This highly an auspicious and favorable time for you as you may get great material benefits from your parents. Aquarius 2018 horoscope says, in the latter half of the month, your understanding with your partner will improve and his/her intelligence will also increase. But health of your life partner might cause some concern. So, take good care of him/her. Time is not good for taking or giving loans. Be careful, you may suffer from monetary loss.
October
You will have good fortune in both personal and professional life. At your workplace, you will surprise everyone with your excellent performance and receive praises from your seniors and boss. You may expect a boost in your career in the form of promotion or salary hike. A joyous and peaceful family life is indicated. You may plan a foreign tour with your family and spend some happy moments with them. An auspicious occasion such as marriage may take place at your home. There will be a good cash flow and you will not face financial crunches. But avoid investing money in risky affairs. It will be better if you do proper research before such investments. You will be more excited and confident, so, keep on moving with positive attitude, predicts Aquarius 2018 horoscope. If we talk about your business, your partners may show lack of interest. Try to sort out all the issues soon and make a fresh start. Don't be too lenient about health. Proper diagnosis and treatment is essential during this period.

November
You will be very fortunate and happy this month. You will excel in both personal and professional life. On the other hand, you will show great courage and intelligence during this time. At your workplace, you will increase your efforts to get success and you will surely get the reward of your hard work from the hierarchy. Apart from this, your busy schedule could make your life partner feel neglected. However, your relationship will stay good with your spouse but you should take some time out from your hectic life to relax and spend some good moments with him/her. Aquarius 2018 horoscope says, children will do exceptionally well in their education. They will choose their courses according to their capability and interest. If you are a student then you will remain in high spirits and realize the importance of time and may opt learn and earn policy.
December
You are likely to experience a good time in the areas of work and finance. At your workplace, you will impress your seniors with the quality of your work and you will be rewarded with an authoritative post. You will get honor and also earn more respect. At financial front, good cash flow is expected and you will enjoy all the comforts of life. All your investments made during this time will give you beneficial results. Time is favorable for business expansion. If we talk about your domestic life, there will be unity, love, peace and harmony according to Aquarius 2018 predictions. Overall, you will enjoy a congenial surroundings at home. Also, you will have a very pleasant marital life. You both will be able to maintain the sweetness of your relationship and the love between you will increase by each passing day. People will see the assertive part of your personality and your popularity will also increase.