Eclipse 2019: Dates for Solar and Lunar Eclipses 2019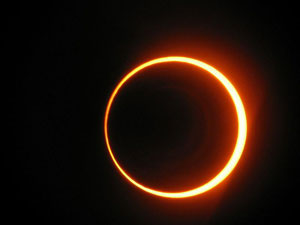 The year 2019 will witness five eclipses, three of which are solar and two are lunar eclipses. As per religious belief, Rahu and Ketu are the reason behind eclipses. This is, however, a celestial phenomenon and is in accordance with the religious belief on the grounds of taking certain precautions. For instance, looking at the eclipse with naked eyes is prohibited in both. This article discusses all the important aspects of an eclipse, but before we proceed, understanding the eclipses in 2019 is important.
Solar Eclipses in 2019
| Date | Day | Time | Type |
| --- | --- | --- | --- |
| 6 January 2019 | Sunday | From 05:04:08 to 09:18:46 | Partial |
| 2-3 July 2019 | Tuesday | From 23:31:08 to 02:14:46 | Total |
| 26 December 2019 | Thursday | From 08:17:02 to 10:57:09 | Annular |
Note: The table displays time as per Indian time zone.
Read in detail: Solar Eclipse 2019
First Solar Eclipse 2019
As per astrological calculations, the first solar eclipse in 2019 will be seen on January 06. It will take place in Sagittarius sign and Purvashada Nakshatra (constellation). The time of eclipse, as per Indian time will be 5:04 pm. The eclipse will last for about 4 hrs and 14 minutes, and will be over at 9:18 pm.
This eclipse can be seen in Middle East China, Japan, North-South Korea, North-Eastern Russia, Middle-Eastern Mongolia, Pacific Ocean, and west coasts of Alaska. Neither it will be visible in India, nor Sutak will apply to people living in the country.
Second Solar Eclipse 2019
On the night of June 02, a solar eclipse will commence at 11:31 pm and will continue till June 03, 02:14 am. It will mark its effect in the regions of Chile, Argentina Pacific and Southern America. In India, it will not be impactful. The visibility of eclipse will be zero and sutak will not apply. This eclipse will take place in Gemini sign and Ardra Nakshatra.
Third Solar Eclipse 2019
The final solar eclipse for the year 2019 is on Thursday, December 26. The time period of eclipse will be 08:17 am to 10:57 am. This will be the only solar eclipse in 2019 which will be visible in India. The areas under its influence include Eastern Europe, Asia, Northern/Western Australia and Eastern Africa. The precautions for Sutak must be taken during this eclipse.
This eclipse will take place in Sagittarius sign and Mool nakshatra. The sutak period will begin from 5:33 pm, a day before the eclipse, till 10:57 am on the day of eclipse.
Lunar Eclipses in 2019
| Date | Day | Time | Type |
| --- | --- | --- | --- |
| 21 January 2019 | Monday | From 08:07:34 to 13:07:03 | Total |
| 16 July 2019 | Tuesday | From 01:31:43 to 04:29:39 | Partial |
Note: The above table is based on Indian timing zone.
Read in detail: Lunar Eclipse 2019
First Lunar Eclipse 2019
On January 21, the first Lunar Eclipse of 2019 will take place from 08:07:34 am till 01:07:03 pm. This will be a partial lunar eclipse visible in Central Pacific region, North and South America, Europe and Africa. Indian subcontinent will remain unaffected by this eclipse, hence, sutak shall not be observed for this chandra grahan. Astrological calculation suggests that this eclipse will be observed in cancer sign and Pushya Nakshatra.
Second Lunar Eclipse in 2019
Another partial Lunar Eclipse can be seen on July 16, 2019. Southern America, Europe, Africa, Australia and Asia including India will experience this eclipse. The sutak period for this in India will begin at 15:55:13 on July 16 and continue till 04:29:50 on July 17. This chandra grahan will take place in Uttarashada Nakshatra Sagittarius sign.
Sutak Period
An inauspicious period that accompanies an eclipse is called as Sutak. Starting new tasks, touching idols etc. is prohibited during this time. The phase requires you to remain calm and take certain precautions which are as follows:
Initiating a new project
Consuming or cooking meals
Using the toilet
Coming in contact with Tulsi plant or idols of gods and goddesses
Combing of hair or cleaning of teeth
Do's & Don'ts for Pregnant Women
Do not try to see the eclipse.
Avoid doing any work related to embroidery or stitching.
Make sure you do not use sharp objects like a knife or scissors.
Cutting and peeling of fruits and vegetables must be avoided.
Try to stay at home during the eclipse and avoid going outside.
Tasks to be Performed During Sutak
Evening bhajans, praying to god and exercising is considered good.
Chanting mantras or slokas of Lord Sun and Lord Moon should be done.
Post-eclipse purifying the house with holy water (gangajal) is auspicious.
Bathing after the eclipse is over is mandatory.
Cooking fresh food and taking your meal after the grahan is over is a better practice.
The idols of gods and goddesses must be washed in holy water after the eclipse is over.
Astrological Aspects of Eclipse
Eclipse is not just a celestial phenomenon in astrological terms. An individual can also suffer from 'grahan dosha' owing to the impact of an eclipse. The impact of such a dosha can lead to problems of various kinds. When in the Lagna Kundali of a person, Sun or Moon resides with Rahu or Ketu in the twelfth house, it is believed that the person is suffering from grahan dosha. Other than this, if in the house of Sun or Moon, either of the two shadow planets - Rahu or Ketu - is present, it will also be termed as grahan dosha.
Hope you liked this article about Eclipses 2019.
Thanks for visiting our website!