Lohri 2020
Lohri 2020, the harvesting festival of Punjab, is celebrated on January 13 every year, history will repeat itself. The festival of Lohri is celebrated at the end of the autumn season, and the Punjabi community celebrates the day by dancing singing and organising feasts. From children to older adults, everybody celebrates this festival with unmatched enthusiasm. Some states in North India like Uttar Pradesh, Haryana, Himachal Pradesh, Jammu and Kashmir also celebrate this festival of Lohri. In other regions of the country, there are harvesting festivals celebrated at the same time but marked with different customs.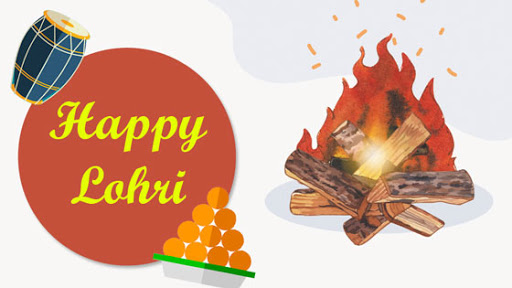 In the celebration of Lohri, Punjabi community, as well as others, participate actively. The festival of Lohri is celebrated a day before Makar Sankranti. Hence, it is related to the transit of Sun in Capricorn. As soon as the new year begins, Lohri's preparations also start. The nights are shorter compared to a day after this festival. The weather starts getting warmer, and farmers prepare for the yield. Those who do not work in farms also take part in the event by giving greetings to each other and Prasad of Lohri. Everyone prays for a happy life of their family members, and if it is the first Lohri of a newborn or a newlywed couple, the celebration is particularly grand.
In this festival (Lohri 2020) prasad is distributed among friends, family and neighbours. People pray for a good yield, for their family members and prosperity. People sing and dance to portray their joy. Gidda and Bhangra on the beats of Dhol are prominent traditional dance forms practised on the day. Bonfire is lit, and people sit around it, enjoying the warmth in the cold month of Paush. Gathering around the bonfire at night not only brings warmth to our bodies but to our relations. Family members take this opportunity as that of a get-together in which there's food, laughter, music, dance and much happiness.
Read More: Makar Sankranti 2020
Beliefs associated with Lohri 2020
Like all other festivals, there are many reasons in the history for celebrating Lohri. According to Hindu calendar, Lohri festival has been linked to Vikram Samvat and Makar Sankranti. According to the popular norms, this festival is celebrated at the closing of autumn and is seen as the new year of farmers. There is folklore behind celebrating Lohri as well.
Mythological Stories Related to Lohri 2020
According to ancient belief, Lord Vishnu's incarnation Shri Krishna was born in Dwapar era. Kans, his uncle who was aware that Krishna would become the reason for his death made several attempts to kill him. Once, he sent the demon named Lohit to kill Shri Krishna in Gokul while all the people were busy celebrating the festival of Makar Sankranti. Bal Krishna killed the beast, and the festival Lohri was named after the demon named Lohit.

Even in Sindhi society, this festival is celebrated as Lal Loi. Agni is the chief deity of this festival, therefore on this day, chivda, sesame, peanut, murmure are offered to the fire.

On this day, daughter of saint Prajapati and wife of Lord Shiva Sati burnt herself in the fire angered by the inappropriate behaviour of his father. In her memory, the fire is lit on the day of Lohri.

Sun is not just a fireball but the most significant source of energy on Earth; therefore sun and fire are worshipped on this day. Farmers celebrate this when they harvest Rabi crops to please the Gods.
Read More: Holi 2020
Lohri 2020: Astrological Belief
According to astrology, festivals are celebrated so that future generations can learn to imitate their customs and traditions. The purpose of celebrating this festival of Lohri is also linked to health. There is bitting cold in Paush month. By sitting around the fire, our body feels warm and eating jaggery, sesame, gajak, peanuts, is considered good during the winter season as these food items have ingredients which make our bodies capable of withstanding such weather.
Three things are included in this word "Lohri," i.e. 'L' as wood, O, representing Cow Dung and D represents Rabri. All three are the centre point of this festival. It is considered a celebration of harvesting. On this particular day, people give blessings to newborn children and daughter in laws. Women sing Punjabi songs, wear traditional clothes and worship God.
Lohri 2020: Traditions
Lohri is celebrated with great enthusiasm and pomp. It is a festival of sharing happiness and love. The people of Punjabi community thank the almighty and worship Lord of fire and later Rebadi Gajak are distributed as prasad in this festival (Lohri 2020). Women get dressed in ethnic attire. Folk dance and traditional looks make the sight illuminating. Smiling faces fill the cold night with great energy.
On this day people invite their family members with respect and celebrate the festival with them, they also give many types of gifts and sweets to their daughters. The house where a boy child is born or the marriage of a son takes place, Lohri celebrations are on another level. Traditionally, children went from house to house, collecting wood, food items and money, and sang Lohri songs to ask for their treat. They are also offered gajak, rebdi, peanuts and popcorn. In the form of prasad, mainly five things are distributed, which are sesame seeds, gajak, peanuts, jaggery and popcorn. Nobody sends the children back empty-handed as it is considered bad.
Farmers celebrate Lohri to wish for high crop yield and prosperity. The prayers are made so food is always in abundance and nobody in the world goes to bed empty stomach. Nowadays people celebrate festivals simply to get an opportunity to be with their family. Taking out time from our busy schedules is a task not very convenient to do. But festivals give us the chance to share happiness and love.
People of Punjab and Haryana consider flying kites on this day to be auspicious. The traditional food of Punjab i.e. Sarso ka saag and Makki ki roti are made as these crops are prominent.
Lohri 2020: Dulla Bhatti
Dulla Bhatti is an inseparable name that we often hear when Lohri is around the corner. Also known as the Robinhood of Punjab, he is honoured, remembered and sung about on the occasion of Lohri. His name is mentioned in many songs sung on Lohri. Dulla Bhatti is known not only to honour women but also to serve the poor and also to receive respect as a warrior, who always fought to protect his nation and community.
During Akbar's reign, many Rajputs took the path of revolt instead of kneeling. One of these Bhatti Rajputs there was a famous warrior named Dulla Bhatti. Pindi Bhattian were his ancestors. He used to rob money from rich people and distribute it among the poor. Another campaign that he ran was helping in the marriage of poor Hindus & Sikh girls, to whom imperial landlords and rulers used to look with lousy vision. These girls were kidnapped to be kept as slaves or sold in the slave market. Dulla Bhatti used to find grooms for those girls and helped arrange their marriage. When he came to know about two poor sisters named Sundari and Mundari, who were brought by the landlord and had no one who could protect them, he decided to take action. Dulla having found the bridegroom for both of her, and after collecting lumber in the forest, in the absence of any pandit himself completed the marriage rituals. He could not arrange dowry and gifts for both, so he sent them only sugar.
Dulla Bhatti went against the emperor and for his bravery, is worshipped as a symbol of fearlessness, truth, and faith, by incorporating his name in songs of Lohri. He is an example for coming generations who can learn from his valour and understand the right way to live life.
Lohri 2020: Importance of Lohri Songs
Music, tradition or folklore, all have one reason for their existence which is to pass on cultural values from one generation to the other. If we know Ramayana today, it is not because it was written some centuries ago and we preserved the texts. We know it because elderly people used to speak about it, sing songs about it and did their best to keep its spirit alive. Folk music is based on mythology or incidents that took place and offer us information that no book contains. There still are stories having no mention about, yet are believed to be true. Folk music or songs on Lohri are sung for the same reason. Music has a healing effect, it can change your mood and is a remedy to depression. In our culture, music has always been a group activity as it sends the vibes of warmth, care and affection. When people sing and dance together, they come closer and this also helps in remembering important things in life. This is a reason why prayers are usually sung and music adds to its appeal.
MyKundali wishes you a Happy Lohri 2020!