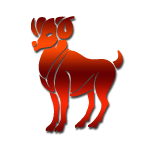 Health: There can be a possibility of any kind of injury, etc. There are also chances of an increase in unnecessary physical problems. You are likely to acquire some blood-related disorders. In such situations, it would be good for you to be careful regarding your health.

Love/Marriage/Personal Relations: During this month's time, the circumstances will be favorable in terms of your love relationships. If you are in a love relationship with someone then you could feel quite enthusiastic about your love affair this month and by sharing good emotions towards each other, you can try to feel better in your love relationship. There is a possibility for you to have a cordial relationship with your boyfriend/girlfriend. If you want to share your feelings with your partner/ lover by presenting them a nice gift, then you can do it during this month. If you are planning to hangout somewhere, then you can go for it as you'll get a good opportunity to do so. Keeping a sense of trust and a feeling of cooperation towards each other, both of you can generate more sweetness in your love relationship. In this month, situations are going to be favorable in terms of your married life. You are likely to receive a lot of support from your life partner.

Advice: On Tuesdays, worship Hanumanji and donate red coloured goods. It may be beneficial for you to fast and worship on Tuesdays. You can also apply jasmine oil and vermilion on Lord Hanuman's idol on Tuesdays.

General: Aries natives generally tend to develop a fiery temperament. You are grumpy in nature and its repercussions create adverse circumstances for your professional sphere. Even the smoothly running works could also get spoiled, hence in such crucial situations, you should always prefer working carefully. Try to avoid doing any work in haste as it can fail to generate the fruits of success. You have the ability to accomplish any task with courage and enthusiasm. Thereby, the possibilities for you to get success in your work are found to be high. But however, on the other hand, you might face loss if you keep on working in stressful conditions. You should try to perform any undertaken work with consistency and seriousness. In this month, various situations will be favorable in terms of wealth and from the real estate point of view. Your relationships with your close relatives may also get better. There are possibilities for you to achieve good success in any field of work in which you would like to put in your efforts. Along with obtaining the required courage and strength, you will also get the opportunity to gain the post, position, and progress, etc in terms of your work. Job holders may acquire a good position. There are also probabilities for the conditions to likely improve in terms of your finances. You can receive the comforts of vehicle, house and etc during the month's time. By successfully maintaining a good relationship with your parents, you are likely to receive their support. There are chances for the family conditions to be favorable as happiness will prevail over the household. In such cases, you can get better results in any work along with the help of your family members. If you are a politician then you are liable to lay hands on opportunities to obtain political gains. You can make contacts with some higher level officials who could benefit you to gain political advantages. The possibilities will also be quite good from your children's side. There can be an increase in the happiness you receive from your children and also in the intensity of your love relationship. If you are pursuing any professional course or preparing for Competitive exams, then this month's time can yield you good results. The situations pertaining to your health will be in normal. Enemies will also remain dormant. If there is an ongoing dispute, then efforts can be made to get rid of it and you are also likely to be successful in it. Your overseas travelling prospects and your married life will move forth in a better direction. In this month, you can gain good success through such an overseas trip or through any abroad related work. If you do business then you will get good opportunities to gain financial benefits from the perspective of profits and returns. As Saturn is transiting in Sagittarius, it is optimistically going to create good prospects for you to earn money in terms of business. Therefore, you are able to achieve good success. You may have to take unnecessary trips this month to fulfill the requirements at work. It will be good for you if you properly think and understand things before taking up any activity. The dates 6,7,15,16 and 24,25 can give birth to stressful situations this month. Therefore, performing any important work in this duration can be disadvantageous. It is advised to observe cautiousness during this month.

Finance: There is a possibility for the efforts made for economic benefits to be successful. If you are diligent about the fulfillment of your purpose in any of your work or business and are trying for it, then you can get good results in it. If you do a job and also trying to earn profits related to some kind of business, then you may get success in this month. If you do business then you can also get opportunities to gain financial benefits. It would be better for you if you try to be aware and work accordingly while considering the time and situation. Being careful while dealing with financial transactions and exchanging money with someone according to time will be good for you. Do not make any approaches for any kind of huge investments. Try to proceed further in normal conditions, so that your purpose of achieving economic benefits can be fulfilled. If you are diligent in the areas of outside work or you want to make contacts for it, then positive results are likely to come into the forefront. You can also get the support from your relatives in financial matters. But it would be better for you to have faith in yourself and do your work on your own.

Family & Friends: Your relationship with your parents and the bond of consonance can get better and better during the time of this month. There can be a rise in unnecessary concerns about the health of your parents. In such cases, it would be good for you to take care of your them. Because only with the blessings of your father and mother, all kinds of troubles can get eliminated and you can also achieve good progress in your business through them only. There are all sorts of possibilities for you to likely receive support from your siblings, relatives, and friends. In this month, the mutual harmony in the family can improve. You can make any work successful with the support of your family members. If you are longing for the support of your kinsmen in any kind of work or business, then you can get it. Consequently, it will give a better direction to both your financial status and your business. In this month, some auspicious event may also take place in the household. Therefore, it will be good for you to maintain a good atmosphere in the house and the household members to offer support to each other. It would be better for you if you try to perform your work wisely rather than listening to any other person's advice and also try to maintain a good harmony with your family.