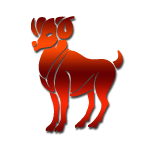 Health: October is going to be somewhat loose in terms of health. Small problems will remain a part of your life. Both Sun and Mars are placed in the sixth house. This can cause some physical problems. There may be problems like fever, headache, blood pressure, boils, bleeding, etc. If you have trouble with blood pressure then you need to be very careful. Take the aid of Yoga and exercise etc. Unprovoked mental stress can occur. The royal plant Sun will be changing zodiac signs on October 17 will certainly provide you with some benefits in the field of health.

Career: From the career point of view, your professional life in the month of October has positive results in store for you. Whether you are a self employed person or a business professional, the month's time will be quite favourable for you. Your hard work and diligence will pave the way for success. Your practical attitude will lead the way to prosperity and this will inherently improve your performance. Profits are on the cards and you would get praised by your peers. If you were anticipating a promotion, then this month may carry some good news for you. If you are into any such work which requires the support of the government, then October is the month for you. However, you are advised to deal with legal matters and necessary decisions very carefully.

Love/Marriage/Personal Relations: The natives belonging to this sign who are in a romantic relationship will come across some severe ups and downs during October. Extreme amounts of patience and understanding would be required on your part to make things work. The ruling Lord of the fifth house will move into your sixth house, which is already under the occupancy of Mars. The conjunction of Sun and Mars may bring a certain kind of routine to your behaviour. You may find it difficult to work in accordance with your partner which can bring bitterness to your relationship. A separation like situation may also get formed which is why you are advised to behave very carefully. Try to remain calm as much as you can. Do not trust a third person when it comes to your relationship. It is during the first half of the month that you should remain extremely careful of these things. On 17 October, with the transit of the Sun in Libra, the ongoing misunderstandings will come to an end finally. Let us now talk about the fate of married natives during this month. Conjugal life will remain blissful. The compatibility between the two of you will be great and so will be the mutual attraction. There will be an improvement in intimate relations after the planet Venus moves into your eighth house on the 2nd of October. Relations with your in-laws will also remain stable. During the conclusive phase of this month, you may plan to take a long distance trip with your life partner.

Advice: On Tuesday, wear Coral gemstone in a copper ring on your ring finger. You should recite Hanuman Chalisa, visit Lord Hanuman ji's temple and offer him a Chola on Tuesday. Arghya must be offered to the Lord Sun on Sunday. This will benefit you. Apply saffron tilak on your forehead daily. Serve your father and wake up every morning and touch his feet.

General: The month of October will have the mixed results in store for you. Professionally speaking, this will turn out to be a quite joyous month for you. However, with regards to your education, some amalgamated results are on the cards. You should remain extremely careful while making any transaction. If we talk about your academic life, then you will be provided with multiple opportunities to remain at the receiving end of success provided you keep a check on your unstable nature. Struggles will continue to exist but they will not prevail over you. Your stature and reputation within your family will increase and closeness between family members will improve too. The initial half of the month is expected to remain adverse for love related matters. A patient mind along with a pleasant speech is all you need to get through such difficult times. Married natives will come across a favourable time. With regards to monetary matters, mixed results are in store again. Income will remain stable but your spendthrift nature can cause some serious troubles. At the very beginning of the month, your health may remain in low spirits but it will return back to its normal state during the latter half of the month.

Finance: From an economic perspective, the month's time can be full of some ups and downs. The month will start in a normal way. The sources of income will remain open, but you have a lot of hope left from others as well. With the help of governance and administration, your work will speed up and will also bring in benefits. There are good benefits in store for those working in the government sector. The latter half of the month will be relatively favorable. There will be an increase in profit in business, but there can be some unnecessary expenses. Your tendency to spend excessively in this time can dominate you. You can take vanity to show your influence-dominance, splendor. It is important to avoid it. You can invest money in a place from where you are not going to get anything special. With an increase in income, you can have the tendency of procuring luxury items. There is a possibility of money losses cropping up, so try to remain cautious. Consider making an investment, etc., only after consulting with your spouse and family members.

Family & Friends: From the point of view of a family life, this month will prove to be quite favourable. An atmosphere of peace and serenity will be witnessed in your household. Multiple opportunities will be provided to spend quality time with your family members. The expansion of both Jupiter and Saturn is in your fourth house. Along with your social responsibilities, you will be seen taking very good care of your domestic responsibilities because of which your importance within your household will increase. You will maintain a very good rapport with everyone. You should focus on maintaining the unity of your family. If your siblings happen to be your business partners, then profits are on the cards. Do not hesitate to help out your younger siblings. You will acquire the support of your father. Monetary profits are also on the cards. During the initial part of the month, your children may encounter some problems. However, the second half will turn out to be quite promising.