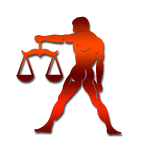 Health: Being careful about your well being will guard you against many health issues. Problems like cold, cough, fever, etc. might crop up every now and then. Major systems of the body like urinary system, circulatory system, and digestive system, etc. might be affected as well. You are recommended to consume a nutritionally balanced diet and follow a regular exercise regime.

Love/Marriage/Personal Relations: There might be some chaos in your love life. A communication gap might lead to misunderstandings, which will affect your relationship adversely. You should try to communicate well with your spouse and find the crux of the matter, instead of finding faults in each other. You should trust each other and try to respect one another's point of view if you intend to make your relationship work. Unnecessary discussions are likely to turn into arguments and hence, they should be avoided. Do not indulge in any activity that might hurt the sentiments of your partner. Do not forget to remind your partner how important he/she is to you. This will help you to strengthen your relationship. Pour your heart out to them and understand their perspective as well. The planetary positions are predicting the presence of some problems in your married life during this month. You will be able to deal with them easily if you try to. Be gentle and caring towards your spouse and try to maintain a good relationship with him/her. You should not let your marriage fall apart because of some petty issues. Fulfill your duties as a responsible partner if you want your spouse to fulfill his/hers.

Advice: You should donate white objects on Friday. Also, consuming white colored foods will be favourable for you. Helping the old people will help you sail through difficulties. Observing fasts and performing Puja rituals will also help you to overcome the hurdles standing in your way to success.

General: The September Horoscope 2019 predicts that you will exhibit a sorted behaviour during this month, who will also be able to think well before making a move. Your courage and valour coupled with your determination will help you pave your way to success. Excellent leadership qualities will be possessed which will help you to excel in your field of work. You will get involved in social work and as a result, you will garner respect in society. A great friend circle will be maintained and you will easily befriend any new people you meet. However, you are advised not to trust anyone instantly without knowing them, otherwise, you might have to repent it later. You might have put some extra efforts in order to get the results that you aim for. This might put a strain on your body as well as on your mind. Therefore, you should work as hard as per your body permits. Overdoing it will pose harsh consequences in the long run. You will get some golden opportunities that you need to make use of if you want to make your dreams come true. If you run a business, you will witness a boom period, which will help you to earn well. You should spend your money wisely and save the surplus for future usage. Luck will favour you and you will be able to get a promotion or a hike in salary. A trip to an overseas country will be taken if you have been looking forward to it. Foreign connections will provide assistance in your line of work. Financial gains and profits will bring happiness in your life. You will be able to provide your children with their basic necessities. They will bask in luxuries. Do not get laziness kill your time and let the chances to make money slip out of your hand. Enemies will try to overpower you but you will be able to tackle them with ease. You need to be careful about what you eat as your digestive tract will be at risk during this month. Also, you should be active and exercise regularly if you want to keep yourself in good kilter. Do not get involved in trivial matters and do not trigger an argument at your workplace. If you are a student, you will be able to pass with flying colors. You should focus on your studies and manage your time effectively. If you are preparing for competitive examinations, you might hit your goal with hard work and tenacity. Your love life will have some ups and downs. There might be tough times but if you deal with them in a proper manner, you will witness a bright future for your bond. The relationship with your parents will get better during this month but their health might degrade, which needs to be taken care of. You will be in the advantageous zone if you are involved in politics. The support and cooperation from your friends will keep flowing in and during this time, you will realise who your true allies are. You should be careful on the 1st, 2nd, 10th, 11th, 19th and 20th of this month. You might remain stressed and tensed in these dates. Thus, you should avoid taking any important decisions during the above mentioned time period.

Finance: The monetary gains that you have been waiting for might fall into your lap during September. If you have invested your money earlier, you might be able to reap the fruits of your labour during the span of this month. The transit of the luminary Sun and the planet Mercury in the Zodiac Sign Leo will lead to financial gains during the first half of the month. If you are into a business, there is a racing certainty that you will strike it rich during this period. Those who are working in the private or the public sector will get loaded with financial gains if they have made an investment in the past for the present time. The people who are looking forward to starting a new business might get the chance to lay its foundation. Also, you might also chance upon a good business-partner for your venture. There might be some opposition from those who will be jealous of your success. Also, a financial dispute can take place between you and your family members. Hence, you should be careful about it.

Family & Friends: The conditions in your domestic life will be favourable. There are no chances of unnecessary arguments and tiffs taking place between the members of your family. Kinsmen will make progress in their lives. Your kith and kin will have trust in each other that will keep your family together. However, the intervention of an outsider might disturb the fine balance of your household. Thus, you should remember to be careful of such an intrusion. Alert your family members if you witness any person sowing the seeds of hatred. You should respect your parents and take care of their health. In case that their health status deteriorates, you should seek medical attention without any delay. Catering to the needs of your family members will be one of your duties towards them, which you should fulfil with all your heart. Try to maintain a peaceful atmosphere in the home premises.