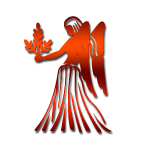 Health: This month there are indications of some minor ailments or health problems happening to you, mainly because of the weather change triggered by the movement of the ascendant lord Mercury in the fourth house in the "Paap Kartari" Yoga. So, do not expose yourself to the cold weather and take care of your diet. Though these illnesses may not be of serious nature, but may still leave you frustrated and agitated. The position of the Saturn in the fifth house also indicates that your children might face some stomach related issues during this period. So, giving full attention to their diet is very necessary during this month. If you are expecting, then you need to take precautions and advice from the doctors, even if you feel a niggle, no negligibility should be there on this part. Elderly people may get good relief from the previous ailments during this time of the month. Though, they are advised to take their medicines on time. The position of the Sun, twelfth house lord in the fourth from 16th December can sometimes trigger anxiety and restlessness issues in terms of health, which can manifest in physical forms. This can lead to some sleep disorders and abdomen issues. So, stay away from stress and take proper rest during this month.

Career: This month is going to provide favorable results in terms of career and profession for the natives born under the sign of the maiden. The transit of Mars in your third house at the start of the week will make you courageous and you will not shy away from taking bold initiatives for your business and profession leading to accomplish pending tasks. This month is also good for initiating some new projects as you are likely to get the necessary support and encouragement from your subordinates as well. The aspect of the Mercury, your tenth house lord, on its own tenth house during the second week will also make you more organised and structured in your work. This will enable you to increase your productivity and efficiency. As the ascendant lord and tenth house lord is situated in the fourth house can make you easily confined to your comfort zone, which can affect the hard work done during the initial days. Some of you may also prefer to work from the security of your home during this month as the fourth house is very active during this month. Those in the fields of administration, government and management are likely to receive desirable results, rewards and appreciation. Those unhappy with their previous jobs are likely to get new jobs in the desired fields during this month of December 2021. Overall, a great month for professionals, you just need to move out of your comfort zone and utilise Mars energy properly.

Love/Marriage/Personal Relations: This month is going to provide mixed and interesting results for the Virgo natives. The presence of the fifth house Lord Saturn in the fifth is good for the love birds, you will be able to find solutions to any difficulties and ups and downs in your love life. The transit of Venus, your second and ninth house lord in the fifth house during the second week will provide a window of opportunity for the single natives. They may get to meet someone who may intrigue or fascinate them. The committed couples may be willing to spend quality time together, which may further strengthen their bond in the relationships. Also, for some of you looking to take their relationship to the next level, this is a good time to take the approval of their parents as there are very high chances of getting positive results. However, for married natives, the aspect of the sixth house Saturn on the seventh house and the aspect of the eighth house lord Mars on the seventh lord Jupiter indicates adverse results. Due to these combinations, the health of your spouse may remain weak or fragile, which will be a source of mental tension and worry for you. So, give your spouse all the attention and care they need during this month of December 2021.

Advice: Wearing an emerald ring crafted in gold or silver in your right-hand ring finger. Offering your services and green fodder to the cows. Worshipping Lord Ganesha by reciting Ganesha Atharvshirsha daily in the morning. Offering gifts and presents to the maternal aunts like Mausi, Mami. Wear green colour clothes on Wednesday. Offering arghya to the Sun ( especially for health)

General: The natives born under the sign of the maiden are likely to receive beneficial results in their professional arena and at the workplace. The support from the subordinates and appreciation from the seniors is likely to provide great impetus for your career. Some of you may also prefer to work from home during this month as you will be more inclined to spend quality time with your family. In terms of education, the students who are studying in the fields of creativity, designing will fare good results. Some of you seeking admissions abroad are likely to receive positive results during this month. In terms of personal life, your camaraderie with siblings is likely to increase during this month. You will be inclined to spend quality time with your family, that is likely to strengthen your bond with family members, though mother's health may cause some scare. Some of you may either host or participate in auspicious happenings during this month. Also, this month will be very good for the single natives as they will get a chance to profess their feelings to the one they like. Committed couples may get an opportunity to take their relationship to the next level. However, for married natives, the health of the spouse may remain a source of worry and stress. On the monetary front, a surge in income will help you to ward off your debts and liabilities. Businessmen are also likely to register profits, however, those looking for partnerships may have to wait, as entering partnerships will lead to losses in this duration. Though, seasonal changes in weather may keep you on your toes as far as the health part is concerned. Overall, a great month filled with possibilities and opportunities.

Finance: In terms of fiscal and monetary benefits, this month will prove to be an auspicious month for you. The combination of the second, ninth house lord Venus with the fifth house lord Saturn after the 10th December will prove to be rewarding. Businessmen born under the sign of maiden are likely to earn maximum profits during this month. Those of you looking to settle your liabilities and debts will be able to do it due to the sudden surge in your income during this month of December 2021. During the month of December 2021, the majority of the time maximum planets will be in the dual signs indicating that those in public dealing sectors or banking sectors are likely to receive favorable results. For traders, a good time to invest in different or various fields in the market. The movement of the third house Mars in the third house itself will benefit those working in the communication and travel sectors as they are likely to witness a boom in their income and profits. Although, the presence of Jupiter in the sixth house is not suitable for businessmen looking to enter into relationships. However, those of you who are self-employed are likely to earn great profits. This month is also going to bring new opportunities and investments for you. So, overall a great month for the Virgo natives in terms of finances.

Family & Friends: The family will play an important role for the natives born under the sign of the maiden. The transit of Mars in the third house during the first week is a very good transit and indicates that you are likely to get good support and affection from your siblings. Any problems or disputes with them are likely to get resolved. There are also very high chances of you planning to travel together with them to their favourite destinations. You may also support your siblings in their profession and business. The movement of the Mercury in your fourth during the second week is also likely to make you participate in your family and household affairs. You may also take keen interest to get the repair work or any construction during this time of the month. Your relationship with your mother is also likely to improve and hit a new dimension. However, with the transit of the Sun in your fourth house from 16th December may have negative effects on the health of your mother. So, take care of her health and spend as much quality time with her. Also, during this time the second house lord Venus' movement into the fifth house with the fifth house may indicate some auspicious happenings in the family for some of the Virgo natives. So, overall a great transit in terms of family matters.