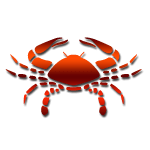 Health: According to Cancer Health Horoscope 2023, the beginning of the year will be slightly weak in terms of health. As of January 17 Shani Maharaj will be transiting through the eighth house of your horoscope, which has the potential to lead to some long-term issues. In order to prevent this from happening you must continuously pay attention to your health, obtain regular medical exams and fully understand your health so that you can start treating any diseases as soon as they appear. May has a chance to turn out to be the poorest month in terms of health. You can develop a chest infection or a lung infection at this time, or you might complain of pneumonia brought on by a cold. We are also being urged to switch doctors if you still have discomfort. June through July will be a good time for your health and you can also get rid of any lingering health-related issues. Due to carelessness and lack of self-care you may experience several common physical issues between August and September; however, Cancer Horoscope 2023 advises you that if you eat well, you can greatly reduce the likelihood of these issues. The months of November and December show signs of health improvement.

Career: According to the Vedic astrology-based Cancer Yearly Horoscope 2023 for career Cancer natives will have to deal with some positive adjustments at the start of the year. On January 17, Saturn will enter your eighth house, giving you the ability to handle mental stress while still performing effectively in your career and business. Your desire to work in your field will grow and thanks to Jupiter luck will also be seen to be on your side. This season also foretells a change in employment and a boost in pay but in May, a special Rahu Chandal dosha effect will be seen which could cause you a little discomfort. You need to keep your emotions under control at this time. You must avoid getting involved in any type of conflict at work. Your line of work could alter on October 30 when Rahu Maharaj enters your ninth house. You might be transferred but it will be for the best of your career and in your best interests. The final few months of the year will see you advance and reach new levels in your work.

Love/Marriage/Personal Relations: The Cancer Love Horoscope 2023 predicts that relationships between Cancer people will experience ups and downs in 2023. The presence of Mars in the fifth house at the start of the year may cause conflict and tension but Jupiter's favor will keep your partnership going strong. You will be able to keep your relationship going despite many difficulties till April. In the month of May there will be more conflict between the two of you and the stress from your job may make things worse. Following that you'll have a great deal of compatibility and comfort in your connection. Your intimate ties will grow throughout the month of June, and you'll consider moving forward in your relationship and possibly even considering marriage. According to Cancer Horoscope 2023 your relationship will become more romantic in the final month of the year and you will share joyful moments with your special someone.

Trade & Finance: Cancer Horoscope 2023 For those involved in the business sphere, Cancer predicts that this year will be full of ups and downs. There will likely be ups and downs in business because Saturn will be in the seventh house at the start of the year and Rahu Maharaj will be in the tenth house. The business will then advance gradually as Saturn, the lord of the seventh house, spends the rest of the year in the eighth house. Although it will go slowly, your business will nevertheless grow. You will make significant success in your business this year, especially between October and December, and the issues that were present in the past will diminish. Between April and August, there can be some friction in the economic world before that. It may be required for you to work on some of these plans, which you will not enjoy, and it will be your obligation to do business in accordance with them on behalf of the government. There will be pressure on you throughout this period, and you'll feel like it's crucial to abide by certain laws. But after that, things will get better, and you'll be able to gradually grow your firm. According to the Cancer Horoscope 2023, between July and November of this year, you might experience a memorable occasion, and between October and December, extensive trips will provide you the opportunity to meet new people. Business-related travel will produce favorable outcomes.

Advice: A full moon should be observed as a fast. On the day of Vaar, worship should be offered to Lord Shiva in his Chandrashekhar avatar. Reciting the Shivashtak or Shri Shiv Sahasranama Stotra will also be helpful. You will become healthier and achieve business progress if you fast on Monday. You will gain a lot from wearing a high-quality pearl gem. You can put this stone on your junior finger on Monday during the Shukla Paksha. Reciting the Shri Shiv Tandava Stotra will help you if you're sick or dealing with a difficult problem.

Lucky Number: The lucky numbers for those born under the sign of Cancer are 2 and 6. The Moon is the ruling planet of Cancer. The total number for the year 2023, according to astrology's 2023 horoscope, will be 7. As a result, this year may prove to be a little better than average for those born under the sign of Cancer. It will also occasionally bring about favorable combinations for you. You will face many obstacles, but some of them can be the result of your own errors and negligence. Your education and religious faith will help you overcome your situation. You must have self-confidence for this.

General: By reading this special article based on the Cancer Horoscope 2023 you will have the opportunity to learn and comprehend what kind of changes will occur in the lives of Cancerians during the year 2023. Cancer Horoscope 2023 article offers forecasts for many aspects of your life, including your job, business, financial situation, educational career, love life, marital happiness, home, car and health. The Cancer horoscope 2023 will also be helpful in letting you know where you will need to put in more effort in order to succeed in 2023 as well as where you will see success. When and which time will be more beneficial for you and when and which time will be less favorable in whichever aspect of your life. This horoscope will help you learn more about all of this. This Cancer Annual horoscope 2023 has been written by renowned AstroSage astrologer Dr. Mrigaank. This article will outline the characteristics of the Cancer zodiac sign for the year 2023 and provide the annual Cancer horoscope 2023. According to the 2023 horoscope, this year the effect of Shani Dhaiya, also known as Kantak Shani, will commence at the beginning of the year for people born under the sign of Cancer because on January 17 Saturn will enter your zodiac's eighth house and will remain seated in this house throughout the year so you will experience the effects of Saturn's position. Jupiter the lord of your destiny will be placed in the position of your destiny at the beginning of the year. It will continue to protect you in every way and continue to bring you prosperity in life. On April 22 when it enters Aries and then Jupiter will transit in Rahu in the tenth house of your horoscope forming Guru Chandal Dosh especially in the month of May. Rahu will then leave your place of Karma and enter your place of luck and Ketu will transit in your third house on October 30. It seems like a good time to take a big trip right now. You will have a great experience traveling to long distances in this scenario. In addition to this all the other planets will continue to transit sometimes. This article will cover everything you need to know about how their transits will affect you and what parts of your life they will impact. Cancer Horoscope 2023 foretells that the year 2023 will prove to be very significant in the lives of those born under the sign of Cancer as predicted by Cancer horoscope 2023 because while the influence of Saturn in the eighth house could negatively impact your mental health and cause you to experience mental stress it can also positively impact your career. You can achieve success in various areas of your life with the help of Jupiter blessings which will strengthen your luck. You will have a fantastic opportunity to think clearly and make wise decisions and as a result you will be able to do something positive in life particularly between January and April when Jupiter will be in the ninth house and have a thorough look at your zodiac. You will be able to accomplish a lot this year if you can reduce your mental tension. Rahu's placement in the tenth house will help you become more logical. According to Cancer Horoscope 2023 by using some of your own strategies you will be able to complete even the most challenging jobs with ease which will make it simpler for you to finish your work in your workplace on time. Cancer Horoscope 2023 foretells that the beginning of the year will require some attention to your health due to the transit of Saturn which will move from the seventh house to the eighth house and may have an impact on it. However because Jupiter is in the ninth house during this time your mind will be more focused on religious pursuits. You will go on a pilgrimage and might go to a lot of religious sites. Jupiter will remain in your ninth house for as long as possible. You can achieve the goal if you don't let any of your work hinder you. You will start seeing good effects even with a little work. By the grace of Jupiter,you will be able to overcome the mental stress that Saturn will continue to produce and as soon as you do you will be free of the problems that Saturn's placement in the eighth house will bring into your life. Therefore, you should avoid neglecting any type of health issue because doing so could put you in a severe scenario and cause you to contract a serious sickness. You will have stronger than typical outcomes in the first quarter of 2023. There won't be any obstacles in the way of the work and your blocked goals will start to materialize as well so you'll be able to feel financially secure in due time. During this time your financial plans will go according to plan and you can also establish long-term investment plans but you must be cautious with your health. Luck will be seen standing by your side moment by moment from January until the third week of April, the first months of the year. Whatever work you decide to perform, you can succeed. You will experience God's grace. Your father, your mentors, and other guru-like figures will all be on your side, giving you the chance to advance in your career. The work environment will also be beneficial, and it's possible that you'll get transferred to a good place you've wanted to go for a very long time. According to Cancer Horoscope 2023 it is predicted that there will be some relief from the family stress in the first quarter of this year but you must be careful to avoid any conflicts with your in-laws because they will also have an impact on your personal life. In the first quarter, Rahu and Ketu will be in your 10th and 4th houses, respectively which could make things tense in your home. Due to Saturn's placement in the ninth house which also faces the second and fifth houses there will likely be a lack of peace within the family and possibly a disagreement about something. Jupiter will develop your ability to think clearly and make wise decisions enabling you to navigate these difficult circumstances with a little luck. You may expect a lot of ups and downs in the second and third quarters. Upheaval in the career is indicated by Jupiter and Rahu forming Guru Chandal Dosha in the tenth house. During this time you might quit your current job and begin working somewhere else where you might first feel under pressure due to a heavy workload. Family conflict may be present at this time and issues that have been stalled may also resurface. However, Shani Maharaj's interpretation of the tenth house will energize and inspire you and you will succeed by making every effort to overcome challenging situations. Cancer Horoscope 2023 anticipates the totals for your lengthy excursions will be calculated during the final three months of the year. Long distance travel will make your mind joyful which will help you perform your tasks more effectively. Furthermore you will gain from your long distance excursions and make some significant relationships. Besides this, you will have the opportunity to bathe in the sacred waters. You will firmly confront the difficulties and as a result you will be able to resolve the current issues. Your family life will also be made happier and more peaceful by Jupiter's influence on the second and fourth houses. There will be a lot of instability in January. Following the transit of Saturn, the current marital stress will begin to ease. You'll be helped by luck which will lead to successful business and employment outcomes. Because Mars will be in your eleventh house during this time your financial situation will be favorable. The month of February will see a reduction in financial difficulties. You can have a successful marriage. However throughout this time there can still be some problems and conflicts in your romantic life. There can possibly be an issue on the child side. It doesn't seem like the family situation will be particularly good. With the help of your luck, Jupiter or Dev Guru Brihaspati can move you somewhere in the month of April. After that there may be a chance for an interchange in the workplace when Jupiter transits in your tenth house. During this time you can find a new job where you will have a chance to demonstrate your skills in full. You'll undoubtedly feel some light mental and job pressure but you'll come out of it stronger. You'll become a little irritated in May as a result of Mars' transit through your own zodiac. It would be best to stay far away from any discussion during these times because it has the potential to increase strain in marriage and other personal relationships. But you can also gain from purchasing a large property concurrently says Cancer Horoscope 2023. Your prospects of traveling overseas can be made in the month of June. Although there will be a minor rise in spending and some marital issues the company will go forward at a good pace which will make you feel relieved. Your issues with children will disappear. July 2023 will bring financial success predicts the Cancer horoscope for this year. Your financial situation will improve. Several great schemes will pay off for you. You might experience egotistical thoughts and behaviors during this as well, which could lead to more marital conflict. You will become more determined and adventurous in August and September. You'll take on the obstacles with courage. You'll gain more bravery and strength. The difficulties your siblings may experience won't stop them from working with you and being supportive. People you work with could potentially turn against you if you do any unwise actions so you should exercise a little caution around them. According to the Cancer 2023 horoscope, buying a large portion of land in October is likely to be successful. You can also purchase a big car at this time that will be quite sturdy and attractive as well. You must take care of your mother's health because it is possible that it will worsen during this period. In November there will be positive signs in your romantic life. You can make a significant move for your loved one and with Rahu moving into your ninth house the difficulties in your field will also start to fade away. You will also start to reap good financial rewards. December is also probably going to be a good month. You can continue to hold a respectable position at work during this time. The stress of married life will also decrease. The investments you've made in the past will pay off, and you'll discover that your efficiency is quite effective.

Finance: The Cancer financial horoscope for 2023 predicts that while there will be financial ups and downs during the year you will also occasionally experience success. Mars will be retrograde in your eleventh house at the beginning of the year which will continue to boost your income. Brihaspati Maharaj will also promote luck ensuring that you succeed in anything you want to accomplish and that your financial situation improves. The financial situation will be favorable with any luck up to April. Surya Maharaj who stays in your eleventh house in April also signifies an increase in your income. Throughout the entire year Shani Dev Maharaj will be in your eighth house thus you should be careful while making any significant investments because they could lead to financial ruin. Between May and July a slight rise in tension is possible. Money-related worries will come up occasionally. The Sun will transit through your second house in August though and this will cause your bank account to grow. Cancer Horoscope 2023 foresees that you will need to move slowly between September and October since you will have some financial difficulties at this period. Additionally you'll incur costs for your family which will have an impact on your finances. A necessary household purchase will be expensive in the months of November and December but your income will climb significantly in December.

Family & Friends: The Cancer Family Horoscope 2023 predicts that the year will be full of ups and downs for those born under the Cancer zodiac. It's possible that you'll experience conflict in your family life from January to April. Your fourth and tenth houses will be affected by Rahu and Ketu while your second and fifth houses will be impacted by Saturn who is positioned in the eighth house. Mars will also be in your second and fifth houses in January which could cause conflict in your family and a little mental stress in the first few months of the year. The Chandal Dosha of Jupiter and Rahu which will be formed in May will have an impact on your family life as well. Your father's health could decline and the family environment may worsen but from October onwards your family life will be very happy. Cancer Horoscope 2023 predicts that the family won't have any trouble getting along but on October 20 the mother's health could start to decline. Their health will get better by November if you take good care of them. Following that,November and December will be favorable.