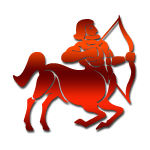 Health: According to Sagittarius Health Horoscope 2021, your health will remain in much better shape than the previous year. Although Shani Dev will keep throwing challenges in your path, you won't be suffering from any major disease or illness. Along with this, Ketu will aspect your twelfth house as per Sagittarius Health Astrology 2021, which can give birth to small issues such as fever, boils or cough, however, these instances will never impact your work. In such a situation, it would be better for you to protect yourself from any infection. Sagittarius Health Astrology Predictions 2021 indicate that overall, this year will be best for you in terms of health. You are advised to visit an open, clean space for pure air and water whenever you have time. This will make you feel happy and fresh from the inside.

Career: Sagittarius Career Horoscope 2021 predicts that the year 2021 is bringing favourable results for Sagittarius natives in regards to their career. You will attain success in your workplace this year, and your co-workers and superiors will be highly supportive of you. During this time, you will be highly encouraged by your closed ones to move forward in your career, which will help you make progress and incur wealth benefits. Due to the favourable placement of planets, January, May, June, August, September and December are the most auspicious months for you. At this time, you will become capable of working harder and completing every task or project before time. Along with this, Sagittarius Jobs Predictions 2021 indicate that the month of May and August seems to be favourable in case you are thinking of a job transfer or change because the planet Sun will transit in your ninth house. Apart from this, You will come across the opportunity to go overseas due to work-related matters in the month of November and get benefited from it. You are likely to get promoted based on your work performance in the months of May and June. Though many of your opponents will remain active this year, but you will appear to dominate them with your attentive behaviour. Sagittarius Yearly Predictions 2021 reveal that businessmen and merchants will also incur good results. Natives doing business in partnership will attain the support of their partners, which will help them succeed. You will also be able to earn profit overseas.

Love/Marriage/Personal Relations: According to the Sagittarius Love Horoscope 2021, the love life of Sagittarius natives will get majorly affected this year. Even though you will be showered with love and affection by your partner, disputes will be clearly visible between the two of you. You will be over-emotional and extremely sensitive at this time as per Sagittarius Love Horoscope 2021. You can plan a trip in the month of February with your beloved. During this time, you will be seen making a lot of efforts to resolve every dispute by interacting with them. The presence of the planet Mars in the fifth house at the beginning of this year will lead to several conflicts in the love life of Sagittarius natives. Sagittarius Love & Relationships Yearly Predictions for 2021 indicate that the months of April, July and September will prove to be the best for your love life. Apart from this, the month of March can with itself several challenging situations and arguments between the two of you. With this, you are required to control your temper and keep a tab on your words. This year according to the Sagittarius 2021 Love Horoscope, you will have to remain attentive towards the fact that no third person must interfere between you two, otherwise, things can worsen.

Advice: Wear Pukhraj Gemstone of the best quality between 12:00 PM to 1:30 PM on Thursday in a gold ring in the index finger to attain auspicious results. Another remedy as offered by Sagittarius 2021 Horoscope is to offer water to the Peepal Tree without touching it every Saturday. Worshipping the banana tree on Thursday and offering Chana Daal to it proves to be very beneficial. It will be advantageous for you to wear Manikya or Ruby gemstone engraved in a copper ring before 8:00 am morning on Sunday in the ring finger. Adorning the Three-faced or Teen Mukhi Rudraksha can also incur favourable results if worn on Tuesday. On every Saturday, donate Mustard Oil and Sabut Urad Dal or pulse to the poor and needy.

General: With Sagittarius Horoscope 2021 brought to you by AstroSage, we reveal new opportunities and challenges that can arise in the lives of Sagittarius natives this New Year. Also, we give you a detailed astrological insight about several aspects of your life through this predictive narrative. Talking about your career, Sagittarius Yearly Horoscope ‌2021 suggests favourable results for Sagittarius natives as Saturn and Jupiter are auspiciously aspecting them. This will help them perform better at their workplace and attain respect from their coworkers, superiors and subordinates. During this time, you can get the desired transfer you are hoping for and in case you were thinking of going abroad, you will get the opportunity to do so and go overseas due to work-related matters. Your financial life will also remain better this year than expected as indicated by Sagittarius ‌Life Predictions 2021‌. Shani Dev will strengthen your financial life and provide you with immense wealth. Sagittarius 2021 Horoscope reveals that the effect of Ketu will result in constant expenses, because of this, you will be capable of taking every decision related to money. You will get your money back in case you had lent it to someone in the past, and land and property-related disputes will come to an end. This will prove to be of great benefit. As per Sagittarius Yearly Predictions 2021, Sagittarius students will be able to do well this year in the field of education. You will get the support from your teachers and other students, and won't find any persisting problem in understanding every subject due to the auspicious influence of Rahu present in the sixth house of your zodiac sign. Although Ketu will try to confuse you at times, you should work harder and remain persistent towards achieving your goals. Looking at your family life, time seems favourable and blissful. At the same time, the health of parents will also improve. Happiness will prevail within the family and any auspicious event can be organised. If you are married, then this year is going to bring some major changes for you in accordance with Sagittarius Horoscope‌ ‌2021‌. In the beginning, the health of your spouse will decline, and your children may face difficulties in studies due to the presence of the red planet Mars in the fifth house. Hence, they must be taken care of properly during this time. On the other hand, you may have to face significant challenges and troubles in your love life as per the predictions based on 2021 Sagittarius Horoscope. You will feel neglected by your partner as they may give less importance to your thoughts, which can possibly lead to arguments. In such a situation, try explaining your point of view to your beloved and avoid stretching any argument further unnecessarily. In terms of health, Sagittarius Yearly Horoscope ‌2021 suggests that this year seems to be favourable. Although the shadow planets will try and throw some obstacles in your path, with healthy eating habits and a good lifestyle, you will be able to overcome it.

Finance: The year 2021, in accordance with Sagittarius Finance Horoscope 2021, is going to bring multiple changes in the financial life of Sagittarius natives, because this whole year, Saturn will strengthen your financial life while staying in your second house, thereby leading to immense financial benefits and wealth gain. The duration from January-end to July, the months of August, September and October will be very auspicious for you as per Sagittarius Financial Horoscope 2021 due to planetary transits proving to be favourable for you, as you can get lucky in this period. Also, there will be a recorded increase in your income. Therefore, your financial conditions will strengthen and you will get rid of mental stress. In 2021, Ketu, the shadow planet, will also be present in your twelfth house throughout the year. With this, frequent expenses can stress you out. A steady rise in your expenses by the end of December according to the Sagittarius Money Horoscope 2021 can make you worry. In such a situation, you will have to plan a strategy and spend accordingly. So it would be better for you to save your money beforehand.

Family & Friends: Predictions for Sagittarius Family Horoscope 2021 say that your family life will undergo favourable situations this year. Every kind of ongoing dispute in your family will come to an end this year. This will happen because the planet Saturn is in the second house from your sign and aspecting your fourth house, due to which the feeling of brotherhood and love between the family members will increase. Religious programs and get-togethers will be held in the house, which will add to the overall ambience. Sagittarius Family Horoscope 2021 also reveals that the conjunction of Saturn with Jupiter will work in your favour, following which you can decide to renovate the house. In case someone is of marriageable age within the family, there are chances of him/her getting married this year since the influence of planetary transits will remain in your favour. With this, the chances of the arrival of any new guest in the house are high. Between January to April and the first week of September to the mid-November, there seems to be a possibility for you to go on a trip with your maternal relatives. This year will be good for your siblings as indicated by Sagittarius 2021 Family Predictions. You will get the support from your father as well as see an improvement in his health.