Calendar 2020: Important Days & Events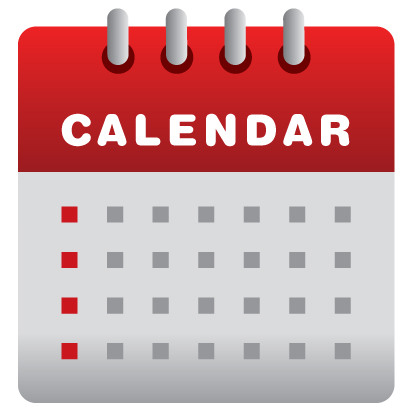 Calendar 2020 is defined as a particular list wherein all the days are marked for different and varied occasions because of several social, religious commercial and administrative reasons. The significance of calendars cannot be circumvented in a multicultural country such as India, which holds an amalgamation of different castes, creeds, beliefs, and religions. You might not know but it is true that calendar can also vary on the basis of states. For example, some calendars might mark a day auspicious to their state and observe it as a holiday, while for the others, it has no such meaning and is observed as a working day.
India is a fairly diverse country and every religion is respected, so it is right to say that there are a number of calendars followed in the country both regionally and nationally. According to the national terms, there are three major occasions celebrated all across the country, including Independence Day on 15th August, Republic Day on 26th January and Gandhi Jayanti on 2nd October. These are also said to be the national holidays and no activity other than dedicated to the country is followed here. In order to understand the type and the significance of every calendar in the country, the following significance has to be studied.
Know Today's Panchang for your City
Calendar 2020: Why Is It Important To Have?
India is one of those countries in the world that has a proper and exalting blend of different cultures, traditions, religions, thoughts, beliefs. And therefore our country is said to be a rich diversity of what we have. According to the constitution of the country, every Indian citizen has the right to follow any religion, culture, routine and so they are not forced to just represent the culture of the majority. For the same reason, we have so many different festivals to be celebrated every now and then and also there are so many important facts and holidays observed by the people of the country, whether national or international. This is what amazes every foreigner who walks over our lands and this is really something truly awe-inspiring. To be specific, there are so many holidays and festivals that are celebrated in the country that it gets difficult to remember every specific festival and significant day. For the same reason, calendars were developed.
These calendars help in marking the most important days in the entire year starting from January to December so that people can just have a look and remember the day and its importance. Calendars for the same reason play a very important role in the lives of people in the country.
There are a number of calendars used in the country, both national and regional and are used as the sources of knowing the right date or any particular holiday or festival on that date. It helps people to fix their routine well in advance and plan out everything correctly, be it an important meeting or any specific plan or celebration. People also have several plans during the starting of the year itself and executing them becomes easy with the calendars.
If you have any such plans for the year 2020, then this mixture of all the important and required calendars in your lives is truly something that will help you out. This would even enhance your knowledge base about these dates and other specific celebrations in the country and make your plans for 2020 more specific and systematic.
Calendar 2020: Calendars Followed In The Country
The amalgamation of different cultures and traditions has made us a diversified and celebrated country in the world. India is not just an area on the map but has the maximum number of secular people living in peace and harmony. Various types of calendars are used to verify holidays and events of versatile nature.
Although India might have a number of calendars to study from, all these calendars are intermingled in their own ways, hereby defining best ways to use and study them. The calendars in India are different because of the concept of solar, lunisolar and lunar ways and movements or the Amanta and Purnimanta ways. Here are two basic diversification of calendars used:
National Calendars - National Calendars are based on the Shalivahana Shaka calendar and followed both publicly and officially in the country. It is derived from the solar-based Gregorian calendar. It is also used by the government of India, Gazette of India and the All India Radio (AIR) for any kind of communication or broadcasting.

Regional Calendars - Regional Calendars are very unique and mark their own festivals and holidays. Various regional calendars like Tamil calendar, Telugu calendar, Hijri calendar are prepared according to the motion of Sun and Moon. Also, the dates of various traditional festivals are calculated as per the lunar and lunisolar calendar. Any occasion, be it a marriage ceremony, fast or any festival is calculated on the basis of this calendar only, hereby making them more priced that the national calendars.
Different Types Of Calendars 2020
There are a number of regional calendars discussed here and all of them are significant. Different types of calendars are:
Indian Calendar 2020 - With the multi-diversity and rich culture that the country has; festivals and celebrations make a major part of the year. These occasions are marked in the Indian calendar since it's difficult to remember the dates of all such festivals. Indian calendar 2020 gives out important days, events and holidays observed in the country.
Click here to read about: Indian Calendar 2020
Hindu Calendar 2020 - All the Hindu festivals and holidays are accounted in the Hindu calendar 2020. Hindus observe maximum number of festivals and love to celebrate every event with zeal and enthusiasm. The Hindu calendar is mostly followed by the North Indians and the days are marked on the basis of lunisolar calendar. The auspices of every occasion, be it a good muhurat, or a wedding ceremony, is calculated on the basis of this calendar.
Click here to read about: Hindu Calendar 2020
Telugu Calendar 2020 - The Telugu calendar details every fast, festival and important occasions followed by the Telugu people all over the world. It allows them to enjoy the occasions with great happiness and contentment on the right day and date and during the auspicious muhurat. Telugu calendar 2020 is specifically followed and designed by the Telugu people keeping in mind their culture and traditions.
Click here to read about: Telugu Calendar 2020
Jain Calendar 2020 - The Jain calendar is specifically based on the customs and traditions of the Jain people. It is marked by different dates and festivals that are celebrated with great fuss by the Jain people. The Jain calendar is based on the solar calendar and its dates are determined depending on the position of Sun.
Click here to read about: Jain Calendar 2020
Islamic Calendar 2020 - The Islamic calendar covers all the fasts, customs and traditions of the second largest religion in the world. The calendar is planned according to the Hijri calendar and is marked to seek the blessings of Allah. The calendar includes all the important dates observed by Muslim which are based on the visibility of Moon.
Click here to read about: Islamic Calendar 2020
Tamil Calendar 2020 - Based on the positions of the Moon and Sun and keeping all the Tamil traditions in mind, the Tamil calendar is made for people who follow the customs and traditions of the Tamil culture.
Click here to read about: Tamil Calendar 2020
Printable Calendar 2020 - This calendar helps you to plan all the things more efficiently and diligently. Printable calendar is a mixture of all the occasions compiled in days, weeks and months. You can print it for free and keep it in your diary, on the bulletin board or anywhere. It is highly accessible in nature and easy to use.
Click here to read about: Printable Calendar 2020
Chinese Calendar 2020- Chinese calendar 2020 covers all the information about different festivals in China so that people can enjoy the festivities and make the most of their traditional holidays. The calendar is divided into 12 animal zodiac signs, with Rat reigning throughout 2020.
Click here to read about: Chinese Calendar 2020
Bank Holidays 2020 - As everyone deserves a break from work, so does bank members. With netbanking booming meticulously, banks have provided us with electronic flexibility. Bank Holidays 2020 chalk out a list of days declared as holidays for the employees by the government. Plan your visit accordingly.
Click here to read about: Bank Holidays 2020
Public Holidays 2020 - Calendar with Public holidays 2020 have enlisted days announced as an off for the masses. Everyone loves to take a break from their hectic schedule and spend some quality time with their friends or family. This list of holidays gives you a quick insight on which days you can plan your outings or picnics or carry out personal tasks.
Click here to read about: Public Holidays 2020
In The Last
With the compiled calendars followed, you can easily track your holidays and plan for a vacation with your loved ones. 2020 is here, hence you should check out the calendar 2020 in order to note down when you are going to off on public holidays or celebrate festivals etc.
Thank You for checking out calendar 2020. Stay Connected with us for more updates.