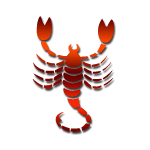 Health: With regards to the health of Scorpio natives, mixed results are in store. The initial days of the month will turn out to be quite favourable. You will feel healthy and refreshed at the same time. In the initial days, there will be no signs of any kind of disease. But there will be a change in the planetary positions in the second half of the month. Sun and Mars, these two planets will be residing in the twelfth house of your Kundli. This position of both planets will give birth to some health problems. You may suffer from eye pain. Sleep problems can also trouble you. Due to this, your body will remain sluggish and you will not be able to do the necessary tasks with full enthusiasm. There is also a possibility of injuries befalling you. Arms and legs may get sprained. Resources may get spent in paying up medical bills. So, in the second half of the month, pay special attention towards you and your family's health. Maintain a strict routine. Add nutritious food items to your diet and get some activities done.

Career: With regards to your career, the month of October will turn out to be great. Specifically speaking, the first part of the month will be quite favourable for you. You will acquire the support of your senior officials. Consequently, you may get promoted to a new designation. For natives who are associated with business, the first half of the month will turn out to be great. You will be able to finally expand your trade venture. You can even lay the foundation of a new business model but make sure to go ahead with proper implementation and execution. New business relations will get established which will turn out to be quite profitable for your future prospects. Self employed natives will also come across a great time. However, the second half of the month may bring in some challenges but you need not worry as they will get resolved on their own. You may have to take some trips to fulfill work requirements during the second half of the month. This journey will turn out to be quite profitable. Overall speaking, your career will take flight during October 2021. A bit of patience, perseverance and diligence is required on your part to make things work.

Love/Marriage/Personal Relations: With regards to love life, you may have to remain somewhat careful. Specifically speaking, many ups and downs will grace you during the initial half of the month. Your fifth house is under the influence of Mars and Sun. Both of these planets are fire dominated, because of which clashes will take place between you and your partner. Along with this, Mercury in retrograde motion will enter your eleventh house on the second of October. This will deteriorate things further. You may stop talking to your partner for a while and a separation like situation may also get created. If you wish to save your relationship, then you must learn how to remain patient. During the second half of the month, the planets Sun and Mars will be changing zodiac signs and enter your twelfth house , because of which some positive changes will be seen in your love life. As far as married natives are concerned, this month will turn out to be great. Rahu will remain present in your seventh house, which will bring sweetness to your relationship. You will develop a better bonding with your life partner. There will be a great kind of compatibility between your thoughts and ideas because of which your married life will run smoothly. On 2nd October, the transit of Venus will take place in Scorpio and it will aspect your seventh house. The planet Venus is considered to be the significator of passion and happiness. In such a situation, the attraction between a husband and wife will increase and love and romance will be all over the air. You may also decide to take a trip together to a scenic location.

Advice: On Tuesday, it will be beneficial for you to distribute jaggery and gram among the younger children. Start reciting Mars Beej Mantra from Tuesday and do it daily. Maintain good relations with your brothers and if possible, gift them something of their choice. Offer wheat on the Shivling on Sunday. On the day of Thursday, feed Chana Dal to the brown Cow.

General: Overall speaking, this month will turn out to be quite favourable for Scorpio natives. Apart from your love life, you will remain quite satisfied with all the other aspects of your life. Your professional life will be satisfactory. Job holders are likely to make a great amount of progress. Student natives will also do well. The time is quite right for appearing in a competitive exam. Family life will be blissful and so will be your conjugal life. You will acquire the full fledged support of your life partner. Couples who are in love have to face some struggles. The beginning of the month will be good but your expenses may increase during the latter half of the month.

Finance: The economic condition of Scorpio natives is expected to be great during October 2021. Specifically speaking, the initial half of the month will have nothing but profits in store for you. The eleventh house of your Kundli is under the occupancy of the Sun and Mars, which according to astrology is considered to be a quite favourable spot. If any person is involved with a government job, then great profits are in store for you. Those who are associated with business will also come across an economically favourable time. The money which has been stuck somewhere will flow back into your hands. Resources may also be made available by the elderly members of your family. An ancestral property may pave the way for benefits for you. The second half of the month will turn out to be somewhat unfavourable for natives belonging to the zodiac sign Scorpio. Expenses will increase drastically. If you are contemplating making an investment, then this is the right time to go ahead. However a long term investment should be made as a short term one might incur losses.

Family & Friends: The planetary positions state that this month is quite favourable for your family life. A great kind of harmony will prevail over the members of your household. The mutual compatibility between family members will be great. Married natives may get to hear some good news from their children. A function or event may be hosted by your family members, because of which your happiness will know no bounds. The third house of your Kundli is under the residency of Saturn and Jupiter. Yogas created by both of these planets are quite favourable for your siblings. Consequently, your relations with your siblings will improve. You will acquire the full fledged support of your siblings. Due to some beneficial planets the health of your parents will also remain stable. However, situations can deteriorate during the second half of the month which is why you should take very good care of them. Look into their diet properly.